Complete Story

10/06/2021
Michael Adashek, DO
3rd Year Fellow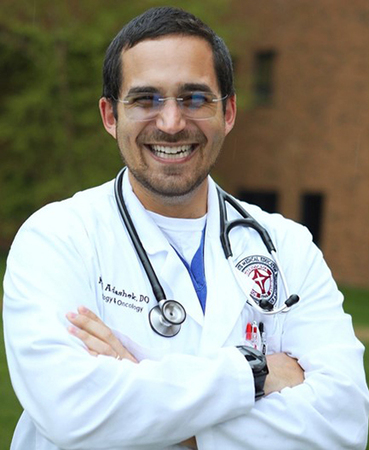 Michael Adashek, DO is a 2nd year Hematology/Oncology fellow at St. Joseph's Mercy Hospital in Ann Arbor. Born and raised in Baltimore, Maryland he began his academic career in the field of Neuroscience at Bates College in Maine. After studying at the School of International training in Yunnan China, and the Centre for Medieval & Renaissance Studies in Oxford, UK he finished undergraduate at St. Mary's College of Maryland. Dr. Adashek graduated from West Virginia School of Osteopathic Medicine. He completed his Internal Medicine Residency at Sinai Hospital of Baltimore, having spent time at University of Maryland, Johns Hopkins, and NIH oncology departments.
Thank you, Mary Kay and to the Board for electing me to the Fellow position. I'm honored to have this opportunity. My interest in healthcare advocacy began in 2009 when I returned from Yunnan Province in China. I had worked with a local NGO to screen rural children for congenital defects. For some we arrived in time and for an unfortunate few we did not, highlighting to me the need for focus on underserved communities and populations. When I returned, I saw the real time debates around and impact of the Affordable Care Act. My passion for patient advocacy and quality improvement has only strengthened as I have grown from scribe to medical student, resident, and now fellow.
I am incredibly grateful for the mentorship I've had at St. Joes. From the support of Dr. Jerome Winegarden and Dr. Elie Dib to my work on Hepatitis B Screening with Dr. Carolyn Carrera, and R/R DLBCL with Dr. Tareq Al Baghdadi. At MSHO I'm hopeful to see the advocacy process behind hematologic and oncologic care delivery in Michigan. Looking forward to my first board meeting!
My wife, Dr. Nicole Larkin, and fellow tandem cyclist is a hospitalist currently at St. Joes. With half my family from Texas, half from Chicago - having grown up in Baltimore Maryland and Nicole's family from rural West Virginia, the mix of Michigan has made for a wonderful fit. In my free time I'm a blacksmith and have been an active member of blacksmithing guilds for over a decade. My wife and I love travelling to hike, most recently to Chasm Lake in Rocky Mountain National Park. Hiking poles recommended. Wishing everyone at MSHO a happy healthy holiday season.
---
Report Broken Links
Have you encountered a problem with a URL (link) on this page not working or displaying an error message? Help us fix it!
Report Broken Link