Complete Story

03/04/2011
Anas Al-Janadi, M.D.
Immediate Past President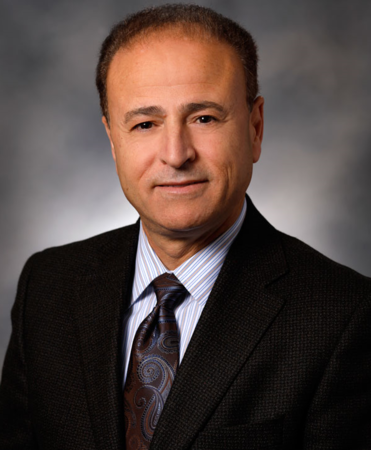 Dr. Al-Janadi was born into a large family of 11 children. He and his siblings were raised just south of Damascus, Syria. His father was a school teacher and his mother was a home-maker. Since the age of 7, he has played soccer and continues to play on an adult soccer league in East Lansing with his MSU colleagues.
In 1991, Dr. Al-Janadi received his Doctor of Medicine degree at Damascus University School of Medicine. After completion of medical school, he remained in Syria for three years to begin his residency at Damascus University Hospital. Because of the little resources in Syria in Hematology/Oncology, he came to the U.S.A. to advance in his career. He traveled to the Bronx, NY, where he completed his residency in internal medicine at St. Barnabas Hospital/Cornell Medical Center. In 1998, Dr. Al-Janadi came to Michigan to complete his subspecialty training in Hematology & Oncology with specific interest in Hematological Malignancies at Henry Ford Health System/Josephine Ford Cancer Center. After completing his medical training, he left for Las Vegas, NV, where he served as the Chief, Hematology/Oncology at the VA Southern Nevada Healthcare System for four years.
Returning back to Michigan to be with family, friends and colleagues, he established himself in the East Lansing area. Dr. Al-Janadi was trained at MSU and has developed a love of the University. He enjoys taking pictures around campus when all of the trees are in bloom. In June of 2006, he joined the Department of Medicine at MSU and recently accepted the permanent position as Chief of MSU Hematology/Oncology division in the Department of Medicine in the College of Human Medicine. His strong desire to provide patients with cutting-edge treatment and advancing the field of oncology is reflective in the numerous clinical research studies he has served on as Principal Investigator. Dr. Al-Janadi has been invited to speak at various presentations/lectures. His CV contains an impressive list of publications and poster presentations. Outside the academic setting, Dr. Al-Janadi serves his community by being a board member for the Michigan Cancer Consortium and the Michigan Society of Hematology & Oncology.
Teaching and mentoring are very important to Dr. Al-Janadi. When MSHO established the very first fellow committee to develop educational programs for Michigan's fellows, he was the first to volunteer to contribute his time and ideas. It is no surprise that he currently serves as the Program Director for the Hem/Onc Fellowship Program at Michigan State University. His devotion to the program includes coordinating and supervising weekly core conferences, journal club, monthly clinical case conferences and mentoring fellows. His current fellows include Sarah Ali, Zion Oshikanlu and Subramony Subramony-Iyer.
Dr. Al-Janadi has two children, a son named Baraa, and a daughter, Noor. His wife, Nahed Abbasi, M.D., has set aside her own career to care for their two children. The family enjoys spending time together while Dr. A.J. cooks for them. His favorite dish is the Mediterranean salad. He also collects neck ties and enjoys coordinating classy shirt and tie combinations.
---
Report Broken Links
Have you encountered a problem with a URL (link) on this page not working or displaying an error message? Help us fix it!
Report Broken Link