Complete Story

10/28/2015
Herbold Receives Honorary Membership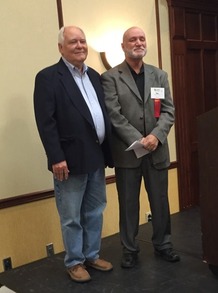 Ken Herbold and Dan Goodrich
Herbold Receives Honorary Membership.
Kenneth Herbold began his medical career as a Naval Corpsman, a Vietnam Veteran and served honorably from 1965-1969. Upon discharge from the Navy Kenneth utilized the skills and knowledge he acquired to embark on his journey as a medical professional, starting as a Surgical Assistant at Altman Hospital in Canton, Ohio in 1972-75, working a short stints as a PA in the Department of General Surgery at the Marshfield Clinic in Wisconsin 1975-78, and finally returning home to Ohio in August 1979 to begin a long and illustrious career as a Surgical Physician Assistant and member of the Staff Assistant Department of Euclid Hospital.
Mr. Herbold was not only recognized as a highly respected and qualified provider but also as a tough but caring educator of PA students.
He, along with many other dedicated PAs at Euclid Hospital not only set high standards for PA practice, but also help to strengthen a young and growing professional organization, the Ohio Association of Physician Assistants (OAPA) of which has been a dedicated and active member serving in many leadership positions including member of the Bylaws and Governmental Affairs Committees, Regional Trustee, Vice President and President of the Board of Directors
In April 2015 the OAPA Board of Directors bestowed an Honorary Membership upon Kenneth Herbold, PA-C (Retired) for his tireless and dedicated service to the OAPA and the PA profession. Mr. Herbold's Honorary Membership was recognized at the Membership Meeting at the OAPA Annual Conference in October.
OAPA Bylaws: An Honorary member shall be a person who has rendered distinguished service to the Physician Assistant profession and/or OAPA. Such members shall be nominated by an active association member and approved by the Board of Directors.
---