Current Legislation
---
Updates on HB197, HB177, HB492, and HB561
---
The Ohio Senate and House on Wednesday (3/25/20) took several actions to respond to the coronavirus outbreak, with a single bill picking up a number of provisions that cover a wide range of issues. As you have heard, there were certain provisions related to CRNA, RN, and LP practice. We have outlined the many various provisions, via amendments to HB197, below:
Barring disconnection of public water service
Extending voting by mail to allow counting of absentee ballots postmarked by April 28
Making allowances for people whose licenses of various kinds will expire during the emergency
Granting local governments flexibility to meet remotely, with provisions for public participation
Waiving state testing and report cards for this academic year
Lifting the cap on granting credit for distance learning
Waiving usual requirements to permit high school seniors who were on track before the crisis to graduate
Freezing EdChoice eligibility at current levels
Expanding eligibility for unemployment compensation
Aligning the state tax filing deadline to the delayed federal deadline.
Temporarily tolling criminal and civil statutes of limitation
Allowing a one-time transfer from the Rainy Day Fund this fiscal year, with Controlling Board approval.
Allowing temporary practice certificates for recent nursing graduates and changing the scope of practice for certified registered nurse anesthetists.
Many of the added provisions are temporary and last until the pandemic emergency subsides.
Other than the provision in HB197 for recent nursing graduates and CRNAs there were no other scope of practice bills considered including HB 177 (APRN scope bill), HB492 (the PA bill) and HB561 (the PA Supervision Agreement bill).
The OAPA lobbyists at Bricker and Eckler are monitoring for additional legislative action that will be considered on any issue in the near future related to the pandemic. It will be up to the Governor to issue orders and OAPA is communicating recommendations to the Governor's office that will help PA providers in the face of the COVID-19 pandemic.
Contacting your legislators at this time, while it is your right to do so, will not expedite any pieces of legislation but will provide information on the PA profession that they can use in the future when bills are once again being considered. OAPA recommends that you wait until HB492 is receiving hearings (after the pandemic emergency subsides) then use OAPA talking points to encourage your legislator to favorably vote on the bill. Please document instances where provisions in HB492, had they been in place during the pandemic, would have been helpful in administering care.
HB 561 calls for a suspension of the requirement for supervision agreements during the COVID-19 pandemic. It does not call for a permanent removal of the requirement so once the pandemic emergency subsides it will be moot. Permanent removal of the requirement will be pursued by OAPA in the future.
OAPA is judiciously using its financial resources to support the activities of our lobbyists as they reached out to legislators to support PAs before today and now the Governor's office.
Additional questions may be sent to oapa@ohiopa.com or 800.292.4997
---
SB259 Update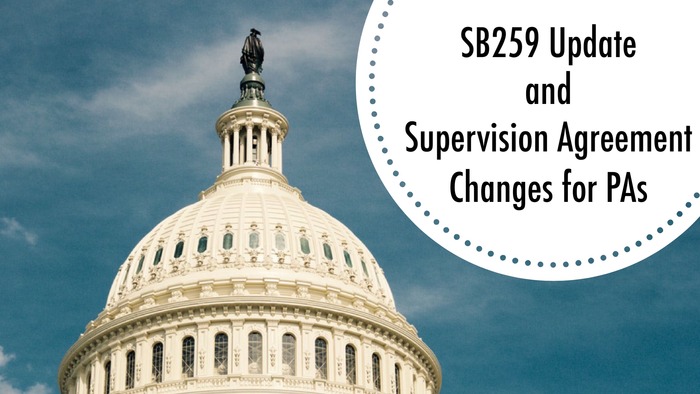 December 20, 2018
SB259 was signed by the Governor and will go into effect in 90 days.
SB259, the PA Bill, was successfully passed by the Ohio General Assembly on December 13, 2018. The Governor now has 10 days to sign it or it automatically becomes law. The new law will not go into effect until 90 day after the Governor signs it.
Once in effect, the PA formulary will be removed, the ratio of PAs to supervising physicians will increase to 5, out-of-state PAs and military PAs that do not have a Masters Degree can get a license in Ohio with two years of practice immediately preceding application and allow PAs that have a Masters Degree but did not apply for prescriptive authority when the law changed a number of years ago to now obtain prescriptive authority.
The bill will also allow the PAPC to meet via teleconferencing or videoconferencing and reduces the number of pharmacists on the PAPC to one.
Language on teledentistry was amended into SB259 and does not affect PA practice.
Additional questions may be sent to oapa@ohiopa.com or 800.292.4997
---
December 13, 2018
SB259 was introduced in mid-February by the bill's sponsor, Senator Hackett, with the anticipation to remove significant practice barriers for Ohio PAs. The most notable goals of our OAPA legislative leaders were to remove the PA Formulary, increase the Physician/PA ratio to 5, allow PAs to order conscious sedation medications to perform various procedures (i.e. rapid sequence intubation), and the elimination for filing supervision agreements with the OSMB.
After much discussion between OAPA legislative leaders, Senator Hackett, our lobbyists Bricker & Eckler, and several other interested parties, it became apparent that SB259 would not pass with the sedation language included as originally introduced. Therefore, a decision was made to strike the sedation language from the original text.
SB259 was then reintroduced to the Senate Health Committee and subsequently passed on June 26th with a unanimous vote. It was amended in the House Health Committee to include teledentistry language and then voted out, The House passed it and the Senate concurred with the amendment on December 13, 2018. It will take effect 90 days after the Governor signs it.
While having to eliminate the sedation language from SB259 comes as a devastating blow to many PAs, removal of the PA Formulary would be a monumental leap forward for PA practice in Ohio. Currently, Ohio is 1 of 6 states that still use an antiquated PA Formulary. The Ohio Association of PAs recognizes the detrimental extent and limitations of being unable to legally order the appropriate medications to perform rapid intubation and related procedures. Rest assured OAPA will continue to work on changing the law with regards to sedation in the future.
Be sure to sign up for email alerts, track the bill's progress, and read the legislative text here.
Additional questions may be sent to oapa@ohiopa.com or 800.292.4997
---
Supervision Agreement Changes
---
An email was received on July 6 from the Medical Board and OAPA also spoke with a representative from the Medical Board to confirm the information.
In summary, effective immediately there are no renewals, no 5 day waiting period and the eLicense system for submitting supervision agreements has been disabled. Effective immediately for new hires the supervision agreement is signed and kept on file at the practice site and they may begin to work immediately. You may use any form you like but the OSMB recommends that you use their form(s) as those forms meet the statutory requirements.
Supervision agreements on file at the practice site remain in effect indefinitely until the physician ceases supervision of the PA(s).
For those with existing supervision agreements nothing needs to be done (except make sure there is a copy on file at the practice site) even if they are scheduled for renewal. Make sure that any changes you make to the agreements between now and September 26, 2018 generate a new supervision agreement that is kept on file. Make sure that all the supervision agreements you have on file on September 26, 2018 are correct. After September 26 the Medical Board will begin the audit process and there are penalties for non-compliance.
The email from the Medical Board states:
According to HB 111, the requirement that each supervision agreement be submitted to, and reviewed by, the Medical Board, is eliminated.
For more information, a legislative summary of the new law can be found
here.
A link to the new legislation can be found by visiting
this site
and selecting the View Current Version option next to Legislation Text.
The Board is proactively implementing this legislation so that licensees can immediately avail themselves of this new streamlined process. Therefore, the filing of supervision agreements through eLicense is no longer necessary.
For convenience, the Board has updated the supervision agreement forms that can be found at the following links:
Please note that use of these specific forms is not required; you may create your own documents that meet the requirements of the law.
Since supervision agreements are no longer filed with the board, there is no renewal of them. They are living documents that remain active and can be amended at any time until the physician ceases supervision of the physician assistant.
Additional questions may be sent to oapa@ohiopa.com or 800.292.4997
---
Frequently Asked Questions
---
So what does SB259 now include?
Removes the PA Formulary.

Allow a PA, who previously had a Master's degree when they obtained an Ohio license, but did not pursue prescriptive authority, to now receive prescriptive authority.

Allow a PA from out-of-state to receive an Ohio license if they have a valid license in another jurisdiction and are in active practice anytime within the last 2 yrs.

Increase the supervision ratio to 5-1.
Do PAs still have to complete a Supervisory Agreement?
Yes, PAs and the supervising physician must still complete the appropriate agreement application. However, these forms no longer need to be filed online with the OSMB. HB 111 allows these supervisory agreements to be kept on-site of the physician's practice. The supervisory agreements can be found here:
How can I help?
Renew or become a member of OAPA: Membership dollars fund the efforts to break down practice barriers in Ohio.

Get Involved: Serve on Committees of OAPA, run for office, be a voice

Stay informed of PA practice in Ohio and help others stay informed as well!

Donate to the legal fund or the PAC of OAPA!
Additional questions may be sent to oapa@ohiopa.com or 800.292.4997