Complete Story

10/15/2014
Carla Streep O'Day, MD Receives OAPA Hudson Award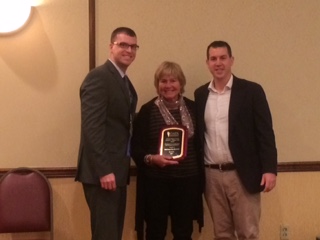 Carla Streep O'Day, MD Receives OAPA Hudson Award
The Ohio Association of Physician Assistants (OAPA) is pleased to announce that Carla Streep O'Day, MD is the recipient of the association's 2014 Hudson Award. The award is given to an individual who is considered to be outstanding based on deeds and actions promoting the physician assistant (PA) profession in Ohio. The award was presented to Dr. O'Day during the membership meeting at the OAPA Annual Conference.
Dr. Streep O'Day started her career as a social worker then attended medical school while raising her five children. She became the managing partner of Lakeland ER group that has staffed multiple ERs, all employing physician assistants and laying the groundwork for the PAs that are working today in northeast Ohio. She continues to practice in emergency medicine and, over the years, has been a supervising physician to over 150 PAs and a preceptor of many physicians and PAs. Dr. Streep O'Day has also served on the Ohio State Medical Board, the Rape Task Force and Task Force on Violent Crime and the EMS Advisory Board in Cuyahoga County. She is also active in the community volunteering for charity fundraisers and serving on the board of the Cleveland International Film Festival, helping to sponsor an emergency medicine based movie called "Code Black."
She has always championed the physician-PA team concept and supported PAs, PA students and PA programs in Ohio. Her many contributions to the promotion and growth of the PA profession at the Medical Board, emergency departments and throughout the hospital culture are recognized and it is with great appreciation of her efforts that OAPA is presenting Dr. Carla Streep O'Day with the 2014 Hudson Award.
---