Ohio Fire & Emergency Services Foundation
Testimonial from a recent Fire Officer I Program participant...
"In 18 years in the fire service, this is the best educational money ever spent on me. In fact, I might go so far as to say this class can/will do more for my career than any other class I have taken. I will have the opportunity to share with my Chief why this is the right place to be sending our members.The transition to a fire officer can go many different ways. With the help of instructors like you sharing your experiences and teaching us what to do and not to do, we will no doubt succeed. Thank you Chief."
Fire Officer Classes
After three years of fielding concerns, The Ohio Fire & Emergency Services Foundation developed a Fire Officer I and II Class.
Fire Officer I
The two-week Fire Officer I course has been developed to meet the intent of NFPA 1021 Standard for Fire Officer Professional Qualification.
We are prepared to bring this high quality class to you. Currently, no one else offering this program will do the same. All of our instructors are officers with many years experience. There are no firefighters teaching firefighters. Fire departments participating in this program get better trained officers. However, in order to deliver this prestigious course that includes in class lectures, large and small group discussions, oral presentations, written assignments, research, and role playing, certain specifications must be met. They include: Fire Officer I Specifications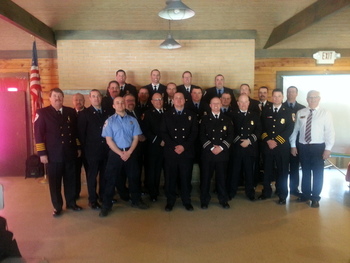 Fire Officer II
This course builds on the experience learned in the Fire Officer I class and is step 2 in preparing Ohio's Fire & Emergency Services Leaders for the challenges facing them tomorrow. The Fire Officer II program requires team work, group projects, application, analysis and synthesis. As the officers attain the rank of Fire Officer II, their responsibilities include the management and leadership of multiple projects and companies. It is essential for the Fire Officer II to be able to prioritize the multiple demands on the time of the organization, the companies, the crews and the teams by working in groups. Time management is essential.
All of our instructors are officers with many years experience. There are no firefighters teaching firefighters. Fire departments participating in this program get better trained officers. However, in order to deliver this prestigious course, certain specifications must be met. They include: Fire Officer II Specifications
Prerequisite: Fire Officer I