Complete Story

2015 PAC Breakfast Speaker Announced!
The Ohio Pharmacists Association is pleased to announce that
Representative Tim Brown (R-Bowling Green)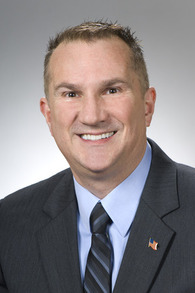 Will be our special guest speaker at the 2015 PAC Breakfast!
State Representative Tim Brown is serving his second term in the Ohio House of Representatives. He represents the 3rd Ohio House District, which includes all of Wood County.
Representative Brown previously served four terms as a Wood County Commissioner and was vice president of the board. He also served as vice president of the County Commissioners Association of Ohio (CCAO) for 2012 and also worked on a number of committees for the CCAO, including the General Government Committee, the Joint Committee on Administration of Elections, and the Commissioners and Sheriffs Task Force Committee. He is also the past president of the Northwest Ohio Commissioners and Engineers Association.
Rep. Brown is the current chairman of the Ohio House Government Accountability & Oversight Committee. He also serves on the House Health & Aging Committee and the Financial Institutions, Housing, & Urban Development Committee.
Rep. Brown has an outstanding record on pharmacy issues, and this year he has introduced legislation (HB 116) expanding coverage for medication synchronization services for Ohioans. He also is one of the lead sponsors on maximum allowable cost (MAC) transparency legislation (HB 127) that will create some standardization for pharmacy reimbursements from pharmacy benefit managers (PBMs) and finally create a regulatory structure for the PBM industry in the state of Ohio. Rep. Brown will discuss these important pieces of legislation, as well as discuss several key issues impacting Ohio.

Join us Saturday, April 18, 2015 at 7:00 AM at the OPA Annual Conference & Trade Show at the Greater Columbus Convention Center.
Visit the Annual Conference page to sign up for the conference, or download this registration form if you wish to sign up for only the PAC Breakfast!
Minimum contribution for the PAC Breakfast is $100/person, with all proceeds going to the OPA Pharmacy PAC, which provides campaign funds to candidates who support pharmacist initiatives. Checks should be made payable to "OPA Pharmacy PAC." No corporate checks please.
---