Complete Story

March 2015 OPA Extern Profile: Ashley Bowden
Ashley Bowden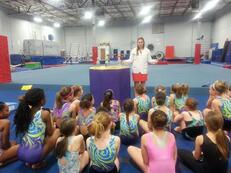 E-mail: bowden.465@osu.edu
Pharmacy School: The Ohio State University
Undergraduate degree/institution: The Ohio State University
Rotation Month at OPA: March 2015
How did you get interested in the profession of pharmacy?
I was first introduced to pharmacy as part of a high school experience. At Port Huron High School we were encouraged to take one day off of school and explore a possible career of interest. I was originally interested in hospital administration but the school could not set me up with an administrator. So I went back to the drawing board and decided I would be interested in shadowing a hospital pharmacist. I do not remember a lot about that actual shadowing experience, but it must have left some sort of impact because since then I said I wanted to go to college to become a pharmacist. I was accepted into a high school program through CVS Pharmacy, now CVS Health, which was trying to place high school students interested in pharmacy in a pharmacy setting. I worked for two summers in a CVS Pharmacy near my hometown. The pharmacist there, Robin, was from Canada and often compared and contrasted how he practiced in Canada versus the United State. I found him to be a great mentor throughout my high school years. I was accepted into the Bachelor of Pharmaceutical Sciences program at The Ohio State University after high school and was excited to be a Buckeye. Although I considered other professional programs throughout my time in undergrad, I landed back in pharmacy school after a nuclear pharmacy class I took. It was not necessarily the fact that I wanted to pursue nuclear pharmacy, but it was during this class that I realized all of the different roles a pharmacist can play in the healthcare system.
Why did you choose OPA as a rotation site?
I chose OPA as a rotation site because I knew it would provide me with a wealth of experiences. I was excited to see how a large meeting was planned. I wanted to learn more about the legislative agenda of the association. I wanted to see how committees and other events ran at OPA. I also knew it would develop some of the "other" skills such as project planning and writing that we do not really work on in the traditional rotation.
What was the most significant or surprising experience at OPA?
I have learned that the OPA staff are expert planners of the Annual Conference & Trade Show. They know exactly how many chairs need to be on stage during presentations, the size of the table for the awards, the need for a nursing room, and the best placement for each bar. They are amazing at anticipating the needs and obtaining information from so many people in order to ensure everything runs smoothly.
What other pharmacy associations/organizations do you belong to?
National Community Pharmacists Association (NCPA)
American Pharmacists Association Academy of Student Pharmacists (APhA-ASP)
Student Society of Health-System Pharmacists (SSHP)
Phi Lambda Sigma (PLS)
Hobbies:
I have endless hobbies. I coach gymnastics at Fliptastic! I enjoy running and weight lifting. I love attending all the festivals and events Columbus has to offer: Food Truck Fest, Rose Garden Festival, Park Street Fest, Greek Festival, Art Festival, Jazz and Ribs Fest, Restaurant Week, Dine Originals events, Columbus Oktoberfest, and many more.
---