Complete Story

April 2015 OPA Extern Profile: Nick Manion
Nick Manion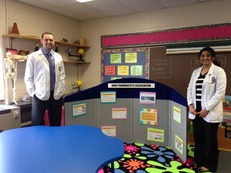 E-mail: n-manion@onu.edu
Pharmacy School: Ohio Northern University
Undergraduate degree/institution: N/A
Rotation Month at OPA: April 2015
How did you get interested in the profession of pharmacy?
I had always enjoyed opportunities to take risks while balancing dynamic conditions with controllable and uncontrollable variables in an ever changing environment. So originally, I was going to go to business school on a full ride scholarship. However, while I was growing up it was just mom and me at home, and she had multiple strokes when I was in high school. Throughout the treatment process I saw opportunities for optimization in her care. This brought me to the profession of pharmacy because I thought I could positively impact future patients. Now I have come full circle with a career interest of pharmacy leadership and administration (the intersection of business and pharmacy). It is the best of both worlds! I look forward to the opportunity to lead a team and have the greatest impact on the maximum amount of patients by enabling and empowering others to positively affect patient outcomes.
Why did you choose OPA as a rotation site?
There were multiple factors that led to my decision to apply for the OPA rotation. As I was creating my APPE rotation schedule I realized that I did not have much experience with how state pharmacy organizations functioned and operated on a regular basis. This combined with my strong interest in leadership, administration, and legislation, made it an obvious choice. I thought that the OPA rotation would be a great way to learn about new opportunities in pharmacy, as well as be exposed to current issues affecting pharmacy practice. The final reason that attracted me to the OPA rotation were my interactions with Ernie Boyd as I progressed through pharmacy school. Whenever I spoke with him, he was always doing something new and exciting that positively impacted our profession, and I wanted to be a part of that as an active contributor.
What was the most significant or surprising experience at OPA?
There are a variety of exciting things that happen at OPA, and no day is the same. One of the most surprising experiences I had at OPA was the level of student involvement that the OPA staff allowed and strongly encouraged. I was able to contribute to multiple roles including journal CE production, protocol development, and Annual Conference preparation. Another significant experience that I encountered was my time spent with legislators at the Statehouse. I enjoyed learning about the legislative process and was excited to be a part of it. I recommend all pharmacy students pursue the OPA rotation, as well as encourage OPA involvement to both students and pharmacists due to the unique networking and learning opportunities that are available.
What other pharmacy associations/organizations do you belong to?
OPA, ASHP, OSHP, SSHP, APhA, ASP, AMCP, SNPhA, NCAP, Phi Delta Chi
Hobbies:
Basketball, Outdoor Activities, Daily learning one new thing from every person I meet
---