Complete Story

November 2015 OPA Extern Profile: Dana Bachmann
Dana Bachmann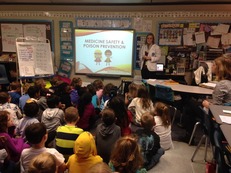 E-mail: dbachmann@neomed.edu
Pharmacy School: Northeast Ohio Medical University (NEOMED)
Undergraduate degree/institution: Bachelor of Science in Pharmaceutical Sciences (BSPS), The Ohio State University
Rotation Month at OPA: November 2015
How did you get interested in the profession of pharmacy?
In high school, I was interested in math and science, and I always knew that I wanted to do something in the realm of health care. I enjoyed building relationships, and I wanted to help care for people. My uncle was a pharmacist, and that is how I knew pharmacy was a career. As I was applying to college, I just decided I was going to a pharmacist, and I applied to two universities with an undergraduate degree related to pharmacy. I started taking pharmacy related courses for my degree, and I got a job as a pharmacy technician. I really enjoyed all of my classes, and I enjoyed working in a pharmacy building relationships and taking care of patients. It was those experiences that solidified my choice to apply for pharmacy school, and I knew pharmacy was the right career path for me from there!
Why did you choose OPA as a rotation site?
When I was planning my advanced practice pharmacy experiences (APPE) rotations in my third year, I knew I wanted to have a wide variety of experiences that would provide me a well-round APPE education, and I wanted to be challenged by new experiences. I knew that OPA would provide me those opportunities as well as allow me to see a new and different behind the scenes perspective of pharmacy. I wanted to learn what went into running an association as well as learn about advocacy and legislation. I chose OPA to gain all of those unique experiences, and I experienced way more than I ever expected!
What was the most significant or surprising experience at OPA?
There are so many different things going on at OPA all the times that no day is the same. I got to experience and participate in a wide variety of activities such as going to a Ohio Board of Pharmacy meeting, attending OPA committee meetings, editing and writing journal articles, completing a community presentation, and so much more! There were so many great experiences it is hard for me to pick just one, but I will say the two most significant experiences I had while completing my rotation was the networking experiences and the realization of how important it is to be a part of a state association. First off, the amount of networking experiences I had while I was at OPA was great, and I would not have been able to experience this at any other rotation site. I was constantly meeting new people from new practitioners and other pharmacists to Senators and Representatives. Networking helped me gain confidence in meeting and talking with new people as well as establishing new relationships. Secondly, I did not realize how important being a member of your state association was until I started my rotation here. All of the people at OPA work hard every day to provide opportunities for pharmacist education and expanding the scope of practice for pharmacists in Ohio. OPA is a big voice for pharmacists in Ohio at the Statehouse and with other health care professionals. It was exciting to see all of the great opportunities OPA has to offer as a student, and I realized OPA membership is truly important for pharmacists. I am so glad I got to experience this rotation, and I look forward to being a part of the Association in the future!
What other pharmacy associations/organizations do you belong to?
Phi Lambda Sigma (PLS), Gamma Phi Chapter Pharmacy Leadership Society
American Pharmacists Association (APhA)
American Pharmacists Association-Academy of Student Pharmacists (APhA-ASP)
Ohio Society of Health-System Pharmacists (OSHP)
Student Society of Health-System Pharmacists (SSHP)
Hobbies:
I enjoy spending time with my family and friends, crafting, and watching re-runs of Bones on Netflix. I appreciate trying new foods and new restaurants. I am an avid Ohio State Buckeye fan, and I have a goal to run at least a half-marathon someday!
---