Complete Story

February 2016 OPA Extern Profile: Jordan Nicholls
Jordan Nicholls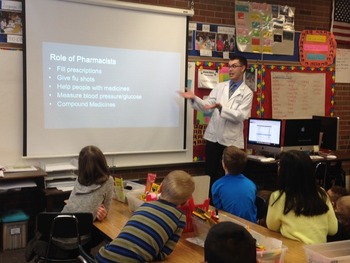 E-mail: jnicholls@cedarville.edu
Pharmacy School: Cedarville University
Undergraduate degree/institution: B.S. Pharmaceutical Sciences / Cedarville University
Rotation Month at OPA: February 2016
How did you get interested in the profession of pharmacy?
My grandfather was diagnosed with Parkinson's disease when I was eight years old. I knew that I wanted to work in the medical profession; at that point my goal was to cure Parkinson's. I've always enjoyed educating and helping others, and serving as a pharmacist is a great way to blend my love of science with helping others.
Why did you choose OPA as a rotation site?
I've had the privilege over the last three years to work directly with many members of the OPA. Through legislative events to collaboration with APhA-ASP, OPA has always been a strong supportive voice in pharmacy. They are a strong advocate for student involvement in the profession. It's a great opportunity to meet other pharmacists all throughout the state and spur one another on in our commitment to serve our patients.
What was the most significant or surprising experience at OPA?
One of my hobbies is keeping up with current events. Legislative opportunities within OPA have given me the avenue to pursue my interests within the profession of pharmacy. I can remember that first year being so excited to talk directly with legislators at the student legislative day. Each year this definitely one of the highlights of my pharmacy experience. This opportunity taught me about myself and that I was capable of making a difference. During my rotation I had the opportunity to help organize and staff the event. There is so much work that goes into making an event successful, and I have a whole new appreciation for all the preparation work that OPA provides for the members. This has been a dream come true for me.
What other pharmacy associations/organizations do you belong to?
APhA-ASP, Phi-Lambda Sigma
Hobbies: Running, playing the piano and clarinet, singing, and current events.
---