Complete Story

March 2016 OPA Extern Profile: R. Taylor Reed
R. Taylor Reed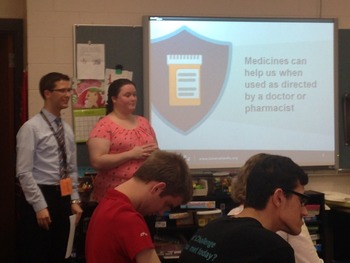 E-mail: r-reed.1@onu.edu

Pharmacy School: Ohio Northern University
Undergraduate degree/institution: ONU
Rotation Month at OPA: March 2016
How did you get interested in the profession of pharmacy?
As a young boy in Arkansas, I remember the pharmacist at the local drug store being a pillar in the community. Everyone turned to him with questions regarding their medications and their health, and I thought that was pretty neat! When it became time to look at colleges and plan for a career, I was drawn to the health professions. My image of the community pharmacist as a pillar in the community who is both easily accessible and highly knowledgeable was the spark for why I chose to pursue a career in pharmacy.
Why did you choose OPA as a rotation site?
After participating in the Young Pharmacy Leaders Conference in 2014, I became very interested in completing an experiential rotation with the Ohio Pharmacists Association (OPA). Through the group discussions at this conference, it became clear that OPA is the heart of pharmacy in Ohio – the organization that provides power and support to the profession. Having been an active leader while attending Ohio Northern University, I have a strong desire to remain involved professionally throughout my career. An experiential rotation with OPA will offer an intimate view of the association's work; allow me to directly serve the association; and act as a launching pad for my future leadership in the profession.
What was the most significant or surprising experience at OPA?
My rotation with OPA has allowed me to better understand how OPA takes care of pharmacists, so that we can focus on taking care of patients! Each day at the Ohio Pharmacists Association (OPA) brings exciting experiences, and no two days are the same! One of the most surprising experiences I had during my OPA rotation was seeing the level of student involvement that the OPA staff allowed and strongly encouraged. I was able to contribute to preparation for the Annual Conference; collaborate in writing Continued Pharmacist Education for the journal; and meet with many state legislators. Another significant experience I was afforded included representing Ohio during several of the National Alliance of State Pharmacy Associations (NASPA) meetings that took place in conjunction with the American Pharmacists Association (APhA) annual convention. Each of these opportunities represented an exciting way to help develop the profession of pharmacy! I strongly encourage all pharmacists and student pharmacists to get involved with OPA due to the unique networking and learning opportunities that are available.
What other pharmacy associations/organizations do you belong to?
American Pharmacists Association – Academy of Student Pharmacists (APhA-ASP)
Ohio Pharmacists Association (OPA)
National Community Pharmacists Association (NCPA)
Student National Pharmacists Association (SNPhA)
Phi Lambda Sigma
Hobbies:
Reading, running, music, cooking, photography, time with family and friends
---