Complete Story

October 2016 OPA Extern Profile: Karla Peters
Karla Peters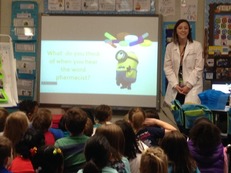 E-mail: petersk@findlay.edu
Pharmacy School: University of Findlay
Rotation Month at OPA: October 2016
How did you get interested in the profession of pharmacy?
In middle school we were given a class assignment to pick a professional to shadow for the day. At the time, I had no idea what I wanted to do for the rest of my life. I remember telling my basketball coach about the assignment and he suggested I shadow his brother, a pharmacist. I really didn't know much other than pharmacists dispense medications, but what I saw that day is the reason I am where I am today.
The pharmacist was the person that helped everyone. All day people would ask to speak to the pharmacists about their medications. The people in the pharmacy had so much trust in the pharmacist. I saw the amount of trust people had in him and saw how happy he was to be able to help these individuals. I wanted to be able to feel that way with my career. I wanted people to trust me and know I was doing my very best to help them. I wanted to be able to interact with people on a daily basis and make a difference in their life.
Why did you choose OPA as a rotation site?
I wanted to be at OPA for many different reasons. First, I wanted to learn more about the legislative side of pharmacy. Prior to this experience at OPA my only other tie to the association was attending legislative day and the annual conference. I wanted to see a State Board meeting and see firsthand how it operates. I wanted to be able to advocate for my profession through talking to state representatives and attending meetings. In addition to learning about legislation, I wanted to be able to meet many different pharmacists from all across the state and learn about all the different types of pharmacy. Lastly, I wanted to see everything OPA does to help advance the profession and learn how I can be actively involved with advancing the practice of pharmacy in Ohio.
What was the most significant or surprising experience at OPA?
During my month at OPA I had so many different experiences that all impacted me in a significant way! I was given so many networking opportunities through attending the different committee meetings. I was able to build my confidence with talking to new people and build relationships with professionals in my future career. I met so many different pharmacists and learned all about the different practices across the state. Meeting new people and hearing about their careers helped me figure out what I wanted to do after graduation. I also enjoyed seeing all the different pharmacists come together and work towards the same goal of advancing our profession. I was also able to meet Senator Burke at a fundraiser held by OPA. It was a great opportunity for me to thank him for all of his hard work he has done for the profession. Most significantly, OPA has shown me the importance of being actively involved in your profession. OPA does so much with legislation and providing resources for pharmacists in Ohio. It is a big voice for Ohio pharmacists and it is important that all pharmacists be involved! The most surprising experience unrelated to the profession was having the chance to make homemade pasta at the Bennett's! I can definitely say I will be leaving Columbus will better cooking skills than I had arrived with!
What other pharmacy associations/organizations do you belong to?
American College of Clinical Pharmacy, American Pharmacists Association, Student Societies of Health-System Pharmacy, Rho Chi Society, and Alpha Zeta Omega
Hobbies:
I enjoy spending time with family and friends, experimenting with DIY projects, planning my dream home while watching Fixer Upper, attempting new recipes which leads to trying new restaurants and cheering on the Cleveland sport teams!
---