Complete Story

October 2016 OPA Extern Profile: Kelsey Kresser Schmuhl
Kelsey Kresser Schmuhl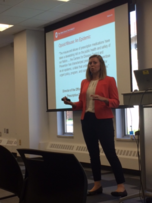 Email: Kresser.2@osu.edu
Pharmacy School: The Ohio State University
Undergraduate degree/institution: Bachelor of Science in Pharmaceutical Sciences from The Ohio State University
Rotation Month at OPA: October 2016
How did you get interested in the profession of pharmacy?
I consider myself very fortunate because I found an excellent mentor very early in my undergraduate career who made me want to become a pharmacist. This mentor and professor taught me about Generation Rx and sparked my passion for combatting drug misuse and addiction in my community. He taught me that one person or small group of dedicated people had the power to create change, and I truly feel like it was his guidance and continued interest in my success that has led me to where I am today.
Why did you choose OPA as a rotation site?
I chose OPA as a rotation site because I had an interest in advocacy throughout pharmacy school. I had the opportunity as a student to give proponent testimony on House Bill 4, which gave pharmacists and pharmacy interns the ability to dispense naloxone without a prescription under a physician's protocol. As an APPE student, I wanted to expand my knowledge of the legislative process and learn how I could affect pharmacy practice on a larger scale. This rotation also gave me the opportunity to learn from and network with some of the most influential and knowledgeable pharmacists from across the state, which I am very thankful for.
What was the most significant or surprising experience at OPA?
While every day at OPA was significant and brought new experiences and challenges, my favorite event was having the opportunity to attend a fundraiser for Senator Dave Burke at OPA. Senator Burke is the only pharmacist in the Ohio Legislature and a true champion for pharmacy issues in Ohio. I enjoyed listening to the senator speak about his future plans for provider status in Ohio and where he sees pharmacy going. Hearing Senator Burke speak proved to me how important it is for pharmacists to get involved in state organizations as well as government.
What other pharmacy associations/organizations do you belong to?
ASCP, SSHP, Phi Lambda Sigma, Rho Chi, Generation Rx
Hobbies
Watching movies, hanging out with my husband and cats, visiting my family
---