Complete Story

New Practitioner eXperience News Winter 2017



OPA New Practitioner eXperience (NPX) Launchpad

Winter 2017
Welcome to the NPX Launchpad
Welcome to the second volume of the NPX Launchpad, the quarterly newsletter intended to help you, new practitioners, excel personally and professionally! The New Practitioner eXperience (NPX) is an automatic (and free!) Ohio Pharmacists Association (OPA) member benefit for pharmacists who have been in practice for 7 years or less.
Check out our featured articles in the Winter 2017 Edition:
You will also find news on upcoming events within OPA, as well as updates from our various committee liaisons to keep you in tune with the Association.
We hope you enjoy the NPX Launchpad and we invite each of you to take the next step in your professional growth by getting involved with NPX today!
Sincerely, your NPX Advisory Team,
Alexa Sevin, Chair

Amanda Singrey, Vice-Chair

Aaron Neidig, Member-at-Large

Shea Pennington, Launchpad Coordinator

Scott Uram, Member-at-Large

Logan Yoho, Member-at-Large




Practitioner Profiles
R. Logan Yoho, R.Ph., PharmD, BCACP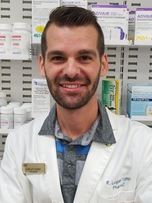 Ohio Northern University 2010
Pharmacy Manager at Fruth Pharmacy in Pomeroy, OH


Tell us a little bit about your practice site.
Fruth Pharmacy is a regional chain located in Southeast Ohio, West Virginia, and Kentucky. In addition to the normal retail pharmacy offerings, we provide an extensive vaccination program, Medication Therapy Management, and our newest program is Pharmacogenetic testing.
How long have you been an OPA member? What has been your best experience thus far?
I have been an OPA member since graduation and I attended Annual Meetings for several years while still a student. I love the Annual Meeting. It is a great time to catch up with classmates and network with pharmacists from all corners of the profession.
What has been your favorite moment of your career?
My favorite moment in my career was fairly recent, when I opened the email that said that I was now Board Certified.
What is the best career advice you have offered, or been given?
The best advice given to me has been that you have to fight for your profession because no one else will do it for you. That is why I have such a passion for Legal & Regulatory Issues. OPA has proven that individual pharmacists can influence issues that will directly impact our profession.
What is the biggest challenge you've faced as a new practitioner, and how did you overcome it?
My biggest challenge as a new practitioner has been not matching either of the two times that I went through the Residency Matching Process. It was very trying, but I had a professor tell me that, "There is more than one way to skin a cat." That advice stuck with me and it motivated me to seek out Board Certification and ways to advance my pharmacy career.
What is one thing you can't live without?
The one thing that I could not live without is definitely COFFEE. I have been drinking coffee daily since I was 13 and drank it from 6 years old whenever my mom was not looking.
Special Feature: On the Brink of Your Career

Brigid K. Groves, R.Ph., PharmD, MS
"When you woke up this morning, did you say to yourself 'Today, I'm gonna talk.' Or 'Today, I'm gonna skate!'?" Replace "skate" with do and you have my mantra – 'Today, are you going to talk?' or 'Today, are you going to do?!' This quote comes from one of my favorite childhood movies called Brink!, a classic Disney channel original movie about a high schooler becoming a competitive street skater. While I did not end up pursuing a competitive street skater career path, I have applied the idea behind it in my pharmacy career thus far. I am a doer (although, I do enjoy talking as well) and that has allowed me to have a variety of experiences during my new practitioner years.
I recommend that during your new practitioner years, you embody as much "doer" type of characteristics as possible. As a student, it was fairly easy to develop a network through classes and student professional organizations. However, upon graduation, I discovered that in order to keep and expand my professional network, I would need to actively find opportunities to do things to grow and develop as a new practitioner. OPA provides me with vast opportunities to network, develop, and satisfy my doer nature. From my perspective, these "doer" characteristics are:
Go to events – how many invites do you receive on social media or from work friends? Expand your circle and you will find opportunities.
Introduce yourself with a smile – genuinely and warmly introduce yourself when you going to events.
Listen more – you will hear of exciting opportunities and common issues when asking questions and listening for the answers.
Volunteer – when you hear of opportunities, raise your hand and join! Follow through on your commitments and you will quickly be asked back for additional opportunities in the future.
I joined the Medication Therapy Management (MTM) Committee as soon as I became licensed and am now helping to develop collaborative practice agreement templates for pharmacists to use across the state. As a committee, we identified relevant MTM encounters to create Ohio's MTM Story, which is now published and used as talking points with legislators. The good news is you can join any of OPA's committees as an OPA member. Follow the directions to volunteer here.
The other area I started pursuing as a new practitioner was the legislative side of practice. Using the legislative section on OPA's website, I stay updated on current legislative efforts and other relevant pharmacy practices. Additionally, I make legislative visits to share how important pharmacists are to our patient's overall care. While it seems overwhelming at first, Antonio Ciaccia makes it easy! His advice is that it is just like talking to a friend or family member that has little to no knowledge of pharmacist abilities. I encourage you to reach out to your local legislators so they get to know you as a resource on pharmacy-related matters.
Finally, I had the opportunity to get involved in a still developing group – the OPA New Practitioner eXperience (NPX). NPX provided me with leadership opportunities, financial perspective and education, and networking with my colleagues in social environments. I highly recommend that you join and participate in NPX events to continue developing yourself as a new practitioner. I will see you at the NPX Social at the upcoming OPA Annual Meeting on April 22nd. Until then, you can find me rolling down rails to trails in my inline skates dreaming of becoming a competitive street skater.
Brigid K. (Long) Groves is a 2012 graduate of The Ohio State University, where she obtained her Master of Science degree in Health-System Pharmacy Administration. She completed a PGY1-PGY2 residency with the Kroger Company and The Ohio State University College of Pharmacy, focusing in community care. Currently, she is Clinical Coordinator for Kroger in Columbus, Ohio. Among numerous other state and national leadership roles, she serves on the OPA Board of Trustees as District 9 representative (serving Franklin, Delaware, Madison, and Union counties) and is the past Chair of NPX. We are so excited that Brigid will be recipient of the much-deserved OPA Outstanding New Practitioner Award!
Upcoming OPA Events
Join us at one of these OPA events! NPX Advisory Team members will be there and would love to get to know you and tell you more about OPA and how you can get involved.

Black Cloister Brewery
April 15, 2017 | Toledo, Ohio
For our next social event, come enjoy a cool beverage and appetizers in good company with other local pharmacists! The location is Black Cloister Brewery: 619 Monroe Street, Toledo, OH 43604. A Financial Advisor will be present so you can have all your money-related questions answered in this laid-back setting.
139th OPA Annual Conference & Trade Show
April 21-23, 2017 | Greater Columbus Convention Center
Your role is expanding, and this Conference will help you meet the challenge! In addition to the 50 hours of cutting-edge continuing pharmacy education (CPE) programs, the Conference includes 2.5 hours of patient/medication safety CPE that you will need to renew your Ohio license in 2017 and thereafter. Take advantage of networking with other pharmacists! And don't miss the Trade Show with its prizes, Dinner in the City, and the many opportunities to broaden your knowledge. Be sure to register by March 16th to get the "early-bird" discounted registration!
*NPX-Hosted Events at Annual*
Through the Looking Glass: Leading Throughout Your Career | Friday, April 21st, 2:40 pm
Brigid Groves, R.Ph., PharmD, MS, Clinical Coordinator, Kroger; Jeff Steckman, R.Ph., PharmD, Pharmacy Sales Manager, Kroger; Marialice Bennett, R.Ph., FAPhA, Faculty Emeritus, OSU College of Pharmacy
Leadership is an essential piece of your practice throughout your career as you transition from student to new practitioner to post practitioner. Our speakers will share their leadership experiences from different career perspectives. Emphasis will be placed on leading from where you stand and the concept of Big L leaders and little l leaders.
New Practitioner Roundtables | Saturday, April 22, 1:30 pm
Join the New Practitioner eXperience for this relevant conversation offering advice for student pharmacists, recent graduates, and any pharmacist still on the brink of their career! Topics to be discussed by various pharmacy experts include ambulatory care, community, inpatient and administration, as well as tips on applications, interviews, residency matching, and board certification.
NPX Social | Saturday, April 22, 5:00 pm
After the formal conference sessions that day, come hang out with NPX members in a casual, laid-back setting. Location is at The Social, about a block away from the Convention Center. The address is 533 Park Street, Columbus, OH 43215. Your NPX Advisory Board looks forward to networking and catching up with you!
Rx Impact
By Scott Uram, PharmD
The CommunityCare Clinic is a local free healthcare clinic run by volunteering healthcare providers and students in Toledo, Ohio. When I think back to my time volunteering there, one patient experience sticks out above the rest. While waiting to see a doctor, I asked a patient if he would care to sit down to review his medications. The young man had asthma and he wasn't able to play baseball, his favorite sport, because his symptoms were so debilitating. After sitting down with the patient I quickly figured out the problem; he had unknowingly confused his maintenance inhaler with his rescue inhaler. I educated him on the difference between the two inhalers, how they should be used, and printed him a medication action plan so he wouldn't forget. Later in the year, I saw the same patient and asked him how his symptoms were after our last visit. He told me he definitely noticed a difference and that he was actually able to play baseball with his friends again. It made me realize that even the smallest interventions we make as pharmacists can have a huge impact on our patient's quality of life.
This is a brand new article to be featured in every issue of the Launchpad. If you have an inspiring story of how you or a friend in pharmacy influenced the care and wellbeing of a patient, please share! Submit stories to Shea Pennington at v-pennington@onu.edu.
Money Matters
On January 26th, the New Practitioner eXperience hosted the first ever Finance Question & Answer session at Whole Foods Cafe in Dublin, Ohio. We were fortunate to have financial guru Tim Ulbrich share insight and answer a wide variety of questions from almost two-dozen new practitioners and student pharmacists. Just a few topics that were discussed in this casual group setting were:
Student Loans: The median debt for graduates is $150,000 (2016).

Typically, if interest is > 4%- pay off the debt versus investing in other ways.

Emergency Funds: It is wise to have money saved in case that "rainy day" comes.

Equal to about 3 - 6 months of income

Financial Planners: Sometimes advice is tied to their products, so be cautious.

Fiduciary (best product for you) versus Suitability (best product *within their company* for you)
We are so grateful to Tim for empowering fellow pharmacists and student pharmacists towards financial freedom. Check out this outstanding online resource for more information on the topics above and many more, and sign up for weekly emails at: http://yourfinancialpharmacist.com/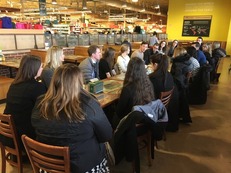 A Taste of Our Kitchen
Baked Sweet Potato with Egg

From the Kitchen of Scott Uram


Ingredients:

3 large sweet potatoes
6 eggs
2 tbsp. coconut oil
4 pieces cooked bacon, crumbled
salt and pepper
guacamole (optional)

Instructions:

Preheat oven to 350º F.

Poke potatoes with a fork and bake in the oven for about 60 minutes and let cool.

Cut sweet potatoes in half and scoop out some of the insides but not all. You want to leave a good layer so it will be able to hold the egg.

Put the sweet potato flesh in a bowl and mix with coconut oil and salt and pepper to taste.

Place potatoes on a sheet pan. Put a scoop of the potato mixture back in each potato. Try to push it up the sides. This will help it hold the egg.

Crack an egg into each hole and top with salt and pepper.

Bake in the oven for 20-25 minutes at 350º F.

Sprinkle with bacon crumbles and top with guacamole (optional).
Ohio Days
Recharge Your 2017 in Northeast Ohio

By Aaron Neidig



Did the winter blues take away the energy and motivation you had for the New Year? Are you tired of the gray skies and cold weather that is keeping you indoors? Well, how about you recharge with a trip to Northeast Ohio!
While we wait for the last of winter to leave Ohio, the Cleveland Indians are already enjoying warmer weather in Arizona as they train for the upcoming season. In April, the American League Champions will return to Ohio to start their 2017 season. Take in a ball game with some family or friends when the Indians are in town. There are plenty of great restaurants around the stadium and hotels within walking distance to accommodate your stay. Do not forget the Cleveland Cavaliers! Head next door to Quicken Loans Arena as the Cavs close out their regular season and make a run for another NBA Championship. You will feel energized next to 20,000 screaming fans.
If you are not a sports fan and instead enjoy the fine arts, there are still plenty of things to do in Northeast Ohio. The Cleveland Museum of Art is free to the public and features a number of galleries, exhibitions, and live performances. This is a great place to jump-start your creativity. Cleveland also offers a variety of entertainment options. The Playhouse Square is the epicenter for concerts, plays, and comedy. For the music lovers, Northeast Ohio provides a diverse selection of music to meet everyone's taste. Go to the Rock and Roll Hall of Fame if you are into rock and roll, or watch the Cleveland Orchestra perform at Severance Hall or at the Blossom Music Center, located 25 miles south of Cleveland.
Spend some time outdoors hiking or biking at Cuyahoga National Park. It may help you restart that fitness resolution you made, but failed to follow through with, at the beginning of the year. You can also stroll through the gardens at the Cleveland Botanical Garden or the Stan Hywet Hall & Gardens in Akron. Visit the conservatory, called The Glasshouse, at the botanical garden which features hundreds of exotic plants and animals. Then, relax and rejuvenate in one of its eleven gardens. The Stan Hywet, which was once home to one of the co-founders of The Goodyear Tire & Rubber Company, opens for season in April. Explore the 70 acre property and each of its gardens. The Birch Tree Allee, which is a 550-foot long walkway lined with over 100 birch trees is a must-see. Finally, even though they are open year-round, it is nice to go to the Cleveland Metroparks Zoo and the Akron Zoo when the weather is warmer.
Instead of letting your work schedule or other obligations take control of your calendar this spring, plan some time away in Northeast Ohio! We all need some time to recharge.
NPX Committee Liaisons
NPX is openly recruiting new liaisons for the 2017-2018 year!! If you are interested in serving on one of the OPA committees as an NPX liaison, responsibilities include attending quarterly meetings at the OPA office in Columbus, Ohio and reporting back to Shea Pennington with an update for the newsletter. Please email NPX Chair Alexa Sevin (sevin.5@osu.edu) and Lisa Berman (lberman@ohiopharmacists.org) for further details.
Winter 2017 Committee Liaison Reports
Member Services and Development (October 6)
Substitute Liaison: Amanda Singrey, R.Ph., PharmD
The Member Services and Development Committee met on October 6th, 2016. The Membership report was reviewed and ideas for improving OPA renewal/retention rates, new member engagement, and effectiveness of several types of contact methods for non-renewals were discussed. OPA award nominations were presented and recipients were chosen to be sent to the OPA Board of Trustees for approval. A new award was proposed—the OPA Friend of Pharmacy Award—which would recognize a non-pharmacist member of the general public who has contributed a special service to a pharmacist, the profession, or OPA. This proposal, too, was sent to the OPA Board of Trustees for comment. Current nominations for the 2017 election were presented, and ballots will be emailed/mailed February 10th with return date of March 3rd. Keep an eye out for the ballot!!
Medication Therapy Management (October 13)
Liaison: Erin Petersen, R.Ph., PharmD
The MTM Committee met on October 13th to refine the collaborative practice agreement templates and to brainstorm ideas for continuing education to help Ohio Pharmacists be as prepared as possible to initiate these practice sites. We also discussed methods for publicizing the MTM Story and will meet in January in collaboration with the Public & Professional Relations Committee to continue this discussion.
Independent Special Interest Group (November 15)
Substitute Liaison: Nick Newman, R.Ph., PharmD
During this quarter's Independent SIG meeting, Ernie and Antonio reviewed current independent pharmacy concerns regarding DIR fees as well as Medicaid reimbursement. The SIG discussed the conclusion of the survey reporting period with results to be announced soon and likely to take effect in April 2017. Antonio reminded the group to start reporting gabapentin to OARRS beginning December 1st. Additionally, the importance of building a relationship with your legislators was stressed; therefore, when you go to advocate in the future, your legislator is not talking to a stranger.
Legal & Regulatory Affairs Committee (January 12)
Liaison: Zach Henz, R.Ph., PharmD, BCPS
The OPA Legal & Regulatory Affairs Committee met in January to celebrate the legislative victories of the past year (Ohio's 131st General Assembly) and to strategize a legislative game plan for the upcoming year. Overall, the year concluded with great enthusiasm towards advancement of the profession of pharmacy. Ohio is fostering a reputation of being one of the most progressive states in the nation for pharmacy!
We now start 2017 with a clean slate, mostly because OPA successfully accomplished much of what we set out to do in 2016. Bills that enable "Med Sync," administration of long-acting medications & vitamin B12, combining of refills for 90-day supply, biosimilar substitutions, and medical marijuana were passed this year. OPA was vital in the process of passing pro-pharmacy legislation ensuring that pharmacists' voices were heard at the Ohio Statehouse. Albeit, no legislation is perfect (i.e., medical marijuana), the Legal & Regulatory Affairs Committee made robust efforts to ensure adequate measures were implemented to support and protect the profession.
Much debate was taken on what new issues should now be prioritized. Ideas such as dispensing an EpiPen without a prescription, increasing the number of diagnostic tests a pharmacist can perform, and self-referrals from patients to pharmacist-run clinics were all topics considered. If YOU have a legislative idea, please feel free to share it with OPA; 100% of the issues pursued are suggested by members like YOU!
At the conclusion of the meeting, OPA offered members a new New Year's resolution: making it a goal to find out the names of our state elected officials (state representative, state senator, Ohio senator (2), Ohio representative, & governor). Remember, they all work for US! Building a relationship with our elected officials might just be one of the most important things we can all do to advance the profession this year.
Preparedness Task Force (January 17)
Liaison: Mitch Howard, R.Ph., PharmD
The Preparedness Task Force had a presentation on current Franklin County Public Health Office naloxone distribution and their work with Project DAWN. The education and distribution program has doubled in its second year to community members as well as local law, fire, and EMS groups. Additionally, the group discussed an upcoming full-scale, mass casualty emergency preparedness exercise on April 4th. The exercise will take place at 3 locations simultaneously in Columbus and they are in need of volunteers to portray victims. Volunteers report at 7am and will last until early to mid-afternoon. Additional information can be found here.
MTM and PR Joint Committee Meeting (January 26)
Liaison: Erin Petersen, R.Ph., PharmD
The first ever MTM- Public Relations joint committee meeting occurred at OPA on January 26th. This meeting of 50+ pharmacy minds discussed how we, as pharmacists, can better reach our communities and local media to spread the word about the profession and what it has to offer. A brainstorming session using the Media Resource packet on the OPA website commenced allowing for topics and media outlet suggestions. Interested in learning more about how to write a press release or talk to the media yourself? Check out the OPA Presentation Resources Media Press Kit for assistance! Also, the Collaborative Practice Templates should be on the OPA website soon so keep checking!
Pharmacy Economics (February 7)
Liaison: Andrew Faiella, R.Ph., PharmD
The Economics committee meeting discussed a wide range of topics affecting pharmacy. The major topic of the day was how the Medicaid Fee for Service switching to a tiered dispensing fee will impact pharmacy. Scheduled to start in April 2017, pharmacies will be reimbursed a set fee (based on prescription volume) and cost of acquisition (based on National Average Drug Acquisition Cost or NADAC). This switch is projected to save Medicaid money but better reflects pharmacies' cost of dispensing and removes subjectivity of MAC pricing. DIR fees were also a topic of discussion with the discussion focusing mostly on a recently released report by CMS on how DIR fees affect cost saving in Medicare Part D plans. Also highlighted was the proposed 2017 drug pricing ballot initiative in Ohio, changes in Medicaid Behavioral Health billing, Provider Status progress, and a potential MTM model with the Bureau of Workers Compensation. If you are interested in reading more about rising medication costs, the recent articles in the Dayton Daily are must-reads.
Resolutions & Bylaws Committee Meeting (February 9)
Substitute Liaison: Rebecca Lahrman, PharmD Candidate 2017
The last meeting before the Annual conference, we discussed several proposed resolutions and reviewed the path a policy takes before the final approval. Resolutions are sent to the committee and discussed before the committee votes either in favor or not in favor. Recommendations are proposed to the House of Delegates at the Annual meeting in April. There are several great resources out there on how to write a resolution, and referencing current resolutions can aid in writing a proposal. We discussed proposed resolutions about USP 800, electronic pharmacy to pharmacy transfers as well as a thank you to our president Chet Kaczor for his service to OPA over the past year. There is still time to submit a resolution, and it's never too early to start working on next year.


Upcoming Committee Meetings:
Member Services & Development, March 14th

All meetings are held at the OPA office, 2674 Federated Blvd, Columbus 43235 at 10:00 a.m. unless otherwise noted. Please visit the OPA website (www.ohiopharmacists.org) for more information.
Get Involved with NPX
Help us write the next newsletter! Articles may be submitted for Practitioner Profile, Rx Impact, Ohio Days or A Taste of Our Kitchen. Have an idea for another article relevant to new practitioners? You can submit that as well! Articles should be submitted in a Word document to Shea Pennington at v-pennington@onu.edu. Photographs for articles should be submitted separately for higher quality images. Thank you!
---