Complete Story

March 2017 OPA Extern Profile: Courtney Wooten
Courtney Wooten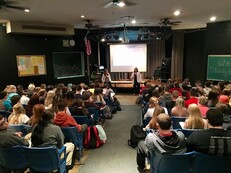 E-mail: cwooten@neomed.edu

Pharmacy School: Northeast Ohio Medical University (NEOMED)
Undergraduate degree/institution: University of Toledo (3 years of coursework in BSPS Pharmacology/Toxicology)
Rotation Month at OPA: March 2017
How did you get interested in the profession of pharmacy?
When I was considering career options, as a high school student, I wasn't sure exactly what I wanted to do. I liked school and knew that I was strong in math and science, but I also had good communication skills and enjoyed writing and working with other people. This led me toward health care, but I never had the desire to be a physician. I spoke to older friends who were pursuing pharmacy and wrote my senior research paper on a pharmacy-related topic, which helped me confirm that I was interested in the profession. Pharmacy allows me to work with patients and other healthcare providers while using my academic strengths, problem solving abilities, and communication skills to help people who need it. My first pharmacy job was in a small independent pharmacy, The Village Pharmacy, in Baltimore, Ohio. I had the opportunity to see how involved my pharmacist was in his patients' lives and how much his patients respected and relied on him. By nature of it being a smaller store, he had plenty of time to work with me. He began teaching me about drug classes, mechanisms, pharmacy law, and the business aspects of pharmacy. I truly believe that I could not have had a better experience to foster my interest in pharmacy.
Why did you choose OPA as a rotation site?
When I first heard about the OPA APPE rotation, I was not sure whether I should apply. Throughout my time in pharmacy school, I had been primarily involved in SSHP and OSHP rather than APhA-ASP and OPA, so I wasn't sure I was qualified for an OPA rotation. That said, I had always had a passion for leadership, learning, and organizational involvement and I had a newly-discovered interest in advocacy and legislation. I talked with an older student who had completed a rotation with OPA and she had nothing but good things to say about her experience. I decided to take a leap of faith and apply for the rotation. I knew that it would be a beneficial rotation and that it would help me build skills and experience in a different way from my clinical rotations.
What was the most significant or surprising experience at OPA?
The most significant experience at OPA has been the presentations on medication safety and prescription drug abuse that I have had the opportunity to give to central Ohio students. During my one month at OPA, I have had the pleasure of giving 24 presentations to over 1800 students in grades K-5 and 9-12. Making this even more exciting, I was able to return to my own high school to give some of the presentations. It was a great feeling to be able to give back to my hometown. The presentations were extremely well received by students, teachers, and administrators and gave us the opportunity to promote the profession of pharmacy to the community.
What other pharmacy associations/organizations do you belong to?
Phi Lambda Sigma (PLS) Gamma Phi Chapter Pharmacy Leadership Society, American Society of Health-System Pharmacists (ASHP), Ohio Society of Health-System Pharmacists (OSHP), NEOMED Student Society of Health-System Pharmacists (SSHP), NEOMED Academia and Teaching in Pharmacy (ATP)
Hobbies:
I enjoy spending time with family and friends, traveling, reading, and baking. I love trying new restaurants and playing volleyball, both indoor and outdoor. I was born and raised a Bobcat and a Buckeye and love to watch college sports.
---