Complete Story

Michelle Musser Recognized as UNDER 40 Award Honoree
2018 UNDER 40 Award Recipient
Michelle Musser, R.Ph., PharmD, BCPS
The Ohio Pharmacists Association (OPA) announced today that Michelle Musser, R.Ph., PharmD, BCPS of Kenton, Ohio was honored as a distinguished UNDER 40 award recipient for professional achievements and vision in the practice of pharmacy at its 140th Annual Conference held April 20-22, 2018 in Columbus. This award recognizes the professional achievements of young pharmacists, and advances them in the ranks of top-notch professionals from a variety of careers who have earned UNDER 40 recognition.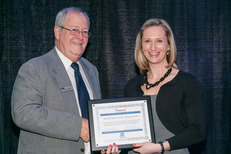 At Ohio Northern University, she strives to develop practical experiences for young pharmacists that help them gain and enhance their knowledge and skills. These outreach efforts also meet an unmet need in the local community and strengthen ties between the University and community. As a lifelong member of the local community, she has a vested interest in the improvement of her hometown and truly enjoys seeing her students make their community a better, healthier place to live. She works very hard to teach by example, touting service and leadership in practice in the classroom, but actively demonstrating this through involvement with state and national pharmacy organizations and maintaining several practice appointments during the school year and academic breaks. Moreover, community engagement is another passion of hers as she has positions with local organizations including the local YMCA Board of Directors, health coalitions, and school organizations. Leadership is especially important within practice and she is expanding her knowledge in that arena by participating in local leadership organizations and recently being accepted to the Academic Leadership Fellows Program hosted by AACP
Michelle received a Doctor of Pharmacy degree from The Ohio State University and completed a PGY1 Residency with focus in ambulatory care and education from Blanchard Valley Medical Associates and Ohio Northern University (ONU). She is an Associate Professor of Pharmacy Practice at Ohio Northern University, where she is also the Director of Outreach Programming and serves as a contingent pharmacist at Marion General Hospital. She is also a clinical pharmacist at Kenton Community Health Center. She was awarded Board Certification in Pharmacotherapy and became a certified tobacco treatment specialist. She served as Residency Program Director at Blanchard Valley Medical Associates and is now a preceptor for the HealthWise Residency at ONU. She is completing the Academic Leadership Fellows Program for Cohort 14. Michelle was awarded the ONU Adviser of the Year from the student SSHP chapter. She has served as a University Council member and Vice President, Interprofessional Education (IPE) Committee member, and Chairperson. She is the Director of Outreach Programming and Course Coordinator for Pharmacy Capstone course. Michelle's focus and passion is educating future pharmacists. She strives to develop practical experiences for young pharmacists that help them gain and enhance their knowledge and skill. She takes pride in her hometown and strives to make her community better. She is also actively involved with state and national pharmacy organizations. She believes leadership is important within the practice, as well as expanding knowledge.
Michelle has served on OPA's Medication Therapy Management Committee. As a member of the Ohio Society of Health-System Pharmacists, she has served on the Organizational and Educational Affairs Committee. She is an American College of Clinical Pharmacy (ACCP) member and has served on several PRN committees. She is an Abstract Reviewer for the American Pharmacists Association and AACP. As an AACP member, she is a Student Travel Award Reviewer, Student Poster Reviewer, and Reviewer for the Annals of Pharmacotherapy. Michelle is adviser for a local student-run pharmacy and wellness publication, as well as a preceptor for many student-led outreach events as part of her role as faculty and director of outreach programming.
Michelle's response when asked Why do you belong to OPA? "OPA offers opportunities to interact with other practitioners, through participation in annual meetings and committees. This allows an avenue to share ideas, encourage innovation, and learn more about the great work of other pharmacists. Involvement in the profession is essential to advocate for the important work we do and innovation is needed to drive the profession forward. Thus involvement in OPA allows me to learn from others, the opportunity to be involved with efforts to improve my profession, and to aid in growing ideas that will impact others in practice."
Kroger Pharmacy has exclusively sponsored the OPA UNDER 40 Recognition Program.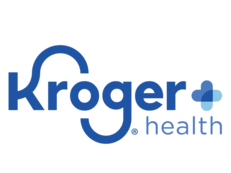 ---