Complete Story

February 2018 OPA Extern Profile: E. Michael Murphy
E. Michael Murphy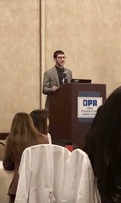 E-mail: emichaelmurphy2018@gmail.com
Pharmacy School: The Ohio State University College of Pharmacy
Undergraduate degree/institution: The Ohio State University
Rotation Month at OPA: February 2018
How did you get interested in the profession of pharmacy?
I first learned about pharmacy from my grandfather. He was a Cleveland, OH pharmacist for nearly 50 years and a recipient of the 1995 Ohio Bowl of Hygeia Award. In high school I found myself interested in chemistry and volunteering at local hospitals to work with patients, but it was witnessing the impact my grandfather had on his community as a pharmacist that inspired me to become a member of this profession.
Why did you choose OPA as a rotation site?
Throughout my career as a student pharmacist I have been involved with state and national pharmacy organizations. I believe that being an active member of the profession is vital for the advancement of pharmacy. I chose OPA as a rotation site because I wanted to learn more about the role of staff members at the Ohio Pharmacists Association to support Ohio pharmacists and work towards the advancement of pharmacy.
What was the most significant or surprising experience at OPA?
My most surprising experience at OPA was realizing how impactful OPA is down at the statehouse with our legislators. I feel that as members we often hear that our dues pay for advocacy of the profession of pharmacy but actually seeing it brings a new level of appreciation. It has made me found more value in my membership that I hope to share with those who haven't had the same experience as me.
Why I think it's important to maintain my OPA membership after graduation.
In this time where we focus so much on patient centered care I believe the role of the pharmacist is be a support structure for patients to provide them with education so that they can make an informed decision together. I believe that our pharmacy organization serves as a support structure for their pharmacists so that they can better serve their patients. If we want to maintain the progress we've gained and continue to advance pharmacy, then we need representatives who will fight for us every day and that is exactly what you get with your OPA membership.
What other pharmacy association/organizations do you belong to?
I am a member of the American Pharmacists Association (APhA) and served as the 2017-2018 APhA Academy of Student Pharmacists (APhA-ASP) National President.
Hobbies:
I love to explore local restaurants with my wife, Robin, travel, read fiction and biographies, and write short stories and poetry.
---