Complete Story

Legislation aimed at increasing naltrexone access in Ohio passes Senate!
The Ohio Pharmacists Association (OPA) is happy to report that the Ohio Senate has unanimously passed SB 119, which will help address Ohio's prescription drug abuse epidemic and fill gaps in care delivery to patients battling addiction. Of further good news, a companion bill over in the Ohio House of Representatives, HB 167, was successfully voted out of the House Health Committee on the same day as the Senate vote.
Passage of this innovative legislation will better utilize pharmacists to ensure that barriers to care are minimized for patients who are in desperate need of care.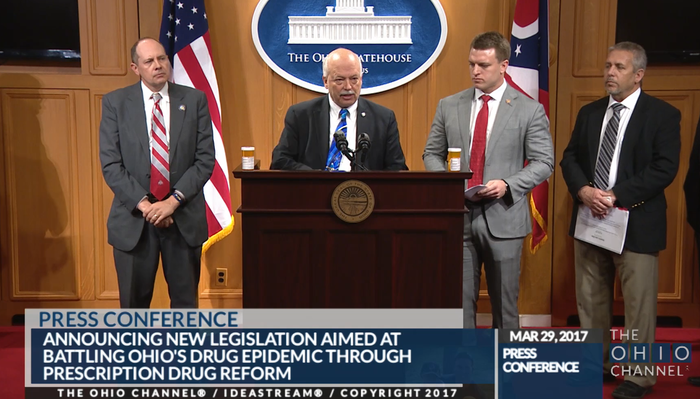 The impetus for the legislation was the story of Daniel Weidle, a 29-year-old from Germantown, Ohio, who while battling substance abuse disorder, eventually found sobriety through treatment with Vivitrol (long-acting naltrexone). Unfortunately, after Weidle's treatment options disappeared without notice, finding new a new provider for his naltrexone therapy proved extremely challenging, and in the end, after being left without treatment options, he relapsed and died.
In hearing the story, we were reminded of an issue that we had worked on in the previous General Assembly: HB 188, which also sought to address instances when the conventional system for medication access falls apart. For more on that law, which utilized pharmacists to enhance access to needed medications when refills expire, click here.
OPA looked for ways to apply the provisions of HB 188 in a similar fashion with SB 119 & HB 167 to ensure that gaps in care delivery for medication assisted treatment are minimized. In the language, we believe we have another national model for other states to replicate.
SB 119 & HB 167 will ensure that if patients experience accessibility issues when they are due for their next injection of Vivitrol, they will have options available to them. If a patient's doctor closes their doors, if a patient experiences an insurance coverage gap, if a patient is travelling away from their home clinic, or if a patient just simply can't make it to their doctor in a timely manner; all they would have to do is show up to any pharmacy, and as long as the pharmacy can verify that the patient is on some form of naltrexone therapy, the pharmacist can dispense a five-day supply of oral naltrexone to bridge the patient to their next injection point. Or if the pharmacy has extra Vivitrol in stock, they would also be able to administer the drug provided they operate within established protocols currently required in Ohio law.
This legislation will now ensure that no patient is left stranded, and no matter what, when in a pinch, patients undergoing naltrexone therapy will have access to every pharmacy in the state of Ohio to act as a trampoline back into the system when that system breaks down.
Both SB 119, sponsored by Senators Bob Hackett (R-London) and Jay Hottinger (R-Newark), and HB 167, sponsored by Representative Jay Edwards (R-Nelsonville) authorize a pharmacist to dispense naltrexone without a prescription if all of the following conditions are satisfied:
The pharmacist is able to verify a record of a prescription for the injectable long-acting or extended release form of naltrexone in the name of the patient who is requesting it, but the prescription does not provide for a refill or the time for providing refills has lapsed;
The pharmacist is unable to obtain authorization to refill the prescription from the prescriber who issued it or another prescriber responsible for the patient's care;
In the exercise of the pharmacist's professional judgment, the drug is necessary to continue the patient's addiction therapy and failure to dispense naltrexone could result in harm to the patient's health.
Now that SB 119 has passed the Senate and HB 167 has passed out of the House Health Committee, we look forward to action on the House floor to advance the legislation to the desk of Governor Kasich.
"The legislature has worked to address the opioid crisis, and SB 119 is one more tool – a very important tool – to combat the epidemic," said Senator Hottinger. "I appreciate the assistance of the Ohio Pharmacists Association on this crucial legislation to expand life-saving treatment options for patients, and I look forward to getting it signed into law."
"Passage of HB 167 out of the House Health Committee today is a big step to make sure Ohio is doing everything we can to expand access to treatment during the crucial time that someone suffering from addiction is seeking recovery," said Representative Edwards.
"I am pleased that we have created a path to recovery when the process breaks down," said Senator Hackett. "With SB 119, we are able to temporarily create a fix by allowing very competent pharmacists to assist patients to stay on their treatment plan."
Before dispensing naltrexone under the bill, the pharmacist must offer the patient the choice of receiving either the oral form or injectable long-acting or extended-release form of the drug. This requirement applies only if both forms are available for dispensing at the time of the patient's request or within one day after the request.
If the patient chooses the oral form of naltrexone, the pharmacist cannot dispense an amount that exceeds a five-day supply. Should the patient choose the injectable form, the pharmacist must exercise professional judgment in determining the amount to be dispensed.
If the patient chooses the injectable form of the drug, the bill authorizes the pharmacist to administer the naltrexone by injection. But, the pharmacist also must comply with current law that permits a pharmacist to administer by injection certain drugs, including naltrexone, only after completing specified training and pursuant to a protocol developed by a physician.
"We believe SB 119 & HB 167 will serve as another model for other states to emulate, and we are certain that this legislation will save lives," said OPA Executive Director Ernie Boyd.
OPA's Antonio Ciaccia provided Senate testimony in support of the legislation in May. His testimony can be viewed here. FOX 45 Dayton reporter Kelly May also did a great story on the hearing that can be seen here.
"With more than 2,000 community pharmacies in Ohio, passage of SB 119 & HB 167 would exponentially increase access to a safety net of naltrexone providers that will help to ensure that when there is a need or demand, a supply will be available," said OPA government affairs director Antonio Ciaccia. "Ohio's pharmacists, who already serve on the front lines of our health care system, are well-equipped to fill this gap, and we applaud the legislature for thinking outside the box in the development in this legislation, which will be the first of its kind in the country."
We would like to thank Senators Bob Hackett, Jay Hottinger, and Dave Burke for their work in crafting and refining the language in SB 119, as well as Representative Jay Edwards for his instrumental work over in the House on HB 167. We applaud these lawmakers for taking this innovative approach to filling access gaps and to ensure no patient is without options and contingencies. We also want to thank the Ohio State Medical Association for working with us to find agreeable language – this would not have been possible without their efforts. Special thanks to Scott Weidle for his instrumental efforts in making this legislation a reality.
For more information on Daniel Weidle and the tireless efforts of his father Scott, please visit https://www.danielsstory.org/.
For more information and resources on SB 119, review the links below:
Bill designed to help recovering addicts stay clean takes major step forward - FOX 45 Dayton, 6/27/18
New provisions in Daniel's Law would give increased access to Vivitrol - FOX 45 Dayton, 5/23/18
Fatal Addiction: Daniel's Law Ohio demands opioid reform to prevent addiction - The Daily Advocate, 12/28/17
Daniel's Law sets out to change opioid prescribing - 10TV Columbus, 11/29/17
Germantown dad joins Gov. Kasich in battle to stop opioid pill over-prescribing - FOX 45 Dayton, 11/17/17
Gov. Kasich puts rule in place to limit number of opioids doctors can prescribe - FOX 45 Dayton, 8/30/17
Daniel's Law heard for the first time in a Senate committee - FOX 45 Dayton, 6/27/17
A father's grief as Ohio opioid death crisis deepens - Reuters, 6/21/17
Locals commend Jay Edwards for proposed opioid bill - The Athens Post, 4/2/17
Ohio lawmakers want more limits on painkiller prescriptions - Columbus Dispatch, 3/29/17
Law to change opiate prescribing guidelines in Ohio,"Daniel's Law," introduced in Columbus - FOX 45 Dayton, 3/29/17
Senator recounts father-in-law's battle with heroin as pill bill proposed - Columbus Dispatch, 3/29/17
Opiate Crisis: Ohio lawmakers want to curb over-prescribing - Dayton Daily News, 3/29/17
A local father fighting to end the heroin epidemic - FOX 45 Dayton, 3/26/17
Germantown father fighting the root of addiction after son overdoses on heroin - FOX 45 Dayton, 2/8/17
---