Complete Story

Epinephrine Accessibility Act signed by Governor Kasich!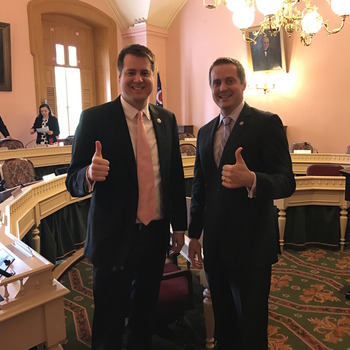 On January 7, the state of Ohio delivered a big win to patients who suffer from life-threatening allergies. We are pleased to report that Governor John Kasich has signed the Epinephrine Accessibility Act, HB 101, into law!
In the face of EpiPen shortages and affordability issues, HB 101, sponsored by Representative Derek Merrin (R-Monclova Township), will tap pharmacists & pharmacy interns to ease access to epinephrine auto-injectors and to help facilitate better competition within the epinephrine auto-injector marketplace.
OPA worked extensively with Representative Merrin and stakeholders to develop and refine the language in HB 101 that will reduce patient barriers to affordable epinephrine autoinjectors. Now that the bill has been signed, it will go into effect 91 days after it is filed with the Secretary of State's office.
Just over two years ago, local and national media pointed to Mylan's EpiPen as an example of our drug pricing system gone wrong. As 10TV demonstrated, a complicated drug pricing model that incentivizes higher drug prices points to the need for national movement on pricing transparency and pharmacy benefit manager (PBM) reforms. For more on that, click here, here, here, and here. The pricing controversy highlighted the need to facilitate easier patient access to epinephrine autoinjectors – both logistically and economically.
Aside from the problems associated with opaque pricing gimmicks, there are other factors that may be contributing to epinephrine autoinjector prices and accessibility, and Rep. Merrin's HB 101 will tackle two specific issues.
House Bill 101 allows pharmacists to substitute a prescribed, brand-name epinephrine auto-injector for a pharmaceutically equivalent epinephrine auto-injector. For example, if a physician prescribes EpiPen that can retail for more than $600, a pharmacist could substitute a less expensive brand alternative, with the patient's consent, that can cost hundreds of dollars less and still meet the patient's pharmaceutical needs. Epinephrine auto-injectors are not substitutable from brand to brand under current state law in most instances.
Here's why. According to FDA commissioner Dr. Scott Gottlieb, "One issue relates to the existing generic drug law, and FDA regulations that govern the generic approval process and the Abbreviated New Drug Application (ANDA) that a generic drug maker must file with FDA. Under the Agency's interpretation of those rules, if a patient has to be re-trained to use a generic alternative to a branded product, then the alternative product cannot bear the same labeling as the drug it seeks to copy. As a result, it can't meet the burden of the ANDA process and be approved as a generic equivalent. In other words, the generic drug can't be considered the 'same' as the branded version that it seeks to copy, and serve as a fully substitutable alternative."
So essentially, because other epinephrine auto-injectors aren't entirely substitutable under current law, if a physician issues a prescription for a branded epinephrine auto-injector, the pharmacist's hands are tied unless they work with the physician to get a new prescription for an alternative. This all unnecessarily wastes the time of the physician, pharmacist, and the patient, and it discourages competition in the marketplace. HB 101 will allow pharmacists to exercise their clinical judgment to make the necessary product switches, so long as the products are deemed pharmaceutically equivalent.
The second part of HB 101 enables pharmacists to dispense epinephrine auto-injectors to adults 18 years of age or older without a prescription (under a physician's protocol) once the pharmacist establishes that the patient has already received an initial prescription for epinephrine. So essentially, once a patient gets an initial prescription for epinephrine, as an adult, they would not need to go back to the doctor each year for a new prescription; they could simply get it at the pharmacy without the new physician order. The Ohio Board of Pharmacy, with consultation of the State Medical Board of Ohio, will establish protocol requirements that govern the conditions under which pharmacists can dispense epinephrine auto-injectors to adults without a prescription.
Currently, Ohio pharmacists & pharmacy interns can dispense/administer naloxone and all CDC-recommended vaccines without a prescription, as long as they are acting within a physician protocol. HB 101 will add epinephrine auto-injectors into the same category, thus eliminating the need to visit or contact the doctor for a new prescription every year.
Furthermore, as new laws took effect in 2016 to allow restaurants, swimming pools, colleges, and other public places to stock non-patient specific epinephrine for possible allergic reactions, this bill would eliminate the unnecessary step of these entities seeking out a doctor's prescription before obtaining the product to use in emergency situations, just like they use fire extinguishers today.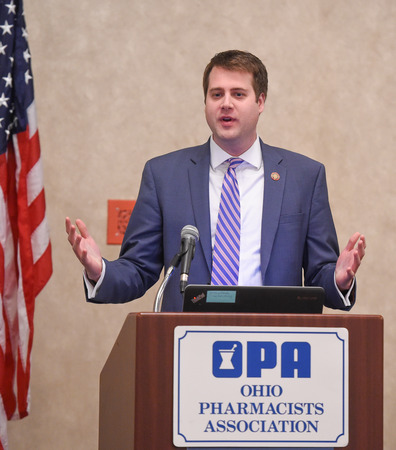 "This legislation is a free-market solution to the exorbitant cost of epinephrine auto-injectors. By easing access and government restrictions, consumers will have a better opportunity to obtain epinephrine auto-injectors at a lower cost," said Representative Merrin. "House Bill 101 is primed to become the national model for states tackling the soaring cost of epinephrine auto-injectors. It's the free-market solution to the Epi Pen debacle and will provide patients easier access to the life-saving medicine without having to jump through unnecessary barriers."
For Ohioans at risk of anaphylactic shock, epinephrine delivered by an autoinjector is a medical necessity and often life-saving. However, the price and unnecessary logistical hassles have become a barrier to access and attainability. The good news is there are multiple epinephrine autoinjectors on the market and more in the pipeline. Under HB 101, consumers will have increased ability to work with pharmacists to secure the best epinephrine auto-injector at a competitive price.
"HB 101 is a disruptive force that utilizes pharmacists to eliminate the hurdles standing in the way of patients and their live-saving medications," said Antonio Ciaccia, Director of Government & Public Affairs for the Ohio Pharmacists Association. "It slashes the regulatory red tape that resulted in a broken distribution model that insulated entrenched manufacturers from more traditional market forces, and it gives patients and pharmacists better control of their health care."
"The Ohio Pharmacists Association applauds the work of Representative Merrin, the Ohio legislature, nd Governor Kasich on this new, innovative way of utilizing pharmacists to foster better access and competition in the marketplace," said OPA Executive Director Ernie Boyd. "We believe the framework of this bill can be used for other drug devices in the future, and it will serve as a model for other states to replicate."
"The passage of HB 101 is a great outcome for patients in the State of Ohio," said OPA President Ryan Schneider. "It increases the accessibility of epinephrine delivery devices and allows patients to choose lower cost alternatives without the need navigate a convoluted healthcare system. I would like to thank Representative Merrin, OPA's government affairs team, and everyone that provided testimony in support of this bill."
To view Senator Dave Burke (R-Marysville) discuss the legislation on the Senate floor and to see the vote, click here. To view the House discussion featuring Representative Merrin and the vote back in 2017, click here.
Recently, the state of Idaho enacted a law to allow pharmacists to prescribe epinephrine auto-injectors, without any physician oversight or protocol arrangement. For more on that law and the impetus for its passage, click here.
In the House and Senate, Rep. Merrin delivered sponsor testimony, and OPA coordinated proponent testimony. OPA members Kelli Barnes (Ohio State University College of Pharmacy and Division of General Internal Medicine) and Suzi Francis (Kroger Pharmacy, Cincinnati Division) delivered testimony to committee members in support of the legislation. They were joined by OPA Director of Government & Public Affairs Antonio Ciaccia to explain the value of the bill and the need to expand the role of the pharmacist. Barnes and Francis did an excellent job as ambassadors for the profession, and their testimony was very well received.
We would like to thank OPA members Pete Ratycz, Jason Briscoe, and Steve Ferris for submitting written testimony in support of the legislation, as well as Lora Miller with the Ohio Council of Retail Merchants & Affiliates and Melissa Wervey Arnold (American Academy of Pediatrics, Ohio Chapter) for their support too. Also, a special thanks to Ohio-original Alex Adams, who has helped extensively by providing information on how the Idaho law is working.
Thanks to Senator Dave Burke for his support over in the Senate, as well as Speaker of the House Ryan Smith and Senate President Larry Obhof, for making HB 101 a priority bill to pass in the closing deliberations of the 132nd Ohio General Assembly. And lastly, thanks to Governor John Kasich for signing the bill into law.
For more information about the HB 101, click here. For a link to the bill, click here.
We appreciate all the work of OPA members, our Legal & Regulatory Committee, and all the colleges of pharmacy in pushing this important legislation.
Please take a moment to thank Representative Merrin for his leadership by sending him a message on Twitter or Facebook.


To view the extensive media coverage of the legislation, see the links below:
Ohioans prepare for cheaper options to the EpiPen - WBNS 10TV Columbus, 1/11/19
New Ohio law aims to make life-saving medicine more accessible and more affordable - WTVG Toledo, 1/8/19
EpiPen alternative law signed by Gov. Kasich - Dayton Daily News, 1/8/19
Governor signs Epinephrine bill into law - WDTN Dayton, 1/8/19
Ohio bill allows alternatives to EpiPens - Toledo Blade, 1/7/19
It could soon be easier for Ohioans to get EpiPen substitutes - WCPO Cincinnati, 5/10/17
In setback for Mylan, Ohio moves closer to dispensing EpiPen alternatives more easily - Pharmalot via STAT News, 5/10/17
Ohio House passes EpiPen access bill - Dayton Daily News, 5/10/17
Ohio House votes to allow generic epinephrine - WDTN Dayton, 5/10/17
Ohio House passes bill allowing cheaper alternatives to EpiPen - WTOL Toledo, 5/10/17
Ohio House passes the "Epinephrine Accessibility Act" - Representative Derek Merrin, 5/10/17
Video: HB 101 voted out of the the Ohio House of Representatives - The Ohio Channel, 5/10/17
House health committee passes EpiPen accessibility bill - Dayton Daily News, 5/3/17
Groups with Mylan ties fighting EpiPen bill - Dayton Daily News, 3/29/17
Ohio Bill Would Allow for Epinephrine Substitution - National Alliance of State Pharmacy Associations, 3/17/17
Some states consider making it easier to dispense EpiPen alternatives - Pharmalot via STAT News, 3/6/17

New Bill Aims To Make Epi-Pen Like Medicine More Affordable And Accessible - Statehouse News Bureau, 3/6/17
Ohio eyeing less costly alternative to EpiPens - Toledo Blade, 3/3/17
Ohio bill would allow pharmacists to substitute for high-priced epinephrine prescriptions - Pharmacy Today, 3/2/17
State Representative Derek Merrin introduces the "Epinephrine Accessibility Act" - Representative Derek Merrin, 2/28/17
---