Complete Story

Pharmacist Appointed to Ohio Senate!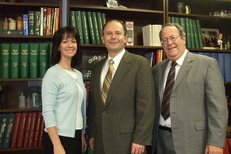 Congratulations to OPA member, Rep. Dave Burke R.Ph, on being appointed to the Ohio Senate. Rep. Burke, who is on his second term in the House, was chosen over five other candidates to fill the position vacated by Sen. Karen Gillmor who was appointed to the Ohio Industrial Commission.
Senator Burke is the only pharmacist in the Ohio legislature and has won high praise from his colleagues as a leader in the area of health care issues.
---