Complete Story

OPA Conference Updates!
April 4-6, 2014 - 136th OPA Annual Conference & Trade Show
Install OPA Annual Conference App Now!
Breakfast Theaters
Trade Show Preview
PAC Breakfast Speaker Announced!
New Practitioner Experience Launches!
---
1. OPA Annual Conference App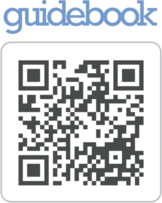 To enhance your OPA Annual Conference experience, please use your smart phone (Android and iPhone compatible) to download OPA's free Conference app and speaker evaluation. Use the QR code, shown at the left, to install the Guidebook app to your phone. Then, when prompted by Guidebook, use the QR code right and below to load OPA's Annual Conference 2014 Guide. Loading this event will give you access to the Conference schedule, CE information, maps for the Conference, Trade Show vendor information, and even allows you to set your own schedule with reminders.

PLEASE install the App BEFORE THE CONFERENCE as the Convention Center's cell phone and Wi-Fi connections are limited and will not support this type of download.
You will be able to access the speaker evaluation and fill it in as you go from session to session with this link: https://www.surveymonkey.com/s/2014OPASpeakerEval
---
2. Product Theatres
OPA is offering product theatres for the first time. These events occur on Saturday. There is limited seating. Please RSVP for the Reckitt Benckiser Breakfast Theatre. For the Purdue Pharma Theatre, come early as the first 100 attendees to arrive will be able to participate. There is no continuing education for attendance at these Theatres. Upon arrival at the Conference, check the Conference Program for additional details.
---
3. Trade Show Preview
At the OPA Trade Show, you can meet our 19 new exhibitors, discover ways to win prizes, including at booths, and the BIG prize drawing. Enjoy the new lunch stations in the exhibit hall while relaxing and greeting friends. Some 2014 prizes will be a TV, Kindle, and more . Take a sneak peak at the products, services and companies coming to the OPA Trade Show - 2014 OPA Exhibitors and Prize Donors
---
4. PAC Breakfast Speaker Announced!
The Ohio Pharmacists Association is pleased to announce that Representative Cliff Rosenberger (R-Wilmington) will be our special guest speaker at the 2014 PAC Breakfast!
If you would like to attend the PAC breakfast on Saturday, April 5, 2014 at 7:15 AM at the OPA Annual Conference,and haven't already registered, call the OPA office at 614-389-3236 to add the PAC breakfast to your conference registration.
Minimum contribution for the PAC Breakfast is $100/person, with all proceeds going to the OPA Pharmacy PAC, which provides campaign funds to candidates who support pharmacist initiatives. Checks should be made payable to "OPA Pharmacy PAC." No corporate checks or credit cards please.
Link: Additional details about State Representative Cliff Rosenberger
---
5. New Practitioner Experience (NPX) Launch
Join us for the first ever OPA New Practitioner EXperience (NPX). The vision of NPX to be the launch pad for new practitioners, licensed within the last seven years, to achieve personal and professional growth, and success. The NPX is your opportunity to grow personally and professionally, from personal finance to networking to management issues, and more. Attending NPX events will provide you the answers you need, helping you achieve both personal and professional success. Our first event will be held on Saturday April 5 at 5 p.m. at The Social and is open only to conference attendees. Additional details will be provided on the conference app and in the program.
---