Complete Story

OPA Community Pharmacy Advocacy Summit - Nov 18
On November 18, OPA's Independent Special Interest Group hosted a special Community Pharmacy Advocacy Summit at the Ohio Statehouse and Athletic Club of Columbus.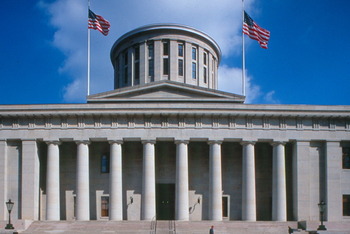 Every two years, OPA hosts a Pharmacy Legislative Day for pharmacists from all practice setting to come to the Ohio Statehouse to learn about the legislative process and discuss current pharmacy issues with legislators. This year is an "off-year" for that event, and with some major issues pending in the legislature that impact community pharmacy, we've decided to earmark a special day for community pharmacy owners, managers, and employees to come to Columbus to engage their legislators at the first-ever Community Pharmacy Advocacy Summit.
This is your opportunity to learn about the issues, hear from legislators who are working on community pharmacy issues, and to visit with your elected officials to discuss the issues that are impacting your practice the most. We will discuss pending pharmacy audit legislation, mandatory mail order, PBM contracting challenges, and primarily focus on maximum allowable cost (MAC) pricing.
OPA has partnered with the National Community Pharmacists Association and some of our best and brightest local pharmacists for this special advocacy day to inform you of critical issues and legislation impacting the community pharmacy practice. The Community Pharmacy Advocacy Summit is designed to develop an open dialogue between pharmacists and lawmakers. Be a part of the important
process to protect and enhance community pharmacy in the state of Ohio.
We need our community pharmacists to come out for this special event to advocate for the communities and patients we serve.
For a complete program brochure, event details, and a registration form, download our Community Pharmacy Advocacy Summit 2014 Form (PDF)
Pharmacists can earn 3.0 hours (0.3 CEU) of continuing pharmacy education credit at the 2014 Community Pharmacy Advocacy Summit.
Special thanks to the American Pharmacy Services Corporation (APSC) and American Pharmacy Cooperative, Inc. (APCI) for their sponsorship of our event.
If you have any questions prior to the meeting, please call the OPA office at 614-389-3236 or email us at opa@ohiopharmacists.org. We look forward to seeing you on November 18.
If you would like to learn more about your Ohio legislators, please visit the Legislative section of the OPA website at http://ohiopharmacists.org/aws/OPA/pt/sp/legislative
---