Complete Story

OPA hosts pharmacist roundtables with state senators
In an effort to better connect pharmacists with their elected officials, OPA coordinated two recent roundtables with state senators and pharmacists who work and/or live in their districts. The events were huge successes, and after receiving rave reviews from both the legislators and the participating pharmacists, we plan on holding more roundtables in the future.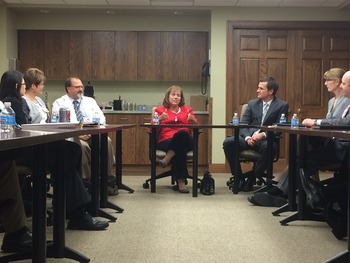 The first roundtable was held at University Hospitals Elyria Medical Center with Senator Gayle Manning (R-North Ridgeville) on October 2, 2014. Senator Manning sits on the Senate Insurance Committee, and recently sponsored legislation that paved the way for increased naloxone access in Ohio.
The pharmacists who participated in the roundtable included Don Halliday, Matt Britt, Mike Wascovich, Tony Ciaccia, Mike Carlin, Ally Hiznay, Tom Kahle, Angela Carter, Fred Weaver, Mary Ann Dzurec, Steve Miller, Shawn Osborne, and Michele Golob. Thanks to the students and residents who attended as well. We'd also like to give our sincere appreciation to Halliday, who served as host for our event.
The second roundtable was held at OPA's office with Senator Kevin Bacon (R-Columbus) on October 3. Senator Bacon is Vice Chair of the Senate Insurance Committee and Chair of the Senate Commerce & Labor Committee.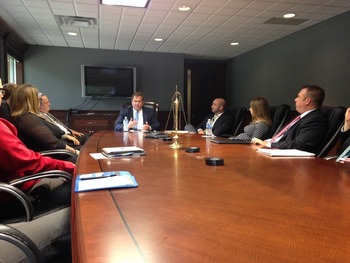 The pharmacists who participated in the roundtable included Brigid Long, Kimberly Sloan, Josh Rouch, Jarrett Bauder, Max Peoples, Steve Burson, Tara Green, Andrew Morris, Josh Gaborcik, Amanda Singrey, Kevin Duvall, Lauren McKinley, Amy Bennett, and Ernie Boyd; and student pharmacist Matt Parriman.
If you would be interested in coordinating or hosting a roundtable with your legislator, please contact OPA's Antonio Ciaccia at aciaccia@ohiopharmacists.org.
---