Complete Story

10/19/2018
Philip Kuriakose, M.D.
President-Elect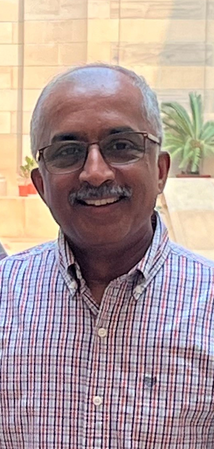 Philip and his older brother, George, grew up spending their winter breaks in the state of Panjab, India where their father was a college professor and mother a homemaker, while they attended school in Mussoorie in the foothills of the Himalayas. He always cherished an interest in the biological sciences and human behavior which drew him to medicine and led him to join medical school at Christian Medical College in Ludhiana, Panjab, followed by a residency in Internal Medicine at the attached Brown Memorial Hospital. He then joined the same institution's faculty in the Department of Medicine as a Lecturer.
He and his wife, Jiby, traveled to the US in 1996 for him to pursue training in Hematology/Oncology, for which he first redid a residency in Internal Medicine at Henry Ford Hospital and subsequently completed a fellowship in Hematology/Oncology at the Mayo Clinic/Mayo Graduate School of Medicine. Following that, he came back to Henry Ford to join the faculty in the division of Hematology/Oncology within the Department of Internal Medicine focusing predominantly on Malignant Hematology & Disorders of Hemostasis & Thrombosis. He helped support clinical centers for Sickle Cell Disease and Disorders of Hemostasis & Thrombosis; focused in-patient and out-patient educational tracts for Benign and Malignant Hematology for medical students of the School of Medicine at Wayne State University, residents and fellows from Henry Ford Hospital; as well as dedicated clinical and laboratory rotations in Coagulation for visiting fellows from neighboring institutes. During this time, he initiated a collaborative endeavor with Hematopathology, Molecular Diagnostics, and Medical Genetics to streamline algorithms for the diagnostic evaluation of patients with myeloid/lymphoid malignancies and bone marrow failure syndromes in order to help enhance both clinical and research activity in this area.
Dr. Kuriakose is presently an Associate Professor at Wayne State University, and is serving as the interim Division Head of Hematology/Oncology within the Department of Medicine at Henry Ford Hospital/Henry Ford Cancer Institute. He has been involved with collaborative and mentored research over the years, having closely worked within the structure of the established NCI-cooperative groups as well as various consortia as a physician investigator in multiple trials. He has both published and presented regionally, nationally, and abroad. In his capacity as Medical Director of the Henry Ford Adult Hemophilia and Thrombosis Center, he has led two successful 4-year international twinning programs with outside institutions, and is in the midst of setting up another such program with a University Center in the state of Odisha in India.
He counts being a part of MSHO as integral to his desire to help serve the field and the community from the angles of patient care, teaching and advocacy, which he has been involved with nationally as a member of the American Society of Hematology's Committees on Practice, Reimbursement, Communication, and Maintenance of Certification (MOC).
He and Jiby have enjoyed being a part of the four-seasoned state of Michigan, and have cherished bringing up their two children, Jonathan & Hannah, in the area (both of whom studied at the University of Michigan in Ann Arbor). While Jiby had elected to step back from her career as a physician after they came to the US in order to help take care of the family, she has since completed an MBA in Health Care, and has worked in various capacities in the region. All four count themselves incomplete without their pet, Sunshine, a cross between a poodle and a wheaten terrier.
---
Report Broken Links
Have you encountered a problem with a URL (link) on this page not working or displaying an error message? Help us fix it!
Report Broken Link