2022 Annual Conference and Gala - Presented by Morgan Stanley


November 21-22




Hyatt Regency Columbus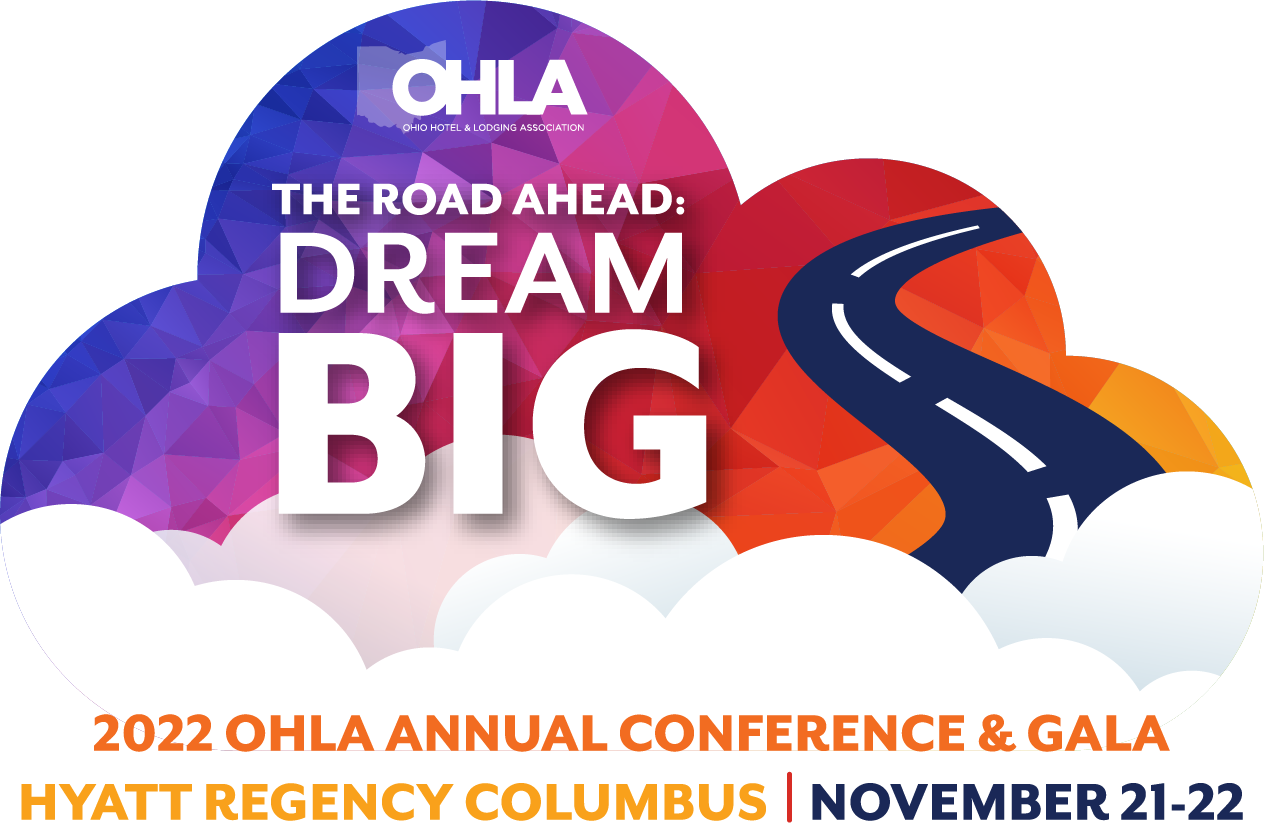 | | |
| --- | --- |
| Presented by | |
Thank you for Helping Us #DreamBig!
This year you helped us DREAM BIG with an all-new Exhibitor Marketplace, reimagined education schedule, and more impactful Ohio Stars of the Industry Gala. Thank you to all of our attendees, exhibitors, sponsors, partners, & students who took part in this year at the Hyatt Regency Columbus, November 21-22 – you helped make this year's conference the best yet! With just over 500 participants in attendance we are definitely charging forward on the Road Ahead to 2023.
Starting earlier on Monday, we presented attendees the opportunity to visit our new all-day marketplace. This year we celebrated a diverse array of exhibits from our tried & true premier partners, to our tech-focused partners, all the way to our vendors who allowed you to shop around for unique products. New this year our Test the Tech experience gave participants the chance to try out the innovative solutions that are rapidly emerging into the hospitality industry. Didn't get a chance to see everyone? View the complete exhibitor list here.
We began with an insightful opening session, The Spirit to Serve Starts from Within, presented by Rich Wrona of NetJets emphasizing how we can only do the best by our employees when we focus on the self, first. This was followed by a series of breakout sessions for all positions & experience levels in the hotel industry which focused on anti-trafficking, diversity & inclusion, and sales & marketing. Returning this year was our HSMAI Sales & ULO Tracks which focus on the specific needs of those sectors including social media marketing and maintaining client relationships.
We continued the action with Techfast: Eggs & Innovation on Tuesday. True to its name attendees enjoyed quiche while listening to experts in the technology field sharing insights on innovation trends happening now in hospitality. We also celebrated the second year of our Call For Solutions program by crowning SMARTLINEN as our Innovation & Technology Members' Choice Award recipient!
Embracing our new schedule this year we wrapped up conference with our Luncheon Finale – Complete with our Annual Business Meeting and Nationally Recognized speaker, Christine Trippi of The Wise Pineapple. Christine kept the energy going by keeping the audience on their toes with fun giveaways, audience participation, and a high-energy presentation!
The shining star of Conference this year was, of course, the Ohio Stars of the Industry Gala! Monday evening OHLA had the privilege of hosting individuals from across the state who have stepped up, not only to meet, but exceed the needs of our industry. This year we were proud to welcome Ohio native, OHLA member and five-time Tedx Talk speaker Alex Sheen to the Stars stage. Alex shared his insights and actionable ways to become better at fulfilling commitments. He inspired our audience to become more accountable to their promises through compelling and real-life examples from the "because I said I would" movement. For more information regarding Alex's organization, click here.
Attendees enjoyed a shortened awards ceremony which focused on giving those who have distinguished themselves in Ohio's lodging industry their moment to shine. The ceremony not only included guest presenters, recognition of nominees, and the conferring of numerous awards, but a brand-new takeaway for attendees the Nominees and Winners Book. This publication lists all of the nominees from around the entire state for Stars of the Industry awards in 2022 and contains the compete narratives of the Ohio Stars winners. If you missed out on grabbing a copy, contact info@ohla.org.
A big congratulations to our 2022 Ohio Stars of the Industry Award Winners!

Sedgwick Ohio Full-Service Housekeeper of the Year
★ Myrna Crawford, Hilton Cleveland Downtown
Sedgwick Ohio SEL Housekeeper of the Year
★ Slavica Ikonic, Country Inn & Suites by Radisson Cuyahoga Falls
G&J Pepsi Ohio Server of the Year
★ Regina Raines, The Lytle Park Hotel, Autograph Collection
G&J Pepsi Ohio SEL Attendant/Host of the Year
★ Connie Llewellyn, Hampton Inn Athens
Spectrum Enterprise Ohio Full-Service Front Desk Associate of the Year
★ Nancy Gilmore, 21c Museum Hotel Cincinnati
Spectrum Enterprise Ohio SEL Front Desk Associate of the Year
★ Twila Scott, Aloft Cleveland Airport
IGS Energy Ohio Supervisor/Manager of the Year
★ Kim Dupras, Crowne Plaza Cleveland at Playhouse Square
IGS Energy Ohio SEL Jack of All Trades
★ Thomas Blevins, Holiday Inn Express & Suites Dayton-Centerville
Pure Air Solutions of PA Ohio Full-Service Engineer of the Year
★ Roy D'Mello, Hilton Garden Inn Cleveland Downtown
Pure Air Solutions of PA Ohio SEL Engineer of the Year
★ Greg Johnson, Springhill & Towneplace Suites Easton Area
Heartland Ohio Service Superstar of the Year
★ Gina Horne, Hyatt Regency Columbus
HSMAI Ohio Sales Leader of the Year
★ Pierre Le, Hyatt Regency Columbus
Allied Member of the Year
★ SpaceIntel
'Heart of Hospitality' Volunteer of the Year
★ Julia Bowling, Sedgwick
Proxi Unique Lodging of Ohio Property of the Year
★ Canopy Ridge Cabins, South Bloomingville, OH
BMS CAT Ohio Full-Service General Manager of the Year
★ Nic DiLillo, Crowne Plaza Cleveland at Playhouse Square
BMS CAT Ohio SEL General Manager of the Year
★ Moji Collins, Fairfield Inn & Suites Cincinnati Uptown University Area
ServiceMaster Restore Ohio Hospitality Leadership Team of the Year
★ Carlisle Inn Walnut Creek Leadership Team
G&J Pepsi Ohio Charitable & Community Involvement Award
★ InterContinental Hotels Cleveland
---
2022 Conference Hyatt Regency Map
Need help finding your way to your sessions? Click Here to download the Hyatt Map.
Monday, November 21, 2022

Room

9:30am
Attendee Registration Opens
County Foyer
Open from 9:30am - 5:00pm
NEW! Exhibitor Marketplace
Union
11:00am - 12:00pm
Attendee Grab & Go Lunch
Regency Foyer
12:00 - 1:00pm
Opening General Session:

The Spirit to Serve Starts from Within

Regency
1:15 - 2:15pm

Breakout Sessions I

Retaining Your Spirit and Your Employees

Voices of Freedom - LIVE PODCAST

Job Posting Turn Offs

Delaware CD

Franklin CD

Fairfield

2:30 - 3:30pm

Breakout Sessions II

What Women Really

Want

Need to Excel in the Workplace
A Day in the Life of a Client - Sales Recommended
What is your Online Reputation Rating? - ULO Recommended

Delaware CD

Franklin CD

Fairfield

3:30 - 5:00pm
Be sure to visit our ALL-NEW Exhibitor Marketplace

Union

3:45 - 4:15pm

The Road Ahead Roundtables

Opportunities in Data - ULO Recommended
Big Wealth, Small Steps - Owner Management Company Recommended

Fairfield

Franklin CD

4:00 - 5:30pm
ULO & Owner/Management Company Receptions - Invite Only

5:00 - 6:00pm
Cocktail Reception
Regency Foyer
6:00 - 9:00pm
Ohio Stars of the Industry Gala Dinner
Regency

Tuesday, November 22, 2022

7:00am

Information Desk Opens

8:00 - 8:30am

Attendee Networking

Regency Foyer

8:30 - 9:45am

Techfast: Eggs & Innovation (Attendee Breakfast)

Regency

10:00 - 11:00am

Breakout Sessions III

The Art of Stewardship

Transforming Looker to Booker - Sales Recommended
The 'Gram' - Leveling Up - ULO Recommended

Delaware CD

Franklin CD

Fairfield

11:15am - 12:15pm

Breakout Sessions IIII

Workforce Forecast Discussion

Tips for Sales Success in Today's Hospitality World - Sales Recommended
A Video is Worth a

Thousand

Million Words...- ULO Recommended

Delaware CD

Franklin CD

Fairfield

12:30 - 2:30pm

Luncheon / OHLA Annual Meeting / Annual Conference FINALE: Yes is the Answer!

Regency

2:30pm

Silent Auction Pickup Begins

County Foyer
2022 Annual Conference & Gala Sessions

The 'Spirit to Serve' Starts from Within
The hotel industry's main focus has always been providing exceptional service to the guest, but what about providing the same hospitality to our employees? Join NetJets as we reignite the fire to create a workplace culture that starts from within so we can create a space for our teams to flourish.


Retaining Your Spirit & Your Employees
Hiring and retaining employees is the name of the game, but so often there is little to no time to properly train with culture in mind. Learn how to efficiently infuse positive workplace culture into your staff through onboarding, training and development so they can serve your guests properly.


Voices of Freedom- LIVE PODCAST
Join Devin + Mandie from Freedom a la Cart's 'Voices of Freedom' podcast for a LIVE recording. Survivor Leader, Mandie, will be sharing her sex trafficking story and the duo will be sharing a fresh perspective of how we can help prevent human trafficking, elevate survivors and keep anti-trafficking efforts at the forefront in Hospitality. #yourvoicematters


Job Posting Turn-Offs
Is your job description attracting the right talent, or are your words a huge turnoff? Did you know that a misused word or two can lead to unconscious bias, or that you may be minimizing your candidate pool with a few misplaced phrases or unnecessary requirements? In this DEIB – focused session, learn how to grow your diverse candidate pool by avoiding these common job description and posting mistakes.


What Women Really Want Need to Excel in the Workplace
Let's have a conversation about real solutions that support women at every level of their professional career focusing on breaking down barriers for women in leadership, workplace benefits beyond pay, male line of succession, women at work, and employees who are willing to adapt through the framework of equity, diversity and inclusion.


Techfast: Eggs & Innovation
What if a robot served up your favorite latte? Or you had a personal concierge upon check-in through Augmented Reality? Would you pay to stay at a hotel in the Metaverse or interact in the Sandbox to earn real-life loyalty points to cash in at your favorite hotel? Let us liven up your morning with a dynamic panel discussion focused on sustainability, health & wellness, and robotics. Our panel of experts are leading the hospitality industry with the first hotel in the metaverse, sustainability solutions ready to go and an entirely new hotel health and wellness experience for associates and guests. Join us as we whisk you into the "future is now" world.


The Art of Stewardship
Stewardship in hospitality is a craft – we often casually call it the "heart of hospitality". The past two years and in a post-pandemic environment where labor is short and "hiring for heart" feels like a thing of the past, leaders are challenged to find ways to continue to exceed guest expectations but with limited resources. We explore this challenge through the lens of a Sommelier, a steward in his own right, finding creative ways to tailor the experience of a guest regardless of their knowledge, their experiences, or their wallet – together we find parallels for lodging teams from economy to full service; for positions ranging from housekeeper to concierge to revive the craft of stewardship in lodging.


Workforce Forecast Discussion
Developing the talent pipeline is more than just an industry issue – it is a public policy priority. Only through cooperative efforts involving public and private sectors can lasting solutions be developed which will address the need for new approaches to engaging potential employees and leverage training and support programs to provide more opportunities to more individuals. Join this discussion to learn more about what's ahead from experts in workforce policy including state officials and those working at address this most critical need for the business community.


Conference Finale: Yes Is the Answer
Rejuvenate your passion for hospitality in this 60-minute keynote! Attendees will learn Christine's secret sauce to always say YES and how to set their associates up to be empowered, own their day, and change the world one YES at a time.
The Road Ahead Roundtables

Opportunities in Data
Newly minted tourism professionals and veterans alike can benefit from better understanding of the role and uses of data, especially its benchmarking value. This session, especially suited for ULO/CVB/DMOs, will provide an overview of industry performance and review of the data available through STR reports, arguably the gold standard in hotel data and analysis.
Big Wealth, Small Steps
Making money. Saving money. Investing money. We will visit simple steps to ensure you are securing long-term income and building a strong financial future.
HSMAI Sales Track

A Day in the Life of a Client
Over the past couple of years, expectations of the sales process have come misaligned - on both sides. Let's take an in-depth look at those expectations, from cold call to event follow up, so we can reset and make sure all parties are set up for success.


Transforming Looker to Booker
Growing the Hotel's Direct Channel contribution is one of the fundamental goals of the entire hotel revenue generation team. During this presentation, we will look at national and regional direct channel benchmark data, in addition to strategies and techniques to convert lookers into bookers.

Tips for Sales Success in Today's Hospitality World
Today's group sales environment is challenging and ever-changing. Understanding the best ways to connect with prospects, qualifying effectively, and creating value are all critical pieces for achieving success in this competitive landscape. In this session we will share proven tips and tricks which participants can easily implement into their daily sales routines.
ULO Track



ULO Reception
Mixing and mingling is a conference favorite pastime. The ULO Council is proud to host a reception for innkeepers and independent lodging professionals to connect with new friends and old!


The Gram – Leveling Up
Taking your posts to the next level. We have the basics down, now what? This session will allow attendees to identify next steps to elevate their message on media outlets. Add music? No problem. Expand into reels? You got it!


A Video is Worth a Thousand Million Words…
You've identified new ways to elevate your posts, now let's get the root… your images & video content. In this session we will explore the dos and don'ts of video & photography for social media content management. The right size, the best frame, the perfect angle… it's all here.


What is your online reputation rating?
Having a positive online reputation is crucial for any business to thrive. Now more than ever, travelers are relying on reviews and testimonials to make buying decisions. What does your online reputation look like? From reviewing sites to your overall online presence, we will deep dive into reputation management.
2022 Annual Conference and Gala Speakers & Special Guests

Adam Mogelonsky, Hotel Mogel Consulting Limited
Adam Mogelonsky attended Queen's University in Kingston, Ontario, Canada, earning a Bachelors of Science degree with a Life Sciences (Pre-Medicine) subject of specialization. On a path to become a doctor, he instead opted to pursue personal training while studying to be a nutritionist and physiotherapist. Following the 2008-09 recession, Adam joined Larry in the advertising world.

In line with his passion for creative writing, Adam joined this hospitality-specializing marketing and communications agency as a copywriter and account executive. Over the years, he learned marketing skills including emotional messaging, front-end web design, public relations, art direction, social media, content generation, SEM/SEM and, above all, strategy.

With Larry selling LMA Communications Inc. in 2016, Adam soon also departed to join his father in managing the consultancy's operations, including financial analysis for hotels, team training and software or hardware deployment. As the chief technologist of the company, Adam has a broad understanding of the complexities of the hotel tech stack as well as the vendors who are paving the way for increased labor efficiencies and new revenue growth opportunities.
---
Alex Sheen, because I said I would.
Alex Sheen is the founder of because I said I would, a social movement and nonprofit dedicated to bettering humanity through promises made and kept. Sparked by the loss of his father, Alex and his organization send "promise cards" to anyone anywhere in the world at no cost. Alex is someone who truly honors commitment. He once walked over 240 miles across the entire state of Ohio in 10 days to fulfill a promise. In just two years, because I said I would has sent over 12.3 million promise cards to over 153 different countries. The promises written on these cards have made headlines around the world. Alex is a five time Tedx Talk speaker and his charitable work has been featured on ABC World News with Diane Sawyer, CNN, The Today Show, NPR, The Los Angeles Times and many other programs.
---
Amy Wald, GreenLuxe Inc.
Amy Wald is the Founder and President of GreenLuxe. She is a renowned speaker and leading expert in Sustainable Hospitality and holds degrees in Sustainable Business, Wildlife Management, and multiple sustainability accreditations like GSTC, LEED, WELL, and ISSP. Her years of work in hospitality and education in sustainable tourism make her an expert at helping hospitality brands ensure they are operating as an environmentally conscious brand and reaping the benefits of what that means to the exploding consumer base looking for hospitality groups focused on more than their bottom line.
Her ability to connect, motivate and educate an organization is foundational to the success of a new sustainability endeavor, and she invites you to join her on her journey of "Turning the traveler into a conservationist".
---
Andy Conklin, Visit Cincy
Andy Conklin is the Executive Vice President, Sales & Marketing at Visit Cincy. He is an accomplished, 27-year global hotel and destination management executive with a proven track record leading sales and marketing teams at some of the industry's most recognized and respected brands. Prior to Visit Cincy, Conklin was Vice President of Sales responsible for owned and managed Trump Hotel properties around the world. There, he led sales, marketing and meeting planning teams, focusing on global sales strategy, maximizing brand exposure and growing market share and revenue. He has also held senior sales leadership positions with Starwood, W Hotels, Westin, Sheraton and Hyatt Hotels. His work included developing new revenue-building initiatives, fostering team collaboration and forging mutually beneficial co-marketing programs with regional convention and visitors bureaus. Conklin attended high school in Columbus, Ohio, and graduated from Ohio University with a degree in organizational communications. His career has led to posts throughout the Midwest with responsibilities at the local, national and international levels. At the same time, he and his family have maintained strong roots in the region.
---
Bill Behrens, AmericanHort
Bill Behrens, CMP, is currently the Trade Show and Event Manager for AmericanHort, the leading national association representing the horticulture industry. In this role, Bill is part of a team that produces Cultivate, an international conference and trade show held each July in Columbus that brings 10,000+ attendees, 650 exhibiting companies and offers 130 educational sessions.
Bill also sources locations and manages the details for 7 small and medium-sized events throughout the year at locations across the U.S.
Prior to AmericanHort, Bill was the Director of Convention Services at Experience Columbus, and he started his career as a Rooms Division Manager with Hyatt Hotels.
---
Brandon Gill, STR
As a Sales Executive, Brandon Gill, works closely with hotel owners and operators, as well as community leaders in Chambers, CVBs, and other DMOs as a resource to help them better understand performance in their markets and make informed, data backed decisions for their stakeholders. Brandon previously worked with STR's Industry Partner clients which included developers, investors, bankers, consultants, and suppliers.
Prior to STR, Brandon worked in the hotel industry where he managed multiple properties both branded and independent. He has also served on the board of industry associations. Brandon is originally from South Bend, IN and currently lives just outside of Nashville, TN near the STR headquarters.
---
Chris Berry, OhioX
Chris serves as the President of OhioX, a statewide nonprofit working to build Ohio into a tech hub.
OhioX is a member-based organization with representation from Fortune 500 companies, universities, research organizations, startups, and tech-focused businesses.
Previously, Chris served as the Chief of Staff and Director of Communications at the Ohio Treasurer's office where he managed an $18 million annual operating budget and a staff of 125 employees that is responsible for the State Treasury's $22 billion investment portfolio, $224 billion pension custody portfolio, $11 billion debt portfolio, and more than $62 billion of state revenue. Before that, he worked on Capitol Hill in Washington D.C.
Chris has spent over a decade building and engaging in high profile campaigns that have touched on a wide range of first-of-their-kind issues. His work has been quoted and seen in media outlets such as the Wall Street Journal, CNBC, the Associated Press, FOX Business, Forbes, Fortune and hundreds more across the world.
---
Christine Trippi, The Wise Pineapple
Christine Trippi Is an award-winning hotelier, author of the bestselling book, Yes Is the Answer, and Chief Energy Officer at The Wise Pineapple. She has enjoyed more than 35 years in the hospitality industry, and she uses her energy, experience, and passion to help leaders and organizations to say YES to Sweet Results!
---
Courtnee Carrigan, Raising the Bar Performance Group
Courtnee is the Founder of Raising the Bar Performance Group (RTB). She is certified as a Change Management Practitioner with 20 years of experience as a nonprofit leader, executive trainer, and strategic facilitator of Diversity, Equity, and Inclusion initiatives. Courtnee combines innovative strategy with effective communication to advise clients in developing, designing, and implementing policies, practices, and approaches that result in inclusive and equitable workplaces. Ms. Carrigan is a recipient of the 2017 Columbus Business First Diversity in Business Award. She has been featured in Ohio Business Magazine, Columbus CEO, and Columbus Dispatch. Courtnee is also a graduate of Leadership Columbus, The Ohio Minority Supplier Diversity Council MBE Academy, and the African American Leadership Academy. Courtnee serves on the Boards of WOSU and New Directions Career Center, Mount Carmel Health System Foundation, and is a member of the Columbus Rotary Club, and the NAWBO Columbus Diversity Committee. Most recently, The Supreme Court of Ohio has also appointed Ms. Carrigan as a member of the Commission on Professionalism, serving as a nonattorney member for a three-year term beginning January 1, 2022.
---
Devin Trout, Freedom a la Cart
Devin is the Marketing Manager at Freedom a la Cart. In her free time, she enjoys going on walks to the lake with her pups, Finn + Ava, trying local restaurants (anything with tacos she is there), shopping at small business boutiques, trying not to kill her plants, collecting honey from her bees and staying up to date on the latest Law & Order SVU episode (Olivia Benson is a Queen!).
---
Don Miller, HelmsBrisco
Don has been with HelmsBriscoe in the Columbus, Ohio market since August of 2001. He works with a wide variety of association, corporate, government and not-for profit organizations throughout the U.S. Don joined HelmsBriscoe due to the company's reputation for excellent service and ethical conduct in the meetings industry. For Don, the freedom to provide Clients exceptional service and solutions, regardless of their site selection requirements, makes it a true pleasure to start work each day. As Associate Regional Vice President in the Ohio, Indiana, Kentucky and Tennessee regions, Don is responsible for Associate recruitment, mentorship and development. His responsibilities are to find and recruit the best possible Associates available and assist them in providing their Clients with the best possible service.

Don has worked in the meetings industry since 1986 for Stouffer-Renaissance, Wyndham and Marriott. He earned his Certified Meeting Professional (CMP) designation in 2002 and Certified Association Sales Executive (CASE) designation in 2009. Don currently serves as regional technology trainer, insuring that each HB Associate in his region utilizes every tool HB has to offer to gain an advantage for their Clients. Don has also been active in the Ohio Chapter of MPI, having served as VP of Finance, Director of Technology, Director of Education, and as the Chapter's President. He was awarded the Planner of Year Award from OHMPI in 2003 as well as numerous awards from the HelmsBriscoe as well as his clients. He is a proud graduate of The Ohio State University.
---
Heidi Anaya, Signature Worldwide
In her role, Heidi has extensive experience training in hotels as well as in the equipment, insurance, casino, financial, and trucking industries. She is certified to teach courses in a wide variety of areas, including Sales, Prospecting, Negotiating, Presentation Skills, and Customer Service. Prior to joining Signature Worldwide in 2011, Heidi was an integral part of the Signature Canada team for three years where she was the lead trainer for the company. Her career in the hospitality industry has spanned over 30 years and has included roles ranging from Guest Services to Sales & Catering to her final role as Corporate Director of Catering for SilverBirch Hotels & Resorts (Canada). It was that role that cultivated her passion for training as she was responsible for on-boarding all new Sales & Catering personnel across the company.
Heidi holds an Associate's Degree (with Honors) in Hotel & Restaurant Administration from the Southern Alberta Institute of Technology in Calgary, Alberta (Canada). She also holds a Certification in Hospitality Business Acumen from the Hospitality Sales & Marketing Association International (HSMAI) and is a certified trainer of the course. Heidi lives in Tucson, Arizona with her husband.
---
Jim Bishop, Morgan Stanley
Jim Bishop has been consulting business owners and business professionals to achieve a successful retirement for almost 20 years. He is a financial advisor with Morgan Stanley and is a Retirement Income Certified Professional. He is also the advisor to OHLA's Multiple Employer 104k Program. Jim is focused on building wealth to help people achieve their goals. This is about generating long term income through multiple sources. You do not need to own a business to create wealth for you and your family but you do need a plan. As a retirement specialist, Jim can show you the steps to start taking today to make money, save money and invest money.
---
John Trott, Greater Ohio Workforce Board
John Trott is the Executive Director of the Greater Ohio Workforce Board (also known as Area 7 Workforce Board) supporting 43 member counties. The Board oversees the investment of federal workforce dollars in businesses and job seekers, operating a network of OhioMeansJobs Centers in one of the nation's largest workforce regions with an average annual budget of $35 million. He is also a charter member and past president of the Ohio Workforce Association — an organization dedicated to advocating the importance of locally designed and operated workforce programs.
John has spent over 30 years working in federal, state and local workforce programs. He started his career in Ohio state government as a legislative aide in the Ohio House of Representatives. As head of Local Operations at the Ohio Department of Job and Family Services he oversaw the complete restructuring of unemployment insurance delivery in Ohio, by closing the state's 60+ unemployment offices and shifting services exclusively to Internet and call centers. He has a Business Degree in Economics and International Business from the Ohio State University.
---
State Representative Jon Cross
State Representative Jon Cross (R-Kenton) is serving his second term in the Ohio House of Representatives, representing northwest Ohio's 83rd District, which includes Hancock and Hardin counties, and part of Logan County.
Representative Cross is a proud father and husband, a passionate public servant and a principled conservative championing legislation that protects our rights and freedoms, as well as keeping Ohio safer, stronger and open for business.
His leadership and strong work ethic have had a positive impact on the Ohio General Assembly and the communities and constituents he represents.
---
Katie Browder-Person, KatBro, Ltd.
Katie Browder- Person has been a trainer and speaker since 2016 in the areas of social media, sales, customer service, content writing, and marketing. She currently provides training for Central Community House, The City of Columbus, National Management Association (NMA), Women's Business Center at ECDI, Cultivate Grove City and London locations, and SBDC at Columbus State Community College. She is also a part-time instructor at the Ohio Media School.
Katie is the owner of KatBro Ltd. A full-service marketing agency located in Columbus, Ohio. She has 15+ years of marketing experience in the areas of: Strategic Planning, Visual Branding and Design, Website Design and Development, Marketing Planning and Implementation. Sales and Customer Services, Social Media and Content Marketing.
---
Ken Patel, EV Hotel
The goal is to revolutionize the hospitality Industry with technology innovations that will create centric experiences for our guests and employees. 2021 is Ken's 25th year in Hospitality. He graduated from the #1 Hospitality school in the world where he obtained his MBA in international Hospitality Management.

Originally, from the NYC area , he has spent almost 34 years there and currently resides in the Atlanta area. He has been in hospitality since he was 15 years old, working 7 am to 7 pm every Saturday and Sunday at a hotel in my junior and senior year of high school to help his parents financially. Ever since then, he has been in the world of hospitality and have worked from the ground up to where he is today. Ken's belief is to surround yourself with great people, and the journey will have a path.

---
Libbi Vynalek, NetJets
Libbi Vynalek is a Senior Facilitator on the Learning and Development Team at NetJets. Focusing on new hire onboarding, she looks to mirror the NetJets Owner Experience – one that is second to none. She joined the NetJets team in September 2021. NetJets is the oldest and largest private aviation company headquartered in Columbus, Ohio with access to over 2,000 airports worldwide and a strong European presence.
Prior to NetJets, Libbi spent eight years with a higher education nonprofit supporting member services, educational programming, organizational change and operations.
Outside of her professional career, Libbi enjoys teaching fitness classes with Fit4Mom, reading way too many blogs, entertaining for her friends, thrifting, and spending time with her husband and two young kids.
---
Liz Green, ELEVAR Events
Liz Green, Owner and Chief Event Curator, of ELEVAR Events by Liz Green, has more than 19 years planning events in the non-profit and corporate sectors on an international, national and local scope. From 2013 - 2019, Liz traveled the globe planning the Arnold Sports Festival on six continents with the organization's co-founder, Governor Arnold Schwarzenegger. In 2018, Liz launched ELEVAR Events by Liz Green in Columbus and has continued to execute live, hybrid and virtual events the last 4 years as an independent planner. Liz was recently announced as a "Smart Women in Meetings" award winner in the entrepreneur division for 2022. Liz enjoys spending time with her husband and two sons on their five-acre mini farm, reading, writing, traveling and pursuing various fitness activities.
---
Mandie Knight, Sanctuary Night
Mandie Knight is a woman/mother/wife in recovery from trauma, sex trafficking, and addiction. She is the Operations Manager at Sanctuary Night. Currently, she is in school working towards achieving a degree in psychology. Mandie enjoys traveling to as many places as possible, riding her Harley, and LOVES her basset hounds. She is passionate about advocating for others and doing the next right thing.
---
Mark Weaver, Communications Council Inc.
Mark Weaver is an award-winning national political consultant and election law attorney. Over the last three decades advising more than 800 political campaigns in 18 states, there are very few political challenges he hasn't seen or solved.
The Youngstown Vindicator called him, "the most prominent and successful political consultant in Ohio." The Pittsburgh Tribune-Review agreed, calling him "among the top political strategists in the country."
As a young communications consultant, he worked one-on-one with President Ronald Reagan and went on to advise many Republican candidates for Governor, U.S. Senate, Congress, state Supreme Court Justice, and other statewide offices. He has also advised the Republican legislative campaign committees in the Ohio House, the Ohio Senate, the South Dakota Senate, and the Pennsylvania House.
He has written hundreds of campaign plans, supervised countless polls and focus groups, and produced more than two thousand TV and radio commercials – winning more than a dozen national awards for excellence in political advertising.
Over the last two decades, Mr. Weaver taught graduate courses in Election Law and Advanced Campaign Management at the University of Akron Bliss Institute of Applied Politics. He's also served as an instructor at the Republican National Committee campaign management college.
---
Michael Evans, AP Consulting
Michael T. Evans is the contract lobbyist for the Ohio Hotel & Lodging. In July 2012, Michael founded All Phase Consulting, a government affairs solutions company, after serving as OHLA's Director of Government Affairs and Communication between 2008 and 2012. As OHLA's contracted lobbyist through All Phase Consulting, Michael will continue to manage numerous legislative programs, prepare and offer testimony, draft amendments to legislation, initiates grassroots campaigns, and assists in PAC strategy development for OHLA.
---
Michael Goldrich, The Hotels Network
After 20 years in hospitality marketing, Michael helps hoteliers grow their direct channel by using The Hotels Network's innovative solutions to attract, engage and convert visitors throughout the online booking journey.
Coupled with two decades of hotel digital marketing experience, Michael J. Goldrich joined The Hotels Network as Chief Experience Officer to represent the Voice of the Customer.
As former Global Head of Marketing for Club Quarters Hotels, Vice President of Marketing, Ecommerce, and Distribution for Denihan, Vice President of Marketing and Ecommerce at Dolce Hotels, Senior Director of Digital Brand Marketing & Strategy at Wyndham, and Director of Global Web Services at Starwood, Michael has a clear understanding of how hotel brands operate, recognizing the importance of direct channel relationships.
During his time at Club Quarters, Michael's goal was to grow brand contribution while shifting the post-pandemic target business segment to younger local leisure travelers. He also transformed marketing organizations by implementing and optimizing e-commerce and digital capabilities for diverse global businesses including Starwood, Accenture, Monster Worldwide, and Wyndham.
His awards include the Platinum Adrian Award for an innovative social media campaign, the Gold Adrian Award for an innovative website, and 40 under 40 from the Westchester Business Council. Most recently, he was selected by HSMAI as a Top 25 Extraordinary Minds in Sales, Marketing, and Revenue Optimization in 2020.
---
Monica Jones, COTA
Monica Jones serves as the Chief Equity Officer at Central Ohio Transit Authority. In her role, Jones oversees the conception, design, implementation, growth and evaluation of the organization's strategy surrounding equity, diversity, and inclusion. She also partners with leaders to develop and implement strategies, programs, policies and metrics to attract, retain, and advance diversity within and outside of COTA.
Prior to COTA, Jones had spent two decades in higher education in key leadership positions as Associate Dean of Students, Chief Diversity Officer, Director of Diversity for Regional Campuses and Director of Student Services for both public and private institutions in Ohio and Kentucky.
Jones is a native of Ohio. She earned her Bachelor's Degree in Zoology and Master's Degree in Higher Education from Ohio University.
---
Rich Wrona, NetJets
Rich Wrona is a veteran employee at NetJets, having been with the company for the past 26 years in various leadership roles focusing on service and operations.
Before arriving at NetJets, Rich spent seven years in a support and research role for Dublin-based Aerosafe Inc., an aviation consulting firm. Rich has a bachelor's degree in aviation from The Ohio State University and a commercial pilot certificate. He lives in Gahanna with his wife, Sharon and has three children living in the Columbus, Cincinnati, and Chicago areas.
---
R.J. Lowery, RevLocal
R.J. Lowery is a Google, "digital sales certified" Senior Digital Marketing Consultant with RevLocal, living in the Columbus Ohio area. He has over 35 years of building companies as a top-performing leader, trainer, recruiter and Consultant.
In 2011 he acted on his passion for helping entrepreneurs by launching a successful consulting practice called Expert Edge Business Coaching. From 2012 to early 2022, he committed most of his time to RevLocal as they became his biggest client, helping to build their digital marketing consultant team from 4 to 140 consultants, nationwide. As he has recently taken a step back from senior leadership (and traveling) his daily motivation is to now take his last decade of digital marketing knowledge and make a difference for local business owners, multi-location brands and non-profits.
Outside of work, R.J. loves spending time with Connie, his wife of over 30 years, their three grown daughters, sons-in-law, granddaughters and other family members. He's also a ministry leader at One Church in Gahanna and loves mentoring other "doods" (dads of only daughters.) Although he is a proud '88 graduate of Ohio University, he's a HUGE Ohio STATE fan, especially Football and Wrestling, which the latter he is a season ticket holder for.
*Fun facts, back in the '80s, R.J. was on the Wheel of Fortune and in a 20th Century Fox movie!
---
Tara Casey, Columbus Hospitality Management
Tara is an experienced Corporate Human Resources Director with a demonstrated history of success while working in the hospitality and manufacturing industries. She is skilled in Talent Acquisition, Customer Service, Coaching, Employee Benefits Design, Strategic Planning and Succession Planning. A champion for the hotel & lodging industry and all who work in it, Tara has been an active voice for efforts to provide more opportunities within hospitality to individuals from diverse backgrounds and from all walks of life.
---
Tammy Hudson, Engaged Pro Video
Back in the 90's, this Colorado Springs native worked her way through 7 long (and unfocused) years of college (including an internship in Walt Disney World) as a full time travel agent to pay the bills. This began her love for hospitality. After college Tammy tried her hand at flying and traveling as a Flight attendant before quickly realizing that serving drinks in the sky was not the best use of her Organizational Communications degree so she returned back to working on the ground and quickly began on-air work on a local radio station as a morning show personality.
Unfortunately, being paid in CD's and concert tickets couldn't pay the bills so Tammy moved from the Mountains the Ocean after securing a position with Disney's Hilton Head Island Resort. Years later, after chasing a boy to Columbus, Tammy began working for local luxury brand, NetJets. Her 8 years with NetJets provided opportunities beyond imaginable including a taste for event planning. Tammy enjoyed working for both luxury planning and non-profit planning with COSI, as well as leisure events and hundreds of weddings before embarking on her own business. In 2012 Tammy began working with business owners on growing their business through strategic advertising and marketing, using practices and principles that helped grow her very own company.
Through the years, the vast experiences and opportunities has given Tammy a view of the best practices to be successful. Although she's seen and used many forms of ways to grow and promote businesses in the last 30 years, the single most important strategy in content marketing today is video. With the recent popularity of Youtube, Instagram Reels, and Tik-Tok, the use of Video is and continues to now be a necessity in order to appeal to almost every target customer.
Now, the Owner at Engaged Pro Video, Tammy Hudson is happy to work with and help professionals and businesses with their video marketing strategies with her Do-It-Yourself platform so that her clients know how to leverage their businesses using video.
Exhibitor Marketplace Participants
---
2022 Exhibitor Toolkit -
Anything and everything you would need to know about exhibiting at the 2022 OHLA Annual Conference all in one place!
---
Exhibitors at the 2022 OHLA Annual Conference & Gala
---