Workforce & Education
Scholarships & Education
---
Educator and Student Membership
Interested in membership with OHLA as an educator or a student? Please contact Cindy Sams at cindy@ohla.org for information. A NEW Membership program will be available for the 2022-2023 membership year!
OHLA Scholarship Opportunities
The OHLA Education & Training Fund (ETF) is designed to help finance the continuing education of hospitality industry employees who wish to further themselves in the performance of their duties. The OHLA ETF will offer to support 50% of the class cost in a matching program with your property or other source (up to $500 per F/T employee, per year). Newly added benefit for P/T employees with a minimum of 20 hrs/wk, up to $250 per year.These programs can be college or technical school hospitality related courses/seminars. Other sources will be considered as long as the program will benefit the employee in their job. Exclusions: General Managers, Owners and Independent Contractors.
Applications are reviewed quarterly before OHLA Board of Trustees Meetings.
To apply for a scholarship please complete fillable form and submit. Ask your GM to send their approval online.
You may also print and return a completed OHLA Scholarship Application, and a General Managers written recommendation to the Education and Training Fund Committee, Ohio Hotel & Lodging Association, 175 S. Third St. Suite 170, Columbus OH 43215.
The opportunity for you to make a difference in someone's education and training awaits you on this website.
Colleges and Technical Career Centers
Offering Hospitality & Tourism Management Courses
| | |
| --- | --- |
| OHIO AREA | HOSPITALITY & TOURISM MANAGEMENT MAJORS |
| NE | Youngstown State University, Youngstown |
| | Kent State, Ashtabula |
| | Kent State, Kent (Main Campus) |
| | Tri-C Community College, Cleveland |
| | Lorain County Community College |
| | |
| N Cen/NW | Bowling Green State University, Main Campus, Bowling Green |
| | Bowling Green State University, RAM Program-Cedar Fair, Sandusky |
| | University of Northwestern Ohio, Lima |
| | Owens Community College |
| | |
| SW | Workforce Development Center (WDC) at Cincinnati State, Cincinnati |
| | Sinclair Community College, Dayton |
| | Central State University, Dayton |
| | |
| CEN | The Ohio State University, Columbus |
| | Columbus State Community College, Columbus |
| | |
| SE | Hocking College |
| | Ohio University |

Educational Materials & Resources
Resources in Education
Student Testimonials Waiver Form
OHLA wants your help to capture student testimonials telling us how much they like their courses in Hospitality & Tourism Management and why they got into this focus of education. A VERY BRIEF VIDEO IS A GREAT WAY TO SHOW THEIR ENTHUSIASM!
To cover any liability, we created the Student Testimonial Waiver they can sign and send to us with their message. We will use the student voices on social media and other marketing materials, like our NEW Hospitality Industry Brochure!
Download Hospitality Industry Brochure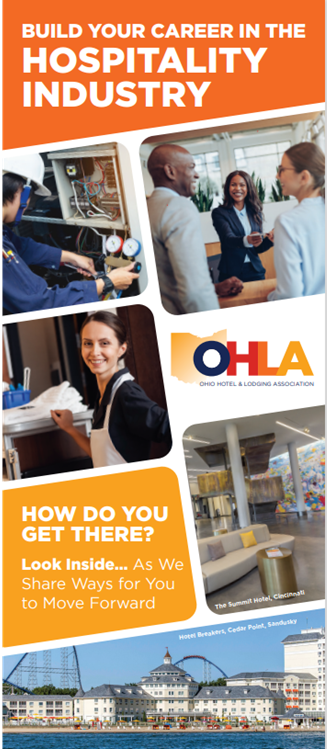 __________________________________________________________________________________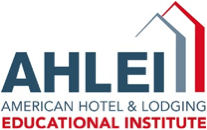 OHLA MEMBERS receive 25% off Training Products!
It is our pleasure to offer Ohio Hotel & Lodging Association members special pricing on products from the Educational Institute, the "training arm" of the American Hotel & Lodging Association. The Educational Institute provides industry-tested, research-driven, hospitality training programs using the Internet, videos, textbooks, interactive CD-ROMs, seminars and Professional Certification to train all levels of hospitality personnel. EI also specializes in producing custom programs based on your specific training needs.
As a member of Ohio Hotel & Lodging Association, you can receive 25% off Educational Institute products; this does not include Professional Certification, and/or Seminars, and cannot be combined with other discounts or offers.
For more information, please contact the American Hotel & Lodging Educational Institute at www.ahlei.org or
Ohio Hotel & Lodging Association
175 South Third Street, Suite 170
Columbus, OH 43215
PHONE #: (614) 461-6462


Guest Service Gold®
Guest Service Gold® is a comprehensive program designed to accomplish the goal of creating guest service-oriented line-level employees who know how to engage with their guests in order to provide memorable guest service.
Core components include training, employee certification and property certification. Guest Service Gold® features a choice between TWO separate courses, Guest Service Gold®: Making Connections and the NEW Guest Service Gold®: Golden Opportunities. Each option features seven different guest service elements presented through real stories that are designed to motivate and inspire your staff to 'Go for the Gold' when it comes to providing service that goes above and beyond what is expected.
Ask OHLA about Student Rates!


The Certified Tourism Ambassador CTA Program
The Certified Tourism Ambassador (CTA) Program is an industry-recognized national certification that aligns the destination's people infrastructure – its stakeholder businesses and front-line – to increase tourism by Enhancing the Visitor Experience. With over 15,000 current CTAs, the program drives visitor spending through in-depth knowledge of the destination 'product'; gives destinations a competitive advantage; and ensures consistent delivery of a positive destination brand experience. In today's consumer-driven worlds, savvy destinations realize the important of CTA.
Become an Ambassador of your city today!
Scholarships are available for OHLA members. OHLA programming counts for 5-10 activity points towards your renewal.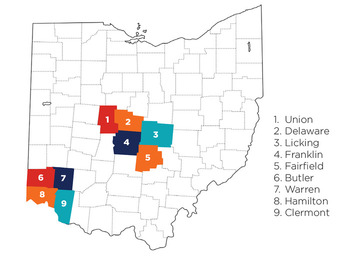 Training for Intervention ProcedureS (TIPS)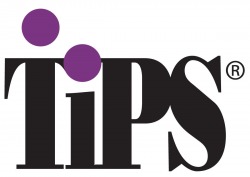 TIPS is the global leader in education and training for the responsible service, sale, and consumption of alcohol. Proven effective by third-party studies, TIPS is a skills-based training program that is designed to prevent intoxication, underage drinking, and drunk driving.
OHLA Members receive a $5 discount on the eTIPS course, an online certification course and exam. (The standard rate is $40.)
OHLA Members receive a $50 discount on the TIPS Train-the-Trainer Workshops which includes the student video, instructor's guide and access to an online tool that allows trainers to track all of their TIPS activity. To become a TIPS Trainer, you must successfully complete a two-day, train-the-trainer workshop. We offer 30 workshops across the country each month. To locate and register for a workshop in your region, members can go to http://www.gettips.com/TIPS-trainer-workshops.html. (The standard fee is $499 per person)
To access the OHLA member discount, please click here: TIPS.
Labor & Staffing Resources
Industry Professional Education & Training
Resources in Education
---
Apprenticeship Program