Join OHLA Today!
We are YOUR association and we can't do what we do without you!
Join the thousands of lodging professionals who are taking advantage of their membership with OHLA. When your property joins, all of your associates gain access to benefits, education and resources.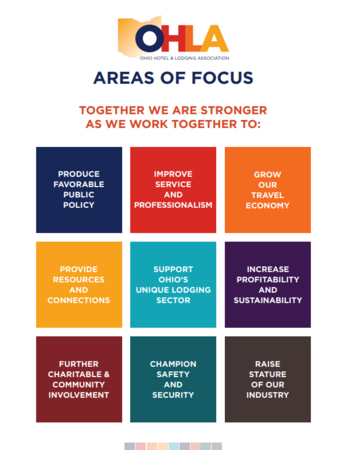 What can you expect from membership?
To identify with a lodging community of like-minded colleagues within your region and statewide. Did you know that OHLA's membership is organized into 9 lodging councils? Events & education is specific for each of these councils with opportunities made available based on your greatest needs.
Access to members-only resources, tools & timely information to help you in your day-to-day operation such as guides to navigating Ohio's tax rules and exemptions.
Opportunity to attend, network and engage in events throughout the year, including our Stars of the Industry awards events and Annual Conference.
Recognize standout associates by nominating them for a Stars of the Industry award, available in 15 categories for associates of all property types (Full-Service, Select, Economy & Limited (SEL) brands and independent properties). A FREE opportunity to make a BIG impact for employee retention and team morale.
Grow your team members by applying for scholarship funds through our Education & Training Fund (ETF). Have an associate in a time of need, apply for assistance through our Hospitality Helping Hands program. Learn more here.
Have a voice bigger than your own. As a member of OHLA, we support you through public advocacy & legislation every day.
Stay connected with OHLA's monthly e-Newsletter, local lodging council updates and much more!
Be a contributor - volunteer on one of OHLA's many committee and councils from Events & Conference planning to Membership and Government Affairs. There is something for everyone!
Member Applications
Property Membership*
Property Membership Application
*Additional details regarding member benefits for branded and independent properties may be found by clicking here.
Allied Membership**
**Additional details regarding member benefits for potential Allied partners may be found by clicking here.
Convention & Visitor Bureau/Destination Marketing Organization Membership
If you have questions, please contact Director of Membership, Lauren Stazen at (614) 461-6462 x5.