Legislative Day 2020
Because of official orders by the State of Ohio and Ohio Department of Health, the Mar. 25 AAHOA-OHLA Legislative Day is cancelled. Participants who registered in advance will receive a full refund.
The State of Ohio's official Order to Limit and/or Prohibit Mass Gatherings in the State of Ohio bans events of 100 or more people. The legislature and other state agencies are also taking steps to partially close and work remotely. These developments require the cancellation of this event.
It is not possible to reschedule the event yet, because the order is open-ended and has no time limitation. We will consider all options for rescheduling based on future actions taken by the State of Ohio.


---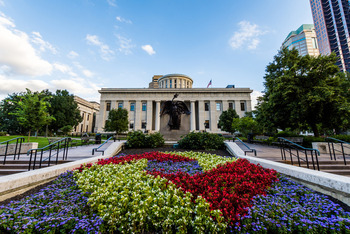 AAHOA and OHLA are dedicated to producing favorable public policy for everyone who owns, manages and operates a hotel business. Laws, regulations and taxes have a significant impact on your bottom line. You can make a difference on issues important to our industry by attending this legislative day and meeting with your lawmakers and elected officials. It is powerful for these policymakers to hear directly from you about your impact on jobs, the economy and your community!

Ohio Legislative Day Schedule
---
8:30AM
Breakfast Available (Renaissance Columbus Downtown)
8:45-10:45AM

Program:

- Welcome from AAHOA & OHLA Leaders

- Morning issue briefing

- Meet Special Guest Ohio Secretary of State Frank LaRose

- How to lobby the state legislature

10:45AM-12:00PM
Legislative appointments (Ohio Senate Building & Vern Riffe Center)
12:00-1:00PM
Luncheon Event: Ohio 2020 Election Preview, Swing State Strategies (@ Renaissance)
1:15-3:30PM
Legislative appointments (Ohio Senate Building & Vern Riffe Center)
4:00-6:00PM
Optional: Open House Reception at new OHLA offices
w/ special guest Mehek Cooke, candidate for State Representative, 21st House District
OHLA Open House
Join us for a special open house at the new OHLA offices one block from the Ohio Statehouse, with special guest special guest MEHEK COOKE, candidate for State Representative in House District 21.

Mehek was born in India and her parents are local hoteliers. She is an attorney and has served with the U.S. Attorney's Office including counterterrorism and criminal asset forfeiture; as legal counsel to the Ohio Governor, in the Ohio Dept. of Agriculture and in private practice.
Ohio's hotel & lodging industry has a new headquarters as of Jan. 1 with the completion of the move of OHLA's offices to a location just off of Capitol Square in Columbus. This historic occasion is the culmination of years of hard work and commitment from OHLA members, partners and team members. It will allow the organization to service hotel & lodging businesses in a more productive, dynamic and creative environment. It will also allow members to gather and collaborate, and will allow for much greater visibility and promotion of the industry and the travel economy.
Help us celebrate this historic move, meet members of the OHLA leadership team and staff, and welcome special guests and partners. Food and beverage provided.


For more information, contact Joe Savarise, Executive Director, OHLA, joe@ohla.org
or Kati Siconolfi, Director - State & Local Govt. Affairs, AAHOA, kati@aahoa.com