Property Membership
Property Membership
We are YOUR association and we can't do what we do without you!
Join the thousands of lodging professionals who are taking advantage of their membership with OHLA. When your property joins, all of your associates gain access to benefits, education and resources.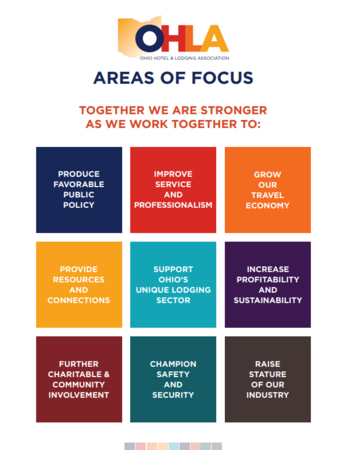 What can you expect from membership?
To identify with a lodging community of like-minded colleagues within your region and statewide. Did you know that OHLA's membership is organized into 9 lodging councils? Events & education is specific for each of these councils with opportunities made available based on your greatest needs.
Access to members-only resources, tools & timely information to help you in your day-to-day operation such as guides to navigating Ohio's tax rules and exemptions.
Opportunity to attend, network and engage in events throughout the year, including our Stars of the Industry awards events and Annual Conference.
Recognize standout associates by nominating them for a Stars of the Industry award, available in 15 categories for associates of all property types (Full-Service, Select, Economy & Limited (SEL) brands and independent properties). A FREE opportunity to make a BIG impact for employee retention and team morale.
Grow your team members by applying for scholarship funds through our Education & Training Fund (ETF). Have an associate in a time of need, apply for assistance through our Hospitality Helping Hands program. Learn more here.
Have a voice bigger than your own. As a member of OHLA, we support you through public advocacy & legislation every day.
Stay connected with OHLA's monthly e-Newsletter, local lodging council updates and much more!
Be a contributor - volunteer on one of OHLA's many committee and councils from Events & Conference planning to Membership and Government Affairs. There is something for everyone!
Hear what your peers are saying...
"One of the greatest challenges I have faced in operating our hotel during this time is sifting through the information overload we are receiving regarding COVID best practices & guidelines to ensure I am operating my hotel safely and legally. It has been invaluable having OHLA as a trusted resource during this time. Some of the best and most timely information has come from OHLA... and they will be able to guide me so that I can maximize my business opportunities while protecting our employees, guests and business." -Matthew Watson, General Manager, Metropolitan at the 9 Autograph Collection
"OHLA is my gateway to resources. OHLA has always supported my property through having the tools and resources my team & I require to be successful. Operationally, the resource guides available regarding Sales & Use Tax and ADA Compliance help me be an informed leader and my team to feel knowledgeable and empowered. I know I can rely on the OHLA community and staff for key questions and needs." -Nila Patel, General Manager, Country Inn & Suites Fairborn
"OHLA is my one-stop-shop. As a hotel owner and operator, OHLA is ensuring my success while protecting our industry through lobbying at the local, state & federal levels. From an operations perspective, I value the expansive Allied Member Network which provides numerous cost saving programs. As an owner, I appreciate the network of hoteliers that help me solve questions and matters that are unique to my industry." -Andy Vasani, Owner, InnVite Hospitality
Interested in learning more? Connect with Lauren Stazen, Director of Membership, at Lauren@ohla.org or 614-461-6462. >>OHLA Property Application<<
(Are you an independent property? Click on the ULO Property tab for more information.)

Join the ULO Community!
The Unique Lodging of Ohio (ULO) community is a sector of OHLA. ULOs are independent properties of all kinds – truly, unique lodging. We have members from hotels & inns to cabins & yurts! Through OHLA membership, our ULO properties also gain access to the American Hotel & Lodging Association and the benefits provided at the national level.
In addition to the numerous resources all OHLA Members receive, below are some of the benefits your ULO peers are already taking advantage of:
NEW! Unique Lodging of Ohio

Website powered by Book Direct

Cooperative marketing & advertising opportunities, exclusive to ULO members

Access to the Allied Member Network - trusted business who support hotel & lodging operations

ULO-specific education, networking and training events including a ULO Track at our Annual Conference inclusive of a private reception

Legal resources and access to industry experts

Opportunity to participate in the Stars of the Industry Awards in all 15 categories, including ULO Property of the Year!

Apply to participate on the Unique Lodging of Ohio Council - a group of ULO peers dedicated to the success of independent properties statewide
NEW in 2020 - Exclusive to OHLA/ULO Members
We want to help you build your visibility!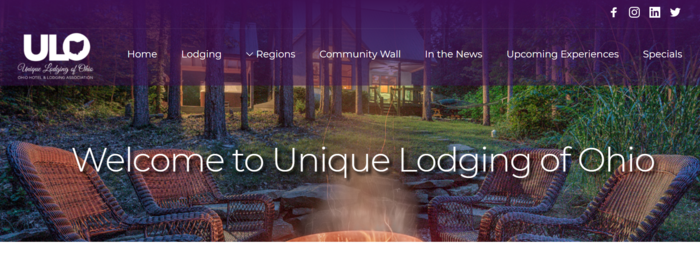 Congratulations!
2021 ULO Property of the Year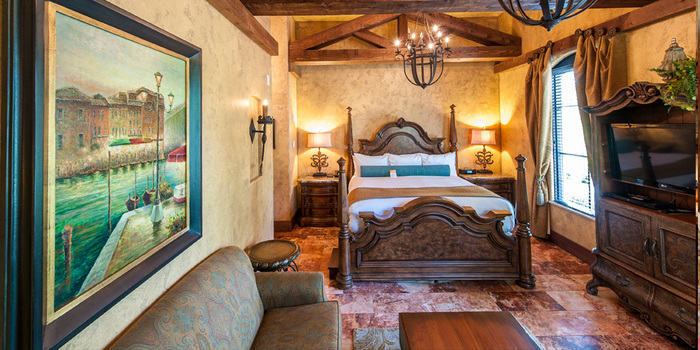 AAA Editorial - May 2021 Issue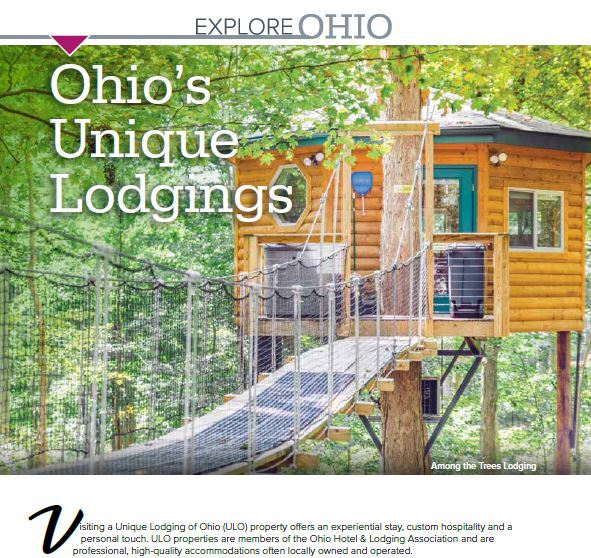 Click here for full AAA Magazine May 2021 Issue
Co-Op Email Marketing Campaign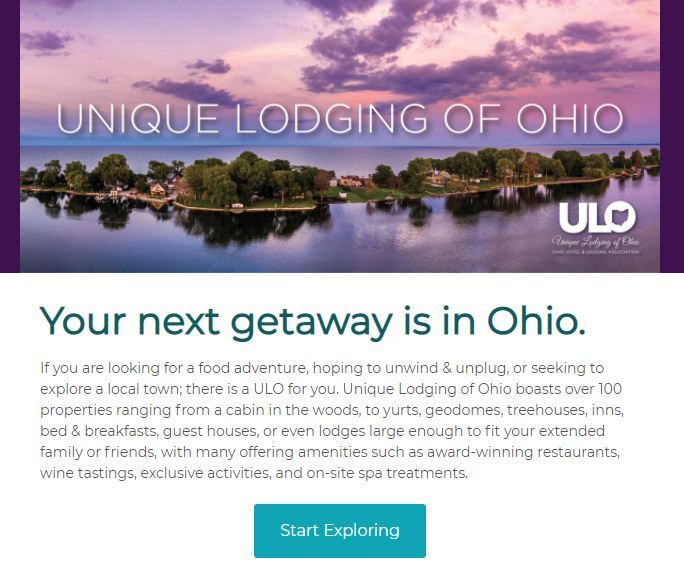 Interested in learning more about the growing ULO Community in Ohio? Contact Lauren Stazen, Director of Membership, at Lauren@ohla.org or at 614-461-6462.