Complete Story

New Practitioner eXperience News Fall 2017



OPA New Practitioner eXperience (NPX) Launchpad

Fall 2017
Welcome to the NPX Launchpad
Welcome to the fall edition of the NPX Launchpad, the seasonal newsletter intended to help you, new practitioners, excel personally and professionally! The New Practitioner eXperience is an automatic (and free!) Ohio Pharmacists Association (OPA) member benefit for pharmacists who have been in practice for 7 years or less.
Check out our featured articles in the Fall 2017 Edition:
Practitioner Profiles

featuring Ohio State University graduate, Patrick Owcarz

Professional Pearls

sharing career inspiration from independent pharmacy owner, Aimee O'Reilly
Rx Impact: Pharmacist Intervention in an Emergency Department Setting by Dr. Erin Petersen
Money Matters explaining why you may feel like you're living paycheck to paycheck
A Taste of Our Kitchen with a zesty casserole recipe from Tiffany Olberding
Ohio Days showcasing Cincinnati as the perfect locale for young pharmacists
You will also find news on upcoming events within OPA, as well as updates from our various committee liaisons to keep you in tune with the Association.
We hope you enjoy the NPX Launchpad!
Sincerely, your NPX Advisory Team,
Amanda Singrey, Chair

Jennifer Sabatino, Vice-Chair

Aaron Neidig, Member-at-Large

Patrick Owcarz, Member-at-Large

Shea Swick, Launchpad Coordinator

Scott Uram, Member-at-Large




Practitioner Profile

Patrick Owcarz, R.Ph, PharmD
The Ohio State University 2010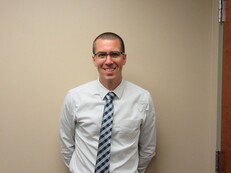 Director of Pharmacy at Berger Health System, Circleville, Ohio
Tell us a little bit about your practice site. Berger Health System is a 95 bed community hospital in Circleville, Ohio. The department of pharmacy plays a variety of key roles on the inpatient side. We have a decentralized pharmacy with pharmacist rounding, dosing all vancomycin and renal adjustments, IV to PO conversions, and formulary management. We also have an outpatient infusion center and Pharmacist-staffed Medication Therapy Management clinic (Coumadin clinic). I play a variety of roles in the pharmacy from administrative duties, planning and vision of the department, and I practice in the MTM clinic.
How long have you been an OPA member? What has been your best experience thus far? I have only been a member of OPA for about a year. I am very excited to be on the Advisory Board for NPX. I think this next year will be filled with many great experiences.
What has been your favorite moment of your career? We started our MTM clinic at Berger Health System last November. It has been such a positively rewarding experience from the planning and implementing to now working with patients who can receive the care that they need locally.
What is the best career advice you have offered, or been given? [Read More...]
Professional Pearls

Fueling Your Passion
By Aimee O'Reilly, R.Ph, PharmD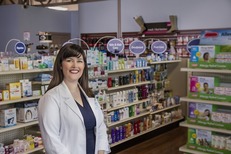 Find something you're passionate about and surround yourself with people who fuel that passion.
When I first graduated, I wasn't quite sure where I wanted to go in my career. Obviously, I had worked hard to get my degree and I knew I didn't want to waste all that effort – but I wasn't quite sure just where I was going. If you had asked me where I would be in five years I definitely wouldn't have responded with "owning my own pharmacy". Yet, here I am. I graduated from Ohio Northern in 2012 and January 1, 2017 I bought O'Reilly Family Pharmacy.
So how exactly did I get from there to here? [Read More...]
News & Upcoming Events - Get Involved with OPA!

OPA Midyear Meeting
November 5, 2017
The Makoy Center - Hilliard, Ohio
Learn from the experts while connecting with your peers in an energizing environment! This meeting offers one hour of Pharmacy Law and Rules Update CPE credit to help meet Ohio's CPE requirement. Other course offerings include: Pharmacists' Roles in Value-Based Care Models, Opportunities for Pharmacists in Value-Based Care: Panel Discussion, An Overview of Mental Health Disorders: The Pharmacist's Role in Optimizing Care and Reducing Stigma, Parkinson's Disease in 2017 and Beyond, Pain Management: A Primer for Pharmacists, and Digging Into GOLD – Overview of GOLD 2017 Guidelines. CLICK HERE for more information and to register.
OPA Pies, Pints, & Policy
November 8, 2017
Pies & Pints, 1026 N High St, Columbus, Ohio
Ohio State, NCPA and OPA are collaborating together to create an advocacy and networking social at Pies and Pints in the Short North on November 8 from 6-8pm! Come out and mingle with pharmacists and student pharmacists over some delicious pizza and beer! We will be going over current policies and ways you can get involved in OPA and in our profession! This is also a great opportunity to meet with pharmacists from around Columbus to learn about different job positions, rotations, etc! New practitioners and Columbus-area pharmacists welcome!
Pharmacist Legislative Day
November 14, 2017
Sheraton Columbus Hotel at Capitol Square and the Ohio Statehouse
Legislative Day is an advocacy event that allows pharmacists and student pharmacists to meet with legislators to educate them about the value of pharmacists in the world of health care. There are big pharmacy issues this year: pharmacy clawbacks, the opioid epidemic, access to care, provider status, and more. We need your help to stand up for pharmacists in the state of Ohio!
This program offers three contact hours (0.3 CEU) of continuing pharmacy education for pharmacists. Lunch and program materials are included. As OPA Executive Director Ernie Boyd says, "There is nothing more powerful than for pharmacists to have face-to-face meetings with legislators and their aides." CLICK HERE for more information and to register.
OPA's Under 40 Recognition Award
Nomination Deadline: November 21, 2017
The Ohio Pharmacists Association (OPA) is pleased to announce the first annual UNDER 40 Recognition program. This program grants young pharmacists the unique opportunity to have their professional achievements highlighted, and allows them to join the ranks of top-notch professionals from a variety of careers who have earned an UNDER 40 award. OPA believes that by recognizing these emerging leaders, an enriched future can be cultivated for the pharmacy profession.

UNDER 40 Eligibility Criteria:
Under 40 years of age as of April 21, 2018
An OPA member
A licensed pharmacist
OPA is accepting self-nominations in addition to nominations of colleagues. Award recipients, must attend the OPA Annual Conference in Columbus Ohio April 20-22, 2018, including the UNDER 40 recognition events on April 21, 2018. CLICK HERE to nominate a colleague for the UNDER 40 Recognition Award.
Medical Professionals Helping Honduras
December 26, 2017 - January 2, 2018
El Progreso, Honduras & Surrounding Communities
If you are interested in a life-changing adventure and available the week after Christmas, this medical missions trip is worth looking into! PODEMOS is an organization within The Ohio State University College of Medicine that teams up with various healthcare professionals in the Columbus area to reach those in desperate need of healthcare. The group is looking for 2 pharmacists to join the doctors, nurse practitioners, and students in traveling to Honduras. Most of the pharmacy work would revolve around dispensing and determining what drug to use based on the limited formulary or type of infection. See the attached flyer for more details and information on who to contact!
Rx Impact
Pharmacist Intervention in an Emergency Department Setting

By Erin Petersen, R.Ph., PharmD, BCPS- MTM Committee Liaison for NPX

When I was working in a hospital emergency department, we had a very sweet, elderly patient with cancer who came in complaining of a great deal of pain and difficulty swallowing pills. According to her medication profile, she had been taking oxycodone around the clock for pain management, but with her swallowing issues the emergency department physician decided it best to switch to fentanyl patches. He wrote the patient a home prescription for a dose he felt was moderate - the 100 mcg patch.
While the physician was determining his preferred treatment, I went in to talk with the patient regarding her current medications and learned that, while she had an active and filled prescription for oxycodone, she had not taken any due to the inability to swallow the pills, as well as her fear of addiction. I was able to explain to her the value of the medications in her current status and also to recommend to the physician an alternative that would be better suited to this opiate-naive patient. It is so rewarding to know that taking the time to ask the patient more questions and working with the team resulted in this patient feeling better and having a safe, well suited medication therapy.
If you have an inspiring story of how you or a friend in pharmacy influenced the care and well being of a patient, please share! Submit stories to Shea Swick at v-pennington@onu.edu.
Money Matters
Feel Like You're Living Paycheck to Paycheck? Here's Why.

By Tim Ulbrich, Posted 21 September 2017 in Your Financial Pharmacist Blog: Student Loans
I was reminiscing back to the time between 2012-2015 where Jess and I were throwing almost 40% of our take-home pay towards student loans. I distinctly remember the feeling of living paycheck to paycheck despite making more than $100,000 per year. I also remember the sense of frustration that this was not what I had thought I signed up for when starting pharmacy school.
It goes without saying that for many new graduates, student loan payments can make a paycheck evaporate in no time unless you are on an income-driven repayment plan with low monthly payments, are seeking loan forgiveness, or decide to take out your loan payments for 20+ years. I've talked with hundreds of pharmacists that describe the frustration of feeling like they are making little to no progress on paying off their loans despite making massive monthly payments. [Read More...]
A Taste of Our Kitchen
Cheesy Mexican Black Bean Quinoa Casserole

From the kitchen of Tiffany Olberding, R.Ph., PharmD - Resolutions & Bylaws Committee Liaison for NPX

Ingredients:

1 cup uncooked quinoa
2 tsp chili powder
1/2 tsp cumin powder
1/4 tsp garlic powder
1/4 tsp salt
1 15oz can black beans (drained)
1 can corn (drained)
1 cup crushed tomatoes
1 diced bell pepper
1/2 cup diced onion
1 cup Mexican cheese
1 cup water

Instructions:

Preheat oven to 350 degrees F.

In a large bowl, combine all ingredients until well-mixed. Spread into an 8-inch pan, and bake on the center rack for 28 minutes.

Turn off the heat and let the casserole sit in the closed oven for an additional 25 minutes. Remove, and serve.
Ohio Days
New Practitioner? Cincinnati is for You.
By Scott Uram, R.Ph., PharmD
Cincinnati ranked 15 out of 20 in Forbes annual list of "The 20 Best Cities For Young Professionals." Cities that ranked on the list are the best area for college grads with less than five years of experience. It's a great city to call home, and below are my top five reasons any young practitioner should want to live there. [Click here to get the top 5 reasons!]
NPX Committee Liaisons
If you are interested in serving on one of the OPA committees as an NPX liaison, responsibilities include attending quarterly meetings at the OPA office in Columbus, Ohio and reporting back to Shea Swick with an update for the newsletter. Please email NPX Chair Amanda Singrey (amanda.singrey@gmail.com) and Lisa Berman (lberman@ohiopharmacists.org) for further details.
Summer/Fall 2017 Committee Liaison Reports
Medication Therapy Management (June 22)
Liaisons: Dana Bachmann, R.Ph., PharmD and Lindsay Tsai, R.Ph., PharmD
The Medication Therapy Management Committee kicked off their first meeting in June with a full house to brainstorm the committee's goals for 2017-2018! This is an exciting time for pharmacists in Ohio, with the passing of HB 101 (Epinephrine Accessibility Act), many new HB proposals such as HB 231 (containers for dispensing controlled substances) and HB 167 (prescription drug abuse packaging), as well as potential changes to opioid prescribing. Pharmacists in our community have been advocating for pharmacist-provided services via local media, small articles, and newsletters. The committee discussed the importance of continuing the momentum of media outreach opportunities, especially as OPA turns its focus to provider status.
The committee also announced the collaborative practice agreement (CPA) templates are available for download on our Members-Only section of the OPA website. We are currently drafting a sample CPA protocol for naltrexone to add to the others – stay tuned! Slated for next meeting's agenda is solidifying the committee's goals for the year and brainstorming ideas regarding membership recruitment.
Have ideas? Join the MTM Committee today!
Public & Professional Relations (August 3)
Liaison: Derek Singrey, R.Ph, PharmD
The PR Committee discussed performing more Member Spotlights for the OPA magazine. The group came up with a short list of pharmacists that have unique practice sites around Ohio and the committee plans on reaching out to perform interviews.
We also discussed updating the "Additional Resources" section of the OPA website. Presentations that can be used for patient education are available on the OPA website, but several sections need to be updated and more resources could be added. We plan on having a small subcommittee look more into gathering resources from students and preceptors to make the web page a more valuable tool for OPA members.
Antonio Ciaccia shared success stories from our joint PR and MTM committee meeting from January. Members of both committees were challenged to reach out to various media outlets to promote pharmacist MTM services. News articles and videos were shared during the meeting.
Long term goals were set in place after Jen Rodis attended the Long Range Planning meetings. We took time to step back and assess how the PR committee should reach out to various types of groups in Ohio, including the public, pharmacists, and other healthcare providers, depending on what we were looking to promote to each group. This was a great way to create a baseline method for public outreach, depending on what task the committee is looking to accomplish.
Compounding Special Interest Group (September 7th)
Liaison: Andrea Van Deusen, R.Ph, PharmD
When the Compounding SIG met this fall, the focus of discussion was USP 800 which provides standards for the safe handling of drugs (including compounds) throughout the healthcare system. We had a representative from PCCA, Professional Compounding Centers of America, teleconference with us and he dove into the details of this new protocol and the flaws in the science behind it. He explained how they are pushing to adopt a less restrictive protocol in Texas and how we should go about doing that in Ohio. More information to come on this topic.
Member Services & Development (October 5)
Liaison: Christine Prusa, R.Ph., PharmD
At this meeting, the committee discussed membership for OPA and national benchmarks. We discussed new members that were contacted via phone by committee member, Kathy Karas. I gave an update from the NPX Advisory Team, based upon minutes from the September 18th meeting. We made plans for the Fall Campaign – Member-Get-A-Member program, and the November 1st Membership Challenge. I am asking for NPX members to join me in this calling campaign (see Facebook event).
The 20 Under 40 recognition program was presented and discussed, followed by a review of items delegated to the Membership Committee from the 2017 Long-Range Planning report. Lastly, we discussed awards and nominations. More information to come on this after the Board of Trustees meeting and, of course, at the OPA Annual Meeting!
Medication Therapy Management (October 12th)
Liaisons: Dana Bachmann, R.Ph., PharmD and Lindsay Tsai, R.Ph., PharmD
The Medication Therapy Management (MTM) committee met on October 12th to discuss the committee's goals and major projects for the 2017-2018 year. The committee is contributing to OPA's overall strategic plan and embracing practice evolution for pharmacists in all practice settings. The committee is doing this by creating a Payer Toolkit, a toolkit to help pharmacists reach out to payers (e.g., CareSource) to pay for pharmacy services and by working with OSHP to develop educational programing to target pharmacists engaged in community-based practice (e.g., community pharmacies, ambulatory care clinics). There was a lot of great discussion from committee members surrounding ideas and next steps for both projects!
Additionally, the committee is working on creating protocols for long-acting injectable medications and updating the collaborative practice agreement (CPA) templates due to new rules published by the State of Ohio Board of Pharmacy. Stay tuned for details! Slated for next meeting's agenda is to continue working on the Payer Toolkit and educational programming!
Have ideas? Join the MTM committee for their next meeting on January 18th!
Upcoming Committee Meetings:
Legal & Regulatory, November 2
Independent SIG, Nov 7
Public & Professional Relations, December 9
Preparedness Task Force, January 16
Medication Therapy Management, January 18

All meetings are held at the OPA office, 2674 Federated Blvd, Columbus 43235 at 10:00 am unless otherwise noted. Please visit the OPA committee webpage for more information.
Get Involved with the Launchpad
Help us write the next newsletter! Articles may be submitted for Practitioner Profile, Rx Impact, Ohio Days or A Taste of Our Kitchen. Have an idea for another article relevant to new practitioners? You can submit that as well! Articles should be submitted in a Word document to Shea Swick at v-pennington@onu.edu. Photographs for articles should be submitted separately for higher quality images. Thank you!
---