Complete Story

Vote NO on Issue 2!
Today is the big day. OPA has spent significant time and resources over the last year trying to expose Issue 2 for what it really is: unworkable, deceptive, deeply flawed, and costly for pharmacies and patients. We urge you to make time to head to the polls, and to vote NO on Issue 2.
OPA is a key part of a massive coalition of stakeholders, experts, and patients in opposition to Issue 2 the so-called "Ohio Drug Price Relief Act" - the Issue 2 proposal that will be on the Ohio ballot today.
As part of the Ohioans Against the Deceptive Rx Ballot Issue coalition, OPA has worked extremely hard to defeat a measure that could have serious negative consequences for pharmacies, payers, employers, veterans, and patients. While the initiative has created a great opportunity to discuss the flaws with pharmaceutical pricing, unfortunately Issue 2 would likely make matters worse.
Who's pushing Issue 2?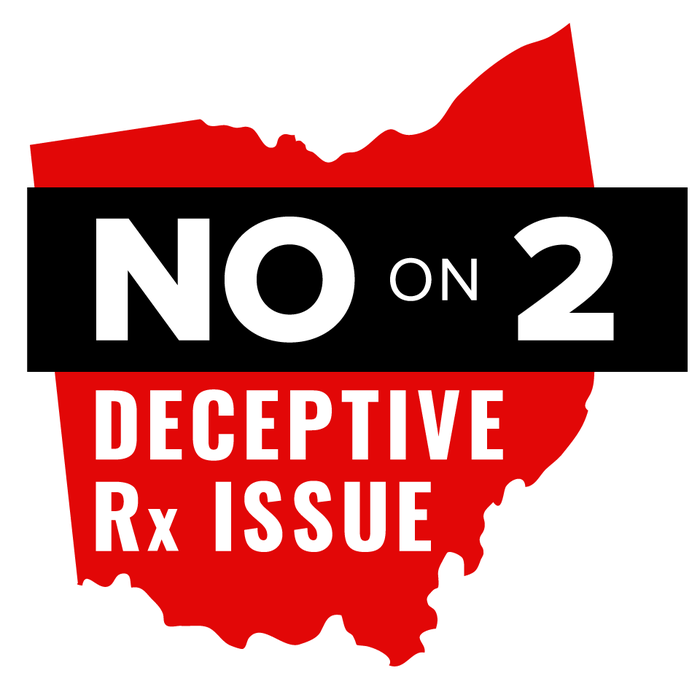 Issue 2 is being pushed by controversial California activist Michael Weinstein, and would prohibit Ohio's state government from paying any more for prescription drugs than the lowest price paid by the United States Department of Veterans Affairs.
A very similar proposal, "Proposition 61," was soundly defeated in California last year, and was opposed by more than 100 different health organizations, civic organizations, veterans groups, taxpayer organizations, business groups, and unions. It was also opposed by nearly every major newspaper—liberal, conservative and moderate alike—in the state of California. Unsurprisingly, an overwhelming majority of Ohio's newspapers have come out in opposition to Issue 2. For a list of those newspaper editorials against Issue 2, click here.
Unlike most legislative proposals impacting our profession, OPA and most stakeholder groups were not consulted in the drafting or creation of Issue 2 - a common practice for those seeking to avoid expert scrutiny.
But don't we have to do something about out of control drug prices?
Absolutely! It's no secret that OPA has been very outspoken about the problems with prescription drug pricing (see here, here, here, and here). We've spent a great deal of time working with reporters and lawmakers across the country to reform a broken system that rewards big supply chain middlemen and results in higher drug costs for employers, taxpayers, and patients. We continue to advocate for legislation to bring about increased transparency and competition into a system that is incredibly secretive and anti-competitive.
Unfortunately, the inaccurately dubbed "Ohio Drug Price Relief Act" will not only fail to accomplish its intended goals, but if approved, the measure could actually result in major price increases for millions of Ohioans. Of course something must be done about drug prices, but Issue 2 is gasoline on the fire.
How would Issue 2 impact pharmacies?
Specifically for pharmacists, this measure is extremely concerning due to its bad wording and seemingly poor understanding of how prescription drugs are bought and sold. While Issue 2 would prohibit government programs from paying any more than VA prices for prescription drugs, there is no requirement that pharmacies be able to buy those drugs at the VA rates as well. So pharmacies would be buying drugs at their current commercial rates from their wholesaler, but only receive a fraction of the reimbursement that they would normally receive. It's kind of like what's happening in Medicaid managed care today; but worse.
Even if the measure were workable (which it likely isn't, due to VA prices being confidential), pharmacies could ultimately be the biggest losers in the equation, as they would ultimately shoulder the burden of the cuts. And while pharmacies would be getting dramatically under-reimbursed, pharmaceutical companies and pharmacy benefit managers (PBMs) would be largely unaffected and free to perpetuate the current model that has resulted in the enormous price hikes we are seeing today.
Won't this limit what pharmaceutical companies can charge?
No. There is no guarantee that the VA rates will remain what they are today. Currently, pharmaceutical companies give steep rebates and discounts to the VA program. If all of a sudden, those VA rates are used as a benchmark for other programs, then pharmaceutical companies could just end the discounts for the VA, and charge everyone higher prices.
Additionally, this initiative could restrict access to medication. The VA program has its own unique formulary, with special rebates given in return for preferential treatment or exclusion of certain drugs from that formulary. The nature of these rebate agreements for the VA would mean that patients could have decreased access to medications if a particular medication is not included within the VA's formulary.
There is also no requirement that pharmaceutical companies charge the same prices to all. So if the government and VA were to enjoy all the major discounts that are being sought by this ballot measure, pharmaceutical companies could just raise the prices for everyone else to offset those losses. This would mean that the government would get the benefit, but working Ohioans would be stuck with the bill.
For example...
A bit more simply, imagine if the government required Starbucks to give a 25% discount to a third of their customers. What would Starbucks likely do? They could refuse to sell coffee to the people who are mandated to get the discount. They could raise the cost of coffee for two-thirds of their customers who don't get the discount. They could just raise the list prices of their coffee entirely so that the 25% discount meant nothing to their overall bottom line. Keep in mind, that under this scenario, all of these premises would apply to pharmacies and prescription drugs. Building on this example, nothing actually lowers the overall price of coffee— just like under Issue 2, nothing actually lowers the overall price of prescription drugs. In fact, the likely outcome is either a loss of access, or the elevation of prices for a majority of consumers. No matter how you slice it, Issue 2 is fundamentally flawed and incredibly reckless. OPA Past President Marc Sweeney alluded to this in a recent interview here.
Wouldn't this result in lower taxes?
No. While proponents have attempted to extrapolate potential savings in pharmaceutical spend to somehow yielding tax breaks, this misleading assertion has been soundly debunked.
What's all this noise about lawyer fees?
Lastly, another provision would give the ballot issue's four named co-sponsors an unprecedented right to intervene—at taxpayer expense—in any post-election legal challenges that may be filed against the initiative or its implementation. This means that if there's a lawsuit — which is highly likely — taxpayers would have to foot the bill for the proponent's legal fees.
This is especially true when it comes to prying open the private rebate deals that the VA contracts with pharmaceutical companies for. The pharmaceutical companies make pricing concessions, but it is well known that rebates are a hidden contributor to high drug prices, and as rebate details are proprietary, it is almost a guarantee that pharmaceutical companies and PBMs will fight to keep those terms concealed. For more on the risk of lawsuits if Issue 2 passes, click here.
More info...
For a complete set of fact sheets on this measure, click here. For a comprehensive analysis of the proposal from Vorys Health Care advisors, click here.
"The members of the Ohio Pharmacists Association know all too well of the struggles patients have in affording their medications," said OPA Executive Director Ernest Boyd. "As an organization, we have spent years trying to address and change an outdated, opaque drug pricing model that incentivizes members of the medication supply chain to drive up the cost of prescription drugs. Through our work, we know there is a critical and immediate need to implement responsible solutions to lower drug costs – unfortunately, this initiated statute not only misses the mark; but it actually could end up raising drug prices. Ultimately, despite the stated intentions of its proponents, the proposal is ill-conceived, poorly crafted, unworkable, and could result in less access and increased costs for millions of Ohioans – including the very patients the proponents claim to want to help. We strongly urge Ohioans to vote against this proposal."
To read through the summary and full text of the proposal from the Ohio Secretary of State's Office, click here. To learn more about the language itself, visit WhatIsIssue2.com.
For a recent opinion piece authored by OPA board trustee Deb Randall, click here. Also, for a recent hour-long live discussion on Issue 2, featuring OPA government affairs director Antonio Ciaccia, OPA members Paul & Brad White, click here.
OPA is proud to join the Ohio State Medical Association, Ohio Nurses Association, Ohio Osteopathic Association, Equitas Health, National Alliance on Mental Illness of Ohio, Drug Free Action Alliance, Ohio Chamber of Commerce, Ohio Manufacturers' Association, Veterans of Foreign Wars, and many other trusted organizations in opposition to the ballot proposal.
Check out the ads featuring OPA, our Past Presidents Steve Burson & Jeff Bartone, and our government affairs director Antonio Ciaccia, here, here, and here.
For a slew of resources, news links, videos, and more, check out last week's OPA Pharmacy Newsline here.
There are better ways to resolve our state's woes when it comes to affording prescription drugs. The "Ohio Drug Price Relief Act" should be wholly rejected by voters, and OPA urges a NO vote on the measure.
Find out the facts at http://www.deceptiverxissue.org/.
Election day is today, November 7! To find your polling location, click here. OPA's Board of Trustees highly encourages you to get out and vote! Vote NO on Issue 2!


Want to make a real impact on drug prices?
Attend next week's Pharmacist Legislative Day!
Next Tuesday, November 14, OPA is hosting our Pharmacist Legislative Day at the Sheraton Columbus Hotel at Capitol Square and the Ohio Statehouse! Join us as we advocate for positive change for the profession and our patients.
Medicaid MCO reimbursements crushing your pharmacy?
EpiPen prices out of control?
Trouble billing for pharmacist services?
Tired of intrusive, burdensome "solutions" to the opioid epidemic?
Are PBM pricing gimmicks unnecessarily raising costs for you and your patients?
Do something about it!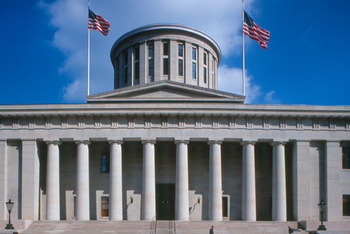 Legislative Day is an advocacy event that allows pharmacists and student pharmacists to meet with legislators to educate them about the value of pharmacists in the world of health care. You will learn about the latest legislative issues in the Ohio Statehouse, discuss ways to effectively communicate those issues, hear from the legislators themselves, and have a chance to individually visit the offices of legislators.
This program will allow you to learn and become involved in the issues impacting Ohio pharmacy practice. We'll discuss pharmacy clawbacks, the opioid epidemic, access to care, provider status, and other critical issues.
This is your opportunity to put yourself in the driver's seat.
The Ohio Pharmacists Association and the Ohio Society of Health-System Pharmacists have joined together for this special advocacy day - in cooperation with our sponsors, American Pharmacy Cooperative, Inc. (APCI), American Pharmacy Services Corporation (APSC), and Independent Pharmacy Cooperative - to inform you of crucial legislation impacting pharmacy practice. Pharmacist Legislative Day is designed to develop open dialogue between pharmacists and lawmakers. Be a part of the important process that will shape our profession.
This program offers three contact hours (0.3 CEU) of continuing pharmacy education for pharmacists. For complete program details, schedule, invited speakers, and a printable registration form, check out our Legislative Day brochure.

In Columbus Wednesday evening?
Join us for Pies, Pints, & Policy!
Ohio State University's APhA-ASP, SNAPhA, and NCPA chapters are collaborating together to create an advocacy and networking social with OPA at Pies and Pints in the Short North on November 8th from 6-8pm! Come out and mingle with pharmacists and student pharmacists over some delicious pizza and beer! We will be going over current policies and ways you can get involved in OPA and in our profession! This is also a great opportunity to meet with pharmacists from around Columbus to learn about different job positions, rotations, etc! This will also be the first opportunity to discuss the outcome of the election and the the fate of Issue 2!

New practitioners and Columbus-area pharmacists welcome!

If you're interested, please RSVP on this event page or to OPA student trustee Alisha Bias at bias.31@osu.edu.


Please help us continue our work to protect and advance the profession of pharmacy. If you know a colleague who isn't a member of OPA, get them in the game. If you or your business are able, help maintain and grow our government affairs presence by supporting our Legislative Defense Fund. If you want to support the political campaigns of legislators who do good work on behalf of pharmacists and patients, donate to the OPA Pharmacy Political Action Committee.
It takes significant time, energy, and resources to advance even the simplest pieces of legislation. Advocacy is a grueling process, and OPA invests significantly into that process. We don't just talk about advancing the profession; OPA goes out and actually does it. Your support is what enables us to do it. For that, we thank you.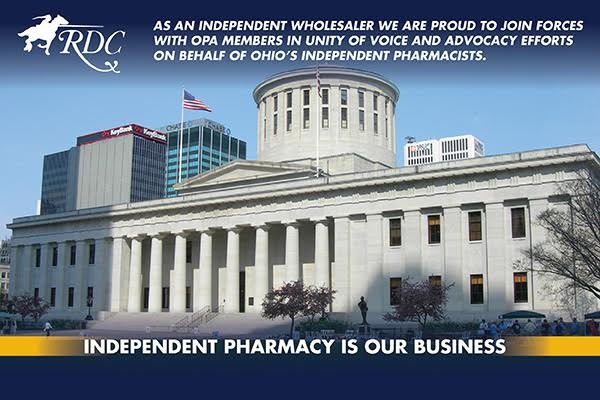 ^Thanks to our friends at RDC for the support^
---