Complete Story

November 2010 OPA Extern Profile: Jordan Counts
Name: Jordan Counts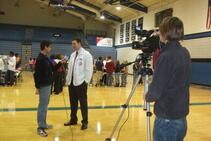 E-mail: j-counts@onu.edu
Pharmacy School: Ohio Northern University
Undergraduate degree/institution: PharmD/Business Administration minor
Rotation Month at OPA: November 2010
How did you get interested in the profession of pharmacy?
My interest in pharmacy began with an interest in science, which became an interest in medicine. I knew that I always wanted to help people, but I wasn't sure that I wanted to become a physician for several reasons. So, I began to look at other allied health professions. I did some research into pharmacy and made my choice. While I wasn't always certain I wanted to be a pharmacist, my enthusiasm grows for the profession daily.
Why did you choose OPA as a rotation site?
OPA was strongly recommended to me by a predecessor. That, along with my interest in administration and legislation, made it a natural choice.
What is the most significant or surprising part of your experience at OPA?
The most surprising part of my experience at OPA was the degree to which the folks at OPA allow you to get involved. I was afforded the chance to exercise every role from public relations to published journal contributor.
There really is a number of exciting things that happen every day here at OPA.
What other pharmacy associations/organizations do you belong to?
APhA, ASHP, Phi Lambda Sigma (honor society), Kappa Psi (pharmaceutical fraternity)
Hobbies:
Watersports, scuba diving, traveling, sports, and music, just to name a few
---