Complete Story

September 2010 OPA Extern Profile: Jennifer Remot
OPA Student Profile
Name: Jennifer Remot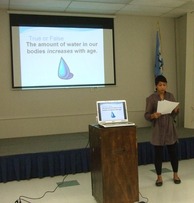 University: University of Findlay College of Pharmacy
Email Address: remotj@findlay.edu
Rotation Month: September 2010
Why did you choose Pharmacy as your profession?
I was born to be in the health profession. I had no other choice; everyone in my family from my sisters to my second cousins have professions within the health field. For me, choosing pharmacy was a long process and big decision. My mother, a pharmacist, had always told me I was going to be a pharmacist just like her. As I got into college, I could not accept the reasoning of being a pharmacist as "my mother said so." Before committing my future into pharmacy, I shadowed every health profession I could get my hands on. With that being said, after a grueling six months I was back to pharmacy in a heartbeat and was wishing that I had just accepted "my mother said so."
Reason for Rotation Site:
I chose Ohio Pharmacist Association as one of my rotation sites because I felt like I was not exposed to all of what pharmacists are capable of doing. I heard about all these organizations and associations during college, but knew little about them. When I heard about this rotation being available, I signed up quickly because this was my opportunity to see the political side of pharmacy and why being a part of these organizations are important.
Career Choice Upon Graduation
Undecided. I would like to work in an institutional setting but I think community fits my personality better. I like being involved with my patients on a personal note. With the way pharmacy is changing, I can use more clinical work in a community setting. This way, if I do consider residency I can better the profession by affecting the public by working and being available in a community setting.
Pharmacy Organizations:
OPA, APhA, SSHP, OSHP, ASHP
Hobbies: Traveling, sports, outdoor activities, baking, cooking
---