Complete Story

Thanks Senator Voinovich !
Senator George Voinovich was key for pharmacy and his constituents in the recent vote on H.R. 6331, the legislation that saved pharmacists and other providers from a number of Medicare problems. This was a very difficult vote. Senator Voinovich voted against his caucus in the initial vote on the legislation, then voted against President Bush to override his veto. We thank him for standing up for what is right with regard to cuts in our generic drug reimbursement, the DMEPOS competitive bidding program, and accelerated timing of payments.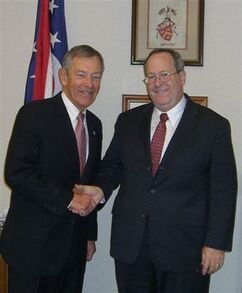 We also want to thank Senator Voinovich on behalf of Ohio pharmacists, and pharmacists throughout the nation, for his sponsorship of legislation that delayed the "tamper resistant" implementation.
That delay was key in giving us time to inform pharmacists, physicians and other prescribers of the requirement. The legislation was simply needed to protect Medicaid patients nationally from being denied medication, or pharmacies from losing millions of dollars on audit. The Senator and his staff listened to the issue as presented by OPA, and introduced legislation in the Senate that was passed and signed by the President. It was a complicated process that was completed in an astonishing four months from bill introduction to signature. Senator Voinovich, thank you.
We are in regular contact with the Senator's dedicated staff ? Khisha Fallon in the Senator's Columbus office, and Dana Smullen in his Washington office. A large number of pharmacists and pharmacy students were warmly received in the Senator's office during NCPA's Legislative Conference last April. We greatly appreciate the open door that we find with the Senator and his staff when pharmacy issues are in play. And lately, those issues have been on the Congressional agenda far too often.
We publicly thank the Senator for his work, and we suggest that pharmacists should take a minute and drop him a thank you note (see mailing address below). We understand that the battles are not over, but that the Senator has given us the hope that voices in pharmacy are being heard.
Please send your personal thank you to Senator Voinovich:
The Honorable George Voinovich
524 Hart Senate Office Building
Washington, DC 20510

Events
←
July 2019
→
S
M
T
W
T
F
S
1
2
3
4
5
6
7
8
9
10
11
12

OPA Office - 2674 Federated Blvd, Columbus, OH 43235

July 12, 2019

13
14
15
16

OPA office- 2674 Federated Blvd., Columbus, OH 43235

July 16, 2019




10:00AM

17
18
19

OPA Office- 2674 Federated Blvd, Columbus, OH 43235

July 19, 2019

Deer Creek State Park

July 19-21, 2019

20

Deer Creek State Park

July 19-21, 2019

21

Deer Creek State Park

July 19-21, 2019

22
23
24
25
26
27
28
29
30

OPA Office- 2674 Federated Blvd, Columbus, OH 43235

July 30, 2019




10:00AM

31
July 18, 2019
11:00AM
August 20, 2019
11:00AM
August 21, 2019
7:30AM-5:15PM
OPA Office- 2674 Federated Blvd, Columbus, OH 43235
August 27, 2019
7:30AM-5:15PM
OPA Office, 2674 Federated Blvd, Columbus, OH 43235
September 8, 2019
Embassy Suites by Hilton in Dublin, Ohio