Complete Story

April 2014 OPA Extern Profile: Liz Shelar
Elizabeth Shelar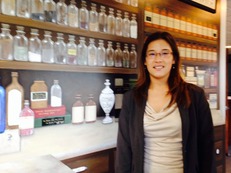 E-mail: eshelar@neomed.edu
Pharmacy School: Northeast Ohio Medical University
Undergraduate degree/institution: Youngstown State University (credits towards a B.S. chemistry)
Rotation Month at OPA: April 2014
How did you get interested in the profession of pharmacy?
My boyfriend (now fiancé) suggested pharmacy since I wanted to pursue a career in healthcare but was unsure at the time. I did some research and figured out that this would be the best career choice for me. At the time there was a huge demand for pharmacists so I knew that when I graduated I would have no problem finding a job. The things that were most important to me when thinking about career choices were: 1) job security 2) flexibility 3) Good pay scale. I knew if I could find a career that could offer me these 3 things, then I could take care of my family after I graduated and help those who have always looked after me.
Why did you choose OPA as a rotation site?
Great networking opportunity and I love my profession so I saw it as an opportunity to advocate publicly for my future career. I also wanted to get more involved and this was a great way to start while still learning all there is to know about pharmacy.
What was the most significant or surprising experience at OPA?
Most significant experience was helping out with the Annual Conference. I got to see just how much work was put into the background and all the effort that makes the Conference run so smoothly. Also ended up being such a great networking experience, I met a lot of students from other schools and talked to a lot of different pharmacists. I would definitely recommend younger pharmacy students to volunteer at the Conference; they will meet and learn a lot of things that they are not normally exposed to in the academia world.
What other pharmacy associations/organizations do you belong to?
APhA, SNPhA, SSHP (the student organizations)
Hobbies:
I like to hang out with my family and friends, watch movies, and work out.

---