Complete Story

April 2014 OPA Extern Profile: Mary Abdelmalak
Mary Abdelmalak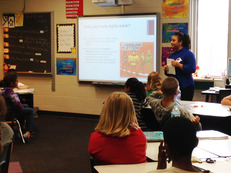 E-mail: Abdelmalak.2@osu.edu
Pharmacy School: Ohio State College of Pharmacy
Undergraduate degree/institution: Biology, Philosophy/ John Carroll University
Rotation Month at OPA: April 2014
How did you get interested in the profession of pharmacy?
Growing up around my dad's medical practice, I always fascinated with the independent pharmacy across the street where the pharmacist would eventually become my inspiration to pursue my career in pharmacy. As I have explored the field of pharmacy, my passion for the profession and my patients has solidified and gained new grounding.
Why did you choose OPA as a rotation site?
It was vital for me to have OPA as one of my rotations during my experiential year. Being connected to the association is critical in keeping up with the current issues pharmacy faces in Ohio and the new clinical information.
What was the most significant or surprising experience at OPA?
The most significant experience would definitely have to be my time at the Statehouse. I thoroughly enjoy the legislative process and was excited to be a part of it! I also appreciated being a part of the Annual meeting. It was insightful to see the dedication the OPA staff has to the meeting.
What other pharmacy associations/organizations do you belong to?
NCPA, APhA
Hobbies:
Running, cooking, reading non-fiction
---