Complete Story

ODM Director Visits Independent Pharmacy to Learn about SPBM Implementation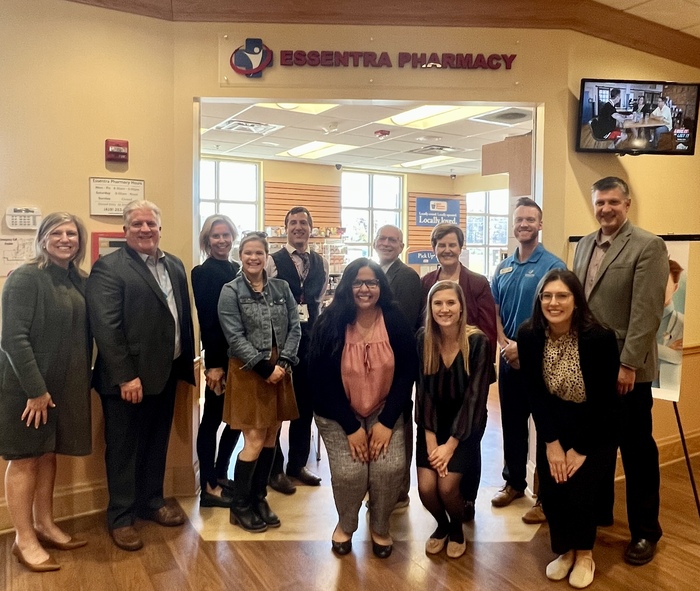 OPA staff members Stu Beatty (Director of Strategy and Practice Transformation) and lobbyist Michelle Fitzgibbon invited Maureen Corcoran (Director of the Ohio Department of Medicaid [ODM]), to visit an independent pharmacy to learn about the implementation of the Ohio Single Pharmacy Benefit Manager (SPBM). The Medicaid reform, implemented on October 1, 2022, aims to improve the process of prescription drug payment for nearly 3 million Medicaid members. Gainwell Technologies was the company chosen as the SPBM. The Essentra Pharmacy team, Max Peoples (owner) and Nick Newman (pharmacist manager) welcomed the ODM team for a visit to see how the SPBM change affected their patients. Barry Klein, owner of Klein's Pharmacy in Cuyahoga Falls and OPA member, also joined the visit to share his pharmacy's perspectives.
Other members of the ODM team were Lindsey Brigano (Deputy Director of External Relations), Sean Eckard, R.Ph., Pharm.D. (Pharmacy Director), and Brooke O'Neill (Legislative Liaison). Other OPA staff who joined the meeting were Myriam Shaw Ojeda (Director of Pharmacy Extension and Public Health Initiatives), Ola Latala (OPA Executive Fellow in Association Management), and Nicole Gula (OPA's October APPE student from the University of Cincinnati James L. Winkle College of Pharmacy).
The pharmacy and OPA team discussed the ins and outs of issues faced while helping patients fill their medications during this transition. Sean Eckert shared that ODM is working to ensure that errors are removed quickly and call times to resolve issues are reduced to give pharmacists more uninterrupted time to care for their patients safely. OPA is grateful to Director Corcoran for her leadership in making this change to increase medication reimbursement transparency for Medicaid patients and the show of support through this pharmacy visit.
OPA has direct relationships with the Ohio Department of Medicaid, and staff members are working diligently to help relay issues faced by our members in the SPBM launch. If you have issues with the implementation of the SPBM, please utilize the OPA SPBM Help Line.
---