Complete Story

03/26/2021
The Importance of Accessibility on Social Media
How to Ensure your Social Media Practices are Accessible for Everyone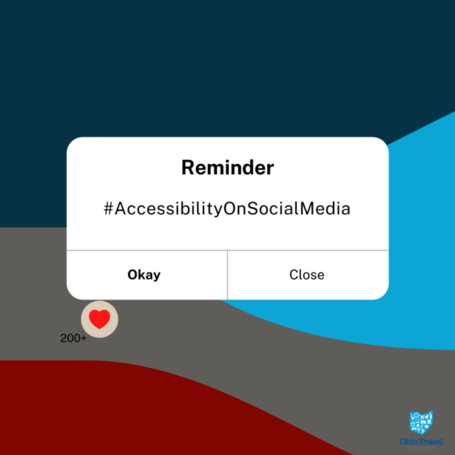 As social media continues to grow as an outlet for branding, marketing and connectivity, the importance of accessibility for hearing-impaired and visually-impaired individuals must be taken into consideration. Elizabeth Connor, Director of Communications for the National Aviation Heritage Area, recently attended a webinar on this topic presented by expert Alex Heinrich. Alex is an award-winning social media strategist, who currently serves as the Digital Accessibility Advocate and Social Media Manager at St. Petersburg College.
Elizabeth shared with us these key takeaways provided by Alex's expertise about accessibility on social media:
Copy Writing
Write in plain language
Capitalize your hashtags for easier readability (#SocialMedia instead of #socialmedia)
Emojis

Use the normal yellow emojis as a brand. Since each emoji description is read aloud, "raised fist" is more concise than "raised fist: medium-light skin"
Use emojis only at the end of your posts and minimize their use. Again, screen readers will translate each emoji and definitions can differ depending on the device or platform. Use Emojipedia to double check the definition, and if you use emojis at the end of the post, make sure they are all the same so the screen reader reads "9 hearts" instead of "heart, star, heart, star, smiling heart, heart…"

Do not create keyboard art ( - : since screen readers cannot translate that.
Only use the default font for each platform. Custom fonts are not readable by screen readers
Images
Always include alt text in plain writing (easy to understand, short and concise) so screen-readers can describe an image to an individual who is blind
Not all social schedulers allow for the inclusion of alt text. Native platforms and creator studios do.
Avoid flowery language
Avoid acronyms
Avoid posting images with flattened text (event flyers, motivational quotes, etc.). If you do, the entire message must be included in the alt text.
If clustering hashtags, post those into the first comment as opposed to the caption so that screen readers don't have to slog through them.
Videos
Include audio descriptions – this is in addition to closed or open captioning (Example). Audio descriptions are typically provided as an extra audio track or created overtop the original video and posted separately.
When captioning, many platforms will auto-generate and then you can go in and edit the finer details.
Caption sound effects as well i.e. a doorbell, phone ring, etc.
MixCaptions or Clipomatic are good captioning services
When live-streaming, use Zoom since it offers live-captioning
These small additions to your social media practices can make a big difference in someone else's experience.
---