Complete Story

10/15/2015
PCSS Monthly Update - Oct. 2015 now available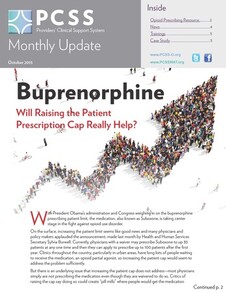 With President Obama's administration and Congress weighing in on the buprenorphine prescribing patient limit, the medication, also known as Suboxone, is taking center stage in the fight against opioid use disorder.

On the surface, increasing the patient limit seems like good news and many physicians and policy makers applauded the announcement, made last month by Health and Human Services Secretary Sylvia Burwell. Currently, physicians with a waiver may prescribe Suboxone to up 30 patients at any one time and then they can apply to prescribe up to 100 patients after the first year. Clinics throughout the country, particularly in urban areas, have long lists of people waiting to receive the medication, an opioid partial agonist, so increasing the patient cap would seem to address the problem sufficiently.

But there is an underlying issue that increasing the patient cap does not address—most physicians simply are not prescribing the medication even though they are waivered to do so. Critics of raising the cap say doing so could create "pill mills" where people would get the medication but not necessarily the treatment they need. Another fear is that with an unlimited cap and not enough infrastructure for oversight and management of patients' needs, people could obtain the medication and then sell it on the street.
You can access this and all past issues here.