Complete Story

04/07/2021
Today's COVID-19 Report: Thursday, April 8
Thursday, April 8, 2021
Here are the latest need-to-know updates for Thursday, April 8 regarding the COVID-19 pandemic and other topics of importance.
---
REMINDER TO ALL MEMBERS

LeadingAge Ohio releases weekly Affordable Housing newsletters on Mondays and Home Health and Hospice newsletters on Tuesdays. Please email info@leadingageohio.org to receive either/both publications.
---
In Today's Report
You asked... We answered regarding visitors assisting residents with eating
Life Safety Code and Emergency Preparedness webinar: TODAY at 2:00PM
Mandating COVID-19 vaccines for staff
Survey tip of the week
CMS skilled nursing facilities and long-term care open door forum: April 15 at 3:30PM

Advocacy in Action Call: April 12 at 10:00AM
Check your inboxes: LeadingAge Ohio members survey is out
LeadingAge Need to Know: Update on elder justice state grants

---
You asked... We answered regarding visitors assisting residents with eating
You asked:
Is a visitor able to assist a resident with eating? If a resident is having weight loss, is receiving compassionate care visits, and the family wants to assist the resident with eating, are they allowed to do this? Would this be allowed as part of a person-centered approach for this resident? The family is willing to wear all necessary PPE.
We answered:
Yes, this would be allowed. This example is consistent with the CMS QSO 20-39-NH revised memo for compassionate care visits. Compassionate care visits allow for close contact regardless of vaccination status for a limited amount of time. The Ohio Department of Health also confirmed this would be allowed. The CMS memo states compassionate care visits should be conducted using social distancing; however, if during a compassionate care visit, a visitor and facility identify a way to allow for personal contact, it should only be done following appropriate infection prevention guidelines, and for a limited amount of time. Also, if the resident is fully vaccinated, they can choose to have close contact (including touch) with their visitor while wearing a well-fitting face mask and performing hand-hygiene before and after. Regardless, visitors should physically distance from other residents and staff in the facility. Through a person-centered approach, facilities should work with residents, families, caregivers, resident representatives, and the Ombudsman program to identify the need for compassionate care visits.
Life Safety Code and Emergency Preparedness webinar: TODAY at 2:00PM
Don't miss LeadingAge's Life Safety and Emergency Preparedness: Post COVID Compliance webinar today at 2:00PM. This webinar will examine how to prepare your facility for the eventual end of the public health emergency and sunsetting 1135 waivers, hot topics and survey citations, and how to get your documentation in order.
This webinar is appropriate for nursing homes, hospice, and other providers complying with Life Safety Code and Emergency Preparedness requirements. To register for today's webinar, please click here.
Mandating COVID-19 vaccines for staff
On yesterday's LeadingAge all-member call, LeadingAge Maryland life plan member Edenwald described the organization's decision to mandate vaccines for staff; just four staff decided to leave as a result. Also shared was the experience of LeadingAge Connecticut member Jewish Senior Services, which was highlighted in the Connecticut press. Finally, the Kaiser Family Foundation and Washington Post surveyed staff across a variety of health care settings to focus on the intentions among frontline health care workers to get vaccinated and the factors influencing their decisions. Ashley Kirzinger, lead author of the analysis of the survey, will be on the LeadingAge Update Call on Thursday, April 15 at 3:30PM to talk about the survey's findings.
Survey tip of the week
The Ohio Department of Health (ODH) has confirmed that annual surveys will begin in April. F-tag 880 Infection Control was the top cited area prior to the pandemic and continues to be the top cited F-tag. CMS provides infection control survey tools on the CMS Nursing Home webpage. CMS-20054 is the specific Infection Prevention Control and Immunization survey pathway tool. There are also COVID-19 Focused Infection Control tools. These tools were developed to assess how a provider is applying standards of practice. Facilities should use these same tools to assess their own compliance and identify opportunities for improvement. This survey summary lists the surveyor actions conducted as part of the survey and evaluation of the facility self-assessment.
Develop an electronic file of the entrance conference worksheet document request. Check the date modified to ensure you have the most current version. This worksheet includes the 14 items and EHR information they will request at the beginning of the survey. Recent additions include:

Updated floor plan to include the different COVID units.
The working schedule request now includes all staff and their departments.
Procedures to address resident and staff who refuse testing or are unable to be tested.
Documentation related to COVID-19 testing, which may include the facility's testing plan, logs of county level positivity rates, testing schedules, list of staff who have confirmed or suspected cases of COVID-19, and if there were testing issues, contact with state and local health departments.
Location of resident COVID test results in the HER.



Utilize the COVID Focused Survey for Nursing Homes pathway to conduct your own observations, interviews, and record reviews.


The pathway covers the staff interview questions. Interviewing staff will identify knowledge and additional training needs. Some of the staff interview questions include:

Do you have enough PPE, training on donning and doffing?
Who is the infection preventionist?
Are you aware of transmission-based precautions and how are staff monitored for compliance?
How do you know who is in isolation?
What is the protocol for new admissions?
Do you have any dialysis residents? What are your protocols?
What PPE do you wear and for which residents? Do you have enough and do all staff wear it? Who do you go to if you need PPE?
When did you last receive training on hand hygiene and PPE for example?
How often does the facility test residents and staff?
When do you do hand washing, use ABHR, and when do residents?
How are you screened when you come to work?
Do they allow sick people to work?



Resident interviews are so important and can identify additional education needed for staff as well as the resident. A few of these questions include:

Have you received education and information on COVID?
Do they keep you updated on cases?
Have you had any symptoms, and did they test you?
Are you aware of anyone else with symptoms such as a cough?
How often do they take your vital signs?
How are you reminded to wash your hands and how often?
Is staff wearing PPE and washing their hands?
Are you encouraged to wear a mask if you come out of your room?
Do you eat in your room or common area, attend group activities, or have visitors and if so are you socially distanced?
How often do they clean your room, and do you have concerns with cleaning?



Doing observations of residents, visitors, and staff will identify compliance with infection control practices. The following areas most frequently found to be out of compliance:

Hand washing time, supplies available, turning off faucet with clean hands, not performing hand hygiene after glove use
ABHR dispensers outside of at least every four rooms, common areas, and access points
Lack of using ABHR when hand washing not required, entering/exiting resident rooms, and when delivering meal trays
PPE donning and doffing
Lack of resident hand hygiene
Environmental cleaning practices and contact time compliance
Equipment cleaning and individual use practices
Universal source control measures including eye protection and respirator practices
Signage as indicated are readily visible, outside resident rooms, and entrances
Residents wearing face covering when out of room or when staff are providing care
Compliance with social distancing



The surveyor will interview the infection preventionist and other administrative staff. Utilize the survey tools to evaluate all areas of infection control practices. Some of the item's surveyors will review include:

Infection prevention and control policies & protocols, COVID emergency preparedness plan including 1135 waiver policy and E-24 staffing plan
Infection Preventionist responsibilities
Tracking tools for testing and COVID+
Reporting requirements include NHSN data entry
County positivity rate
Notifications to residents, families, and staff
The bullets above list a few highlights from the infection control surveyor resources found in the surveyor resources zip file found under the download section of the CMS Nursing Home webpage. Doing a comprehensive review of all these documents will assist a facility in preparing for the survey and reducing time spent collecting information on the day the surveyor initiates the survey. If you have a question about survey, email Stephanie DeWees Quality & Regulatory Specialist - Long Term Care at sdewees@leadingageohio.org.
CMS skilled nursing facilities and long-term care open door forum: April 15

The Centers for Medicare & Medicaid (CMS) will be hosting their next Open Door Forum on Thursday, April 15 from 2:00 to 3:00PM. The agenda for this call is displayed below (please note agenda is subject to change).
Opening remarks from Todd Smith (CMS) and Jill Darling (Office of Communications)
Announcements and Updates
FY 2022 SNF PPS proposed rule

FY 2022 Annual Rate Updates
SNF Quality Reporting Program
SNF Value Base Purchasing

Important QRP reminder for non-CAH swing beds
Open Q&A
This forum will be conference call only. To participate by phone, please see the information below:
Dial 1-888-455-1397
Conference passcode 8604468
Advocacy in Action Call: April 12 at 10:00AM
Join the LeadingAge Ohio policy team for the Advocacy in Action call Monday at 10:00AM to hear a status update on LeadingAge Ohio's legislative priorities as the House prepares to finalize its version of the SFY 2022-23 budget.
Advocacy in Action calls will be held at 10:00AM on the second and fourth Monday of each month throughout the budget season.
Members can join the Zoom call from their computer here.
Meeting ID: 915-089-7248
Meeting Passcode: 634189

To join via phone, dial: (646) 558-8656; meeting ID: 915-089-7248.

One-touch dial: 16465588656,9150897248#,,,,#
Check your inboxes: LeadingAge Ohio members survey is out
This morning the biennial LeadingAge Ohio member survey was emailed to all LeadingAge Ohio members with a unique link for each provider member employee. However, all responses will be sent directly to a 3rd party research company (Association Metrics) and not to LeadingAge Ohio. LeadingAge Ohio conducts this survey in partnership with Association Metrics to assess members' perspectives of LeadingAge Ohio's strengths and weaknesses. Results feed into planning processes that help LeadingAge Ohio make critical decisions about programming development and resource allocation. Last completed in 2018 with record participation, the member survey's 2-year cycle was interrupted by COVID in 2020. All who receive and/or participate in LeadingAge Ohio newsletters, bulletins, education, and other programs are encouraged to participate. The survey is estimated to take 15 minutes.
Individuals who complete the survey will be entered into a drawing that includes the following prizes:
Full registration to the LeadingAge Ohio annual conference (2 available);
$50 Amazon gift card (2 available);
$50 Starbucks gift card (2 available).
Any questions regarding the membership survey may be directed to Jennifer Taylor, Director Member Experience, at jtaylor@leadingageohio.org.
LeadingAge Need to Know: Update on elder justice state grants

LeadingAge shares the latest coronavirus news and resources with members twice each weekday. This morning's Need to Know featured information on elder justice state grants.
Check out the full report here.
---
---
Sponsored Content
Strategies for Reducing Residents' Stress in a Post-Pandemic World
Seniors are disproportionately affected by COVID-19 because of their increased vulnerability to the virus. Stress from quarantine has disrupted their daily routines, and as a post-pandemic world becomes more imminent, many seniors are struggling with getting back to normal. Here are six strategies that administrators should consider to reduce stress and enrich the quality of life of their residents. Learn more.
Dr. Visa Srinivasan, MD, is a leading geriatrician and Director of the Health-First Aging Services, Melbourne, Florida. A recognized Alzheimer's expert, Dr. Srinivasan completed her training & fellowship at the Cleveland Clinic Foundation, Cleveland, OH, and has been serving the needs of seniors and caregivers in Florida for more than 17 years.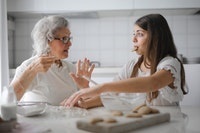 ---
Questions
Please send all questions to COVID19@leadingageohio.org. Additionally, members are encouraged to visit the LeadingAge Ohio COVID-19 Working Group facebook gro up to pose questions to peers and share best practices. LeadingAge is continuing its daily calls for all members. To participate in these daily online updates, members should register here.
LeadingAge Ohio is working to ensure that the information in our daily alerts, on our website, and all coronavirus-related communications is as accurate as possible. However, LeadingAge Ohio makes no guarantees about the accuracy of the information.
---