Complete Story

03/20/2015
March President's Message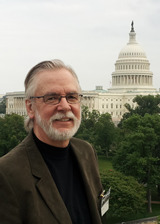 I have been listening to my local public radio station, and it's that time of year again… raising the funds needed to keep the station alive. This year, they are trying a slightly different approach. Rather than interrupting the regular programming with lengthy requests for donations, they're simply asking people to contribute via 20 second snippets. We'll see if it works!
I'm always struck during these fundraising seasons by the similarities between a public radio station and a professional organization such as Ohio ACEP. The benefits are available to all, and the cost to receive these benefits is, well, completely up to each individual. There's no mandatory financial requirement or tax—if you've got a radio, you can listen to your local public radio station and never pay a dime.
Similarly, if you practice emergency medicine, you enjoy the fruits of Ohio ACEP advocacy, even if you aren't a member and even if you don't directly contribute to those advocacy efforts. And I can tell you such efforts have had a significant positive effect, financially and operationally, on the practice of emergency medicine in the State of Ohio. And I can say unequivocally, the legal and medical malpractice climate in Ohio is far better because of the activities of Ohio ACEP and our allies.
Time and again, we hear from our membership that advocacy is one of the most important—if not the most important—function of Ohio ACEP. Yet we also hear, often from the same members, that getting involved in health policy and fighting for positive change in emergency care is too intimidating, too difficult, or something for someone else to do.
If this sounds like you, I highly encourage you to join Ohio ACEP on April 21st for the Annual Emergency Medicine Leadership Forum. After attending, you'll better understand how medicine and health policy intersect, and you'll be empowered to make a positive difference in healthcare and in your career.
The challenges facing emergency medicine—Medicaid headaches, psych boarding, the constant changes to laws governing how we practice—are all a pain. But exploring the solutions to these problems doesn't have to be. That's the philosophy behind the EM Leadership Forum. In addition to medical education, advocacy panels, and leadership topics, we have scheduled plenty of time for networking and fun, including the Taste of Ohio Reception where we'll feature Ohio trivia, prizes, and some of the best food and drink Ohio has to offer.
The EM Leadership Forum is your annual membership meeting! Your dues dollars support the most dynamic emergency medical association in the state, so don't miss your opportunity to have a say in the future of your organization, tell us what you need to practice EM, vote on Chapter Leadership (you must be at the Forum to vote!), and recognize the outstanding work of our fellow emergency physicians at the Ohio ACEP Annual Awards Presentation.
There's simply too much on the Forum schedule to squeeze into this President's Message, so if you're interested, I encourage you to check out the agenda and the EM Leadership Forum page on our website. So make your schedule requests, swap shifts, do whatever you need to do to join us April 21 at the Sheraton Columbus at Capitol Square.
Let me finish this month's President's Message with a list of suggested readings. First up: Brain on Fire. When I asked a young lady I was interviewing what book was on her night stand, this is the one she reported. She told me a little about it, and it definitely caught my attention. Captivating, moving, well written… a wonderful medical mystery that illuminates why we do what we do.
Next up, Daniel Pink's Drive: The Surprising Truth About What Motivates Us. In a much different—though no less important—way, Drive strives to explain our actions. Like Brain on Fire, Pink's book is written in an easily readable style, and you'll come away with some great insights into what motivates us.
---