Complete Story

04/22/2015
EM Residency Spotlight
Submitted by the Summa Akron City Hospital Emergency Medicine Residency
When Dr. Heather Hunt received a patient who had been found wandering on scene at an active house fire, her suspicion went beyond possible airway injury, external burns, trauma, and carbon monoxide poisoning from smoke inhalation. The patient was disoriented and somnolent, and firefighters had reported a strong smell of burnt plastic in the home. She added concomitant cyanide poisoning to the differential, and the patient ultimately was treated with hydroxocobalamin after laboratory studies supported the diagnosis. Dr. Hunt had seen a very similar patient during her intern year – in a monthly simulation training session at Summa's state-of-the-art Virtual Care Simulation Lab (VCSL). The VCSL is where she and her fellow residents solidify their traditional emergency medicine training by participating in intensive simulation sessions and procedure labs on a regular basis. In the VCSL, residents learn leadership and management skills in addition to assessment, diagnosis, and treatment of highly complex, critical, and/or infrequently seen disease presentations. Monthly simulation sessions are also supplemented with oral board practice and ultrasound training from the very beginning of intern year.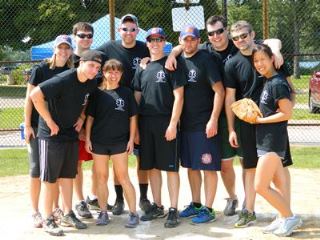 Rotations for Emergency Medicine residents at Summa Akron City Hospital focus heavily on adult and pediatric emergency medicine and critical care experience. Residents rotate in both hospital-based and free-standing adult EDs, the pediatric ED at Akron Children's Hospital, the ICU, CCU, PICU, trauma service, and at the University of Maryland Shock Trauma Hospital in Baltimore, MD. The majority of Emergency Department shifts are done at Summa Akron City Hospital, which is a Level I Trauma Center and is both a Certified Chest Pain Center and a Certified Stroke Center. A unique aspect to the residency experience includes two custom-made learning experiences: the Teaching Zone and the Resuscitation month. The Teaching Zone allows a second or third year senior to manage a high-acuity zone with a junior resident and medical student, under the supervision of an attending physician. The zone includes every trauma, surgical, stroke, and STEMI patient that comes through the door in addition to a variety of other patients of varying acuity. The Teaching Zone provides early development of leadership and management skills that will be essential and priceless as an attending physician and also teaches emergency department flow management. The Resuscitation month is set aside for second year residents to focus on only the most critically ill patients in the entire emergency department. The residents choose the sickest-of-the-sick patients and manage their care until final disposition and transfer to the ICU. This is a procedure-filled month, and residents become very comfortable managing critically ill patients.
Not only do the residents focus on excellence in patient care, but they are also involved in system improvement and patient safety. Each resident actively participates in a Lean Six Sigma project. Current projects under way include improving communication with consultants, developing a female genitourinary complaint pathway to optimize time and resource utilization, and streamlining the process in which outside healthcare providers may communicate with the ED on our mutual patients.
Finally, we have a fun and active group that loves to get together throughout the year and participate in events such as resident vs. attending paintball, softball and volleyball games, and other exciting social activities. Each resident brings their talents and amazing personalities to our residency program to create a phenomenal team. To meet our residents, please visit us at www.summaem.org.
We at Ohio ACEP thank the Summa Akron City Hospital Emergency Medicine Residency for sharing this information with our members!
---