Complete Story

05/15/2015
May President's Message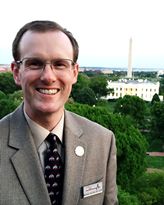 Michigan 48
Ohio 19
No, this is NOT my prediction of this fall's annual "The Game" but rather the final count of ACEP attendees from Michigan and Ohio at last week's Legislative Advocacy Conference in Washington, DC. As I wrote last month, our members always say that Advocacy is the most important aspect of their membership, yet our turnout was less than outstanding. The 19 physicians from Ohio who attended were superb participants! And although I feel that our Hill visits were successful in that we did secure several co-sponsors for ACEP's key legislative issues, I can only believe that had we had 5-6 physicians at each Representative's office visit instead of one or two we could have made more of an impact. More Ohio physicians participating would have meant more opportunities to connect with our Congressional representatives. Instead of four or five members at each of our Senator's offices we could fill the room with our members. Michigan did it. No reason why we can't do it next year!
Who wouldn't want federal liability protection for any patient seen under EMTALA, which would also extend to your on-call medical staff and specialists? Maybe a few of you don't have psychiatric boarding issues where you work, but goodness knows most of us do, and it only seems to be getting worse. Does your regional trauma system have enough resources for trauma care and disaster preparedness? Finally, for those of us who work at academic medical centers, could your group or hospital afford to cover a significant reduction in GME funding without loss of residency spots?
If you answered "no" to all these issues, please let me know where you work and if you are hiring. Otherwise, these were the issues we took to the Hill visits to advocate for our patients, for our members, and our specialty.
So here is my President's Challenge for next year: Let's have at least 50 Ohio ACEP members travel to DC for ACEP's Legislative Advocacy Conference. I want the ACEP government affairs team to struggle with how in the world to divide all of us up for Hill visits. The dates are May 15-18, 2016. Put it on your group request calendar today. Let's show Michigan how it's done!
Michael
Michael McCrea, MD, FACEP
President, Ohio ACEP
---