Complete Story

06/19/2015
June President' Message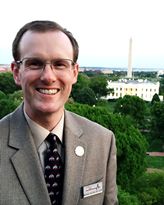 This past weekend, I had the pleasure to represent Ohio ACEP at the EMRA Mid-West Regional Medical Student Symposium. Nearly 80 students were registered for the symposium which included a panel discussion on how to succeed in their quest to become Emergency Medicine residents. Nine residencies from Ohio, Michigan, and Kentucky participated in the Residency Fair for students. Students were able to practice airway and ultrasound skills in procedure labs.
It was however, the final event with the medical students, the viewing of the Emmy Award-winning EMRA documentary, 24|7|365: The Evolution of Emergency Medicine, which left the most meaningful impression on me. For those who have not yet seen it, EMRA chronicled the beginning of our specialty as told through interviews with the founders of Emergency Medicine as well as some current and future leaders. It reviews the birth of staffing ERs with full time physicians, the founding of ACEP, the struggles for acceptance and development of ABEM as a recognized Board, and beginning of EM residencies. Remember, all of this occurred less than 50 years ago. But as we looked back together, I could not help but look forward as Steve Stack, MD, FACEP was interviewed for the film.
Last week, Steve became the first Emergency Physician and youngest physician in 160 years to become President of the AMA. I know this is a big deal when a partner of mine, who is not usually interested in such organized medicine matters, asked me what Steve hoped to do as AMA President, what were the issues the AMA is facing. I could tell you, but I'd rather show you. Here is a YouTube link to Steve's inaugural address. Please, watch it.
As I watched the video, I was reminded Michael Douglas's speech at the end of "The American President" when he said "We have serious problems to solve, and we need serious people to solve them." I often tell others that no one is better at solving problems than ER docs, especially those problems that no one else wants to address.
Please join me in standing up and applauding Steve Stack. He is the first, but certainly will not be the last, Emergency Physician to lead the AMA and the physicians of our country.
Michael
Michael McCrea, MD, FACEP
President, Ohio ACEP
---