Complete Story

07/17/2015
July President' Message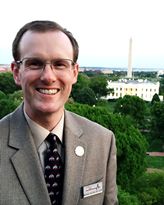 I want to wish a "Happy New Year" to all of those at our 21 residency programs in Ohio. While June is always a time to look back on the academic year with graduation, July brings new interns eager to learn and prove themselves and new roles and expectations for junior and senior residents. I always enjoy pointing out to new second year residents how far they have come in only the past twelve months as the new interns look to them for help in the department and on the floors. For seniors residents, the end is finally in sight. The excitement, and at times fear, of finally reaching the end as they begin moonlighting and the job search.
However, as I considered each of the years of residency, this past week a stark contrast was brought into focus for me and many other physicians around Ohio. A new bill, House Bill 216, has been introduced in the Ohio General Assembly that would allow Advanced Practice Nurses to practice independently without physician collaboration agreements currently required by law.
First, I must state that I have worked with many quality nurse practitioners and physician assistants in my career. I would not have been able to staff any department in which I have worked without them, especially when I was a community medical director. I personally strived to always treat them as colleagues and partners.
But, despite the important role NPs play in today's healthcare system, HB 216 is bad policy and bad for patients. Simply put, if enacted, the bill could allow a nurse practitioner to staff an Emergency Department completely independently with no physician oversight if credentialed by the hospital. Our residents spend three or four years learning only the practice of Emergency Medicine, and that's after four years of medical school. Although there are many paths to earning an ANP degree, none of them are as rigorous as the educational and professional experience as our path. I have read the press releases from the NP lobby that this bill is about ensuring access to primary care, something I certainly support as we all continue to struggle to find follow-up for our ED patients, but should it be without any physician collaboration? To be fair, I have not read anything about plans to staff EDs independently, but as proposed, nothing would prevent that.
Let me preempt the cynics reading this right now: this is not just about "turf" and reimbursement. I believe this is a patient safety issue. What's the classic line about interns? "They don't know what they don't know." That's why residency is at least three years, and yet, as I spent time with each of our graduating residents last month, every one of them admitted they were scared to start practice. We all remember our first real shift, whether it was moonlighting in our final year or after residency graduation. As a community ED medical director, I told my fresh-out-of-residency physicians to expect it to take six to twelve months to feel truly comfortable running our department instead of it running them. Perhaps I am just that naive, but I just don't understand how an NP without our level of medical education and no dedicated residency training could be expected to practice independently?
Trust that Ohio ACEP, in partnership with other state physician groups like the OSMA, will continue to monitor this bill closely and continue to advocate for our patients and practice.
Michael
Michael McCrea, MD, FACEP
President, Ohio ACEP
---