Complete Story

08/14/2015
EM Residency Spotlight
Submitted by St. Elizabeth Boardman Hospital Emergency Medicine Residency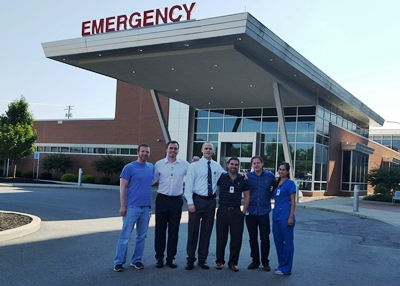 St. Elizabeth Boardman Hospital Emergency Medicine Residency is a new program that welcomed its first group of residents on July 1st, 2015. The four year program will accept six residents each year and is approved by the American Osteopathic Association. We are located in Boardman, Ohio, a beautiful suburb of Youngstown. We are centrally located between Cleveland and Pittsburgh. Boardman is a wonderful community with excellent schools, beautiful parks, and affordable housing. Our hospital was built in 2007 and recently added a $100 million dollar addition. The bustling emergency department has 30 patient rooms and over 43,000 patient visits annually. Our 224 bed hospital has beautiful appointed all private rooms and was built using modern health care design that is calming to patients and has a holistic approach to healing.
We are very proud of our staff's dedication to and investment in the next generation of outstanding emergency medicine physicians. Our program is founded on exceptional didactic and clinical training. We recruit faculty and residents who demonstrate exceptional skills in the areas of work ethic, interpersonal interaction, and compassion. Our faculty and staff are outstanding mentors, educators, and hands-on clinicians. We endorse the development and use of technology and novel teaching systems, including our simulation lab. As part of Mercy Health, we have been named a 2015 Most Wired health system for using technology to improve healthcare. We also use technology to bring advanced teaching techniques to our residents and staff. Mercy Health is the largest health system and the fourth largest employer in Ohio. Mercy is also ranked nationally in the top 20% of health systems in the nation for quality and efficiency.
Dr. Robert T. Moosally is the Program Director and Dr. Thomas Gifford is the Associate Program Director. For more information about our program, please contact Lauren Pasquine, Program Coordinator at 330-729-7960 or visit our website.
We at Ohio ACEP thank St. Elizabeth Boardman Hospital Emergency Medicine Residency for sharing this information with our members!
---