Complete Story

09/18/2015
EM Residency Spotlight
Submitted by the University of Cincinnati Emergency Medicine Residency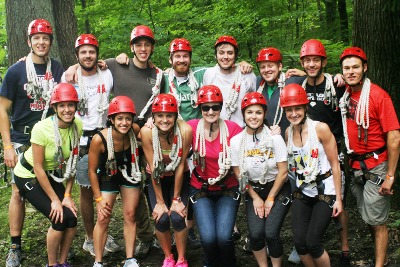 Leadership, Excellence, Opportunity. The motto that guides the Residency Program at the University of Cincinnati is interwoven into everything that we do. As a four-year program, our residents benefit from substantive elective time allowing the development of clinical and non-clinical interests in Emergency Medicine on a hospital, community, and national level. Highlights of the many exciting things going on within our Residency Program:
Dr. Nat Mann, PGY-4, completes a two-year term in October with EMRA Board of Directors as Secretary/Editor of EM Resident magazine.
Dr. Ryan LaFollette, PGY-4 and Chief Resident, and Dr. Kelly Thomas, PGY-3, are Co-Chairs for SAEM's Medical Student Ambassador Program, a program that utilizes a competitive process to select medical students to serve as Program Committee volunteers at SAEM's Annual Meeting.
Dr. Tim Loftus, PGY-4 and Resident Assistant Medical Director for the ED, recently launched a new collaborative protocol for the use of ketamine in the treatment of acute pain in the ED.
Our newly launched Leadership Curriculum, a multi-faceted curriculum that includes Grand Rounds programming as well as three special interest "Academies" encompassing Research, Education, and Operations. Residents can attend educational programming across all three Academies and pursue special distinction within an Academy through personal development projects.
Assistant Program Director Dr. Erin McDonough developed a complimentary female leadership curriculum based on the concept of group mentorship for the female residents and faculty in the Department. Each quarterly meeting provides the opportunity for discussion of specific topics such as Conflict-Resolution.
Drs. Sarah Winston and Stewart Wright, UC faculty, have recently established a partnership with the Village Life Outreach Project. In October, we will have 4 residents traveling to Tanzania through this program with more residents planning to go in March. Many residents take advantage of global health opportunities, most recently traveling to India, Ghana, and Haiti.
Check out our Program's educational website "Taming the SRU" at tamingthesru.com! Developed and maintained by Assistant Program Director Dr. Jeff Hill, the content is updated weekly and is largely authored by residents in the Program.
We at Ohio ACEP thank the University of Cincinnati Emergency Medicine Residency for sharing this information with our members!
---