Complete Story

10/16/2015
October President's Message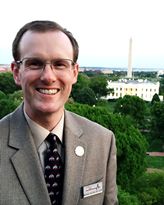 In less than two weeks, Ohio ACEP's Council delegation will head to Boston for the annual ACEP Council meeting. If you've ever wondered where and how the business of national ACEP gets done, the answer starts with ACEP Council. Council is the deliberative governing body of the College and is made up of representatives from all 53 chapters, 33 membership sections, and several other organizations like EMRA and SAEM. The annual gathering of Council delegates serves two very important but different functions.
The first is to review the Council resolutions that provide guidance to the Board of Directors for College policy. A resolution may be submitted by any member, chapter, or section of ACEP and then is approved by the Council Steering Committee for consideration by the Council. Resolutions take many forms. Memorial resolutions are submitted for those College members we have lost in the past year. Commendation resolutions are submitted by Chapters or the College to recognize outstanding service to ACEP.
However, the majority of resolutions are divided into three groups: governance and membership; advocacy and public policy; and emergency medicine practice. Resolutions this year cover a wide range of topics, from membership bylaw changes, GME funding, national medication shortages, end-of-life care issues, reimbursement, licensure, and credentialing resolutions.
The other main function of Council is to elect the College's national leaders: President, Board of Directors, and Council officers. Ohio has been blessed to have so many past leaders, including four Past Presidents, Drs. Michael Ervin, Bruce Janiak, Nick Jouriles, and Brian Keaton, as well as a Past Council Speaker, Dr. Mark DeBard, and the current Council Speaker, Dr. Kevin Klauer. In addition, Dr. Jim Augustine currently serves on the Board of Directors from Ohio.
And by the way, Kevin Klauer, who is also Medical Editor-in-Chief of ACEP Now, has done an excellent job of making the full College membership aware of the candidates for President-Elect, Board of Directors, and Council Officers (one of whom is our very own Dr. Gary Katz!) and their vision for the College. I encourage you to check out the ACEP Now articles.
Check back next month to see what happens!
Michael
Michael McCrea, MD, FACEP
President, Ohio ACEP
---