Complete Story

01/15/2016
January President's Message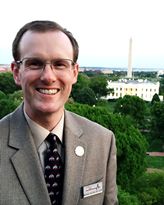 Happy New Year! We're two weeks into 2016 but I figured it was okay to say it one last time.
Since it's the time of year when many of us think about ways to better ourselves, here are a few ideas for New Year's resolutions to ponder while you lose weight, stop drinking, stop smoking, and/or eat better so you can be ripped and/or shredded for summer:
ACEP's first EM Wellness Week, January 24-30. I think we all roll our eyes whenever we hear about "wellness;" goodness knows my residents do. But the fact is no other specialty deals with the social disasters and time away from family while being constantly sleep deprived like we do. Embrace some part of Wellness Week with your colleagues around the country, but be careful. It might make you a better person. For those who are active on social media, use the hashtag #EMWellnessWeek, and be sure to Like us on Facebook and Follow us on Twitter to share your Wellness Week activities!

Attend the Emergency Medicine Leadership Forum on April 19 in Columbus. Along with interactive sessions on advocacy, education, and leadership, attending the Forum is a great way to introduce yourself to Chapter activities, network with local and national EM leaders, and learn to create positive change in medicine. So plan ahead—Get those schedule requests in now and be part of the process!
And, speaking of the EM Leadership Forum, Ohio ACEP is now accepting nominations for Chapter Annual Awards, which will be presented during the Forum There are many outstanding EM physicians deserving of recognition, so I hope you'll take a moment to nominate a colleague. For more about the available awards and how to nominate, download the Ohio ACEP Annual Awards Packet. Nominations are due Monday, February 22.
Participate in ACEP's Leadership and Advocacy Conference in Washington. Under the "go big or go home" mentality of resolutions, if you really want to get into advocacy—and I know many of you identify advocacy as Ohio ACEP's most important function—join us in Washington, DC, for ACEP's Leadership and Advocacy Conference, May 15-18. Last year, the Michigan Chapter of ACEP sent more members to LAC than Ohio ACEP, much to my dismay. Seriously, it wasn't even close. So I issued a President's Challenge to our membership to step up and send more Ohio members to the 2016 Conference than "TCUN" ("That Chapter Up North). Don't let me down!
Start your board review early with the Ohio ACEP EM Board Review Course. Last, if your resolution is to not put off studying for boards until the last minute, join Ohio ACEP in Newport Beach, California, from February 8-12 for "TBD(Emergency Medicine Review)ITL." It's a great way to get a jump on your board prep and save yourself the stress of procrastinating. And honestly, who wouldn't like an excuse for a trip to California in the middle of February?
And for the last New Year's toast, here's to 2016!
Michael
Michael McCrea, MD, FACEP
President, Ohio ACEP
mmccrea@ohacep.org
P.S. "TCUN" might be a bit of a stretch for "That Chapter Up North," but I liked it. President's privilege.
---